Walter Mondale, Carter's Vice President and Democratic Presidential Candidate, Dies
Walter Mondale, who was the vice president in the Jimmy Carter administration and presidential candidate against Ronald Reagan in 1984, died Monday night. Mondale was 93.
Mondale became the 42nd vice president of the United States when Jimmy Carter was elected in 1976, and after the subsequent inauguration in 1977. Reagan defeated Carter in the 1980 election, and then defeated Mondale in a landslide win in the 1984 election.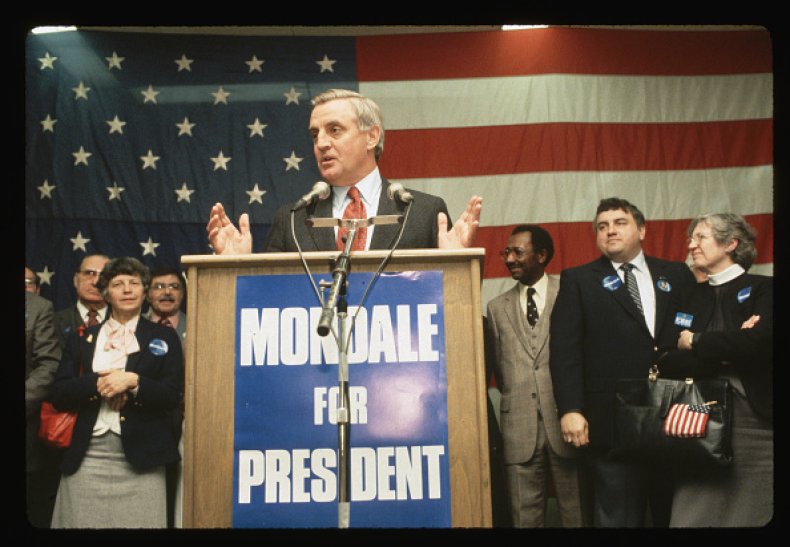 Carter issued a statement Monday night after the announcement of Mondale's death.
"Today I mourn the passing of my dear friend Walter Mondale, who I consider the best vice president in our country's history" Carter stated. "During our administration, Fritz used his political skill and personal integrity to transform the vice presidency into a dynamic, policy-driving force that had never been seen before and still exists today."
Mondale served in the U.S. Senate as an elected member from Minnesota from 1964-76, and he served as the U.S. ambassador to Japan during President Bill Clinton's administration.
Mondale was born in Minnesota and rose to become the Senate representative in the state. He flirted with running for president for the 1976 election, but cautiously backed away and served as the eventual VP under Carter. Mondale helped transform the role as VP, working for both U.S. and foreign policy in the position.
Carter on Monday night recognized Mondale's service to Minnesota.
"He was an invaluable partner and and an able servant of the people of Minnesota, the United States and the world" Carter stated. "Fritz Mondale provided us with a model of public service and public behavior."
Minnesota Gov. Tim Walz tweeted Monday night that his state was mourning the loss of Mondale.
"Today, Minnesota and the nation mourn the loss of a beloved public servant. Gwen and I mourn the loss of a dear friend and mentor. ... Walter Mondale believed in and worked to create a nation with a heart, a soul, and a conscience.
"He believed that the greatness of America is found in the everyday men and women who build our nation, do its work, and defend its freedoms. And he fought tirelessly for those values until the very end of his life, imploring each of us through his example to continue the fight," the governor continued.
When Mondale ran for president as a Democrat in 1984 against Republican incumbent Ronald Reagan, he chose Geraldine Ferraro as his running mate. Ferraro became the first woman VP candidate for a major party in this country's history.