'WandaVision' Does Take Place After 'Avengers: Endgame,' According to One Actor
The new Disney+ series WandaVision is not just the most idiosyncratic installment in the Marvel Cinematic Universe thus far—it's also the most confusing. But, one of the show's actors seems to have cleared up at least one puzzling aspect of the series, and that's when exactly it takes place.
Teyonah Parris plays "Geraldine," the kind woman that Wanda Maximoff befriends in the show's second episode. In a recent interview with TVLine, Parris talked more about her character and also revealed where WandaVision falls on the MCU timeline.
We're going to have to issue a SPOILER ALERT, though, because Parris shared some sensitive details about her character's identity.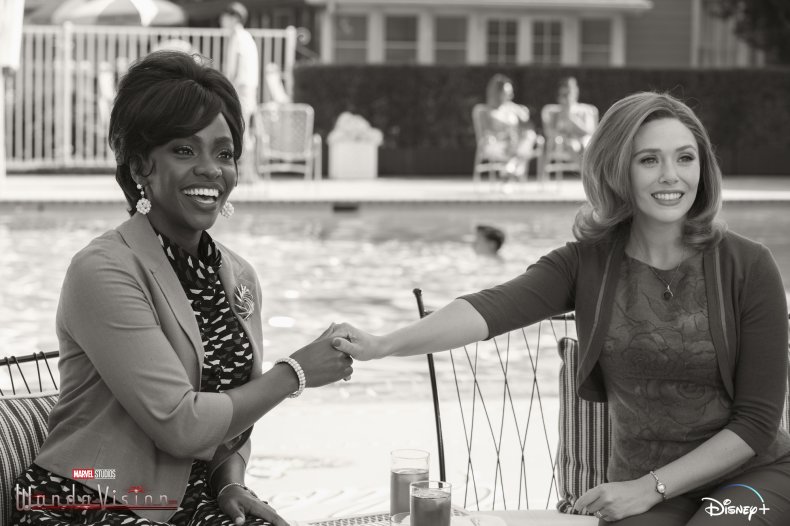 It turns out that Parris is actually playing the grown-up version of Monica Rambeau, who die-hard MCU fans might remember from 2019's Captain Marvel. In that movie, Monica is a young girl and the daughter of Carol Danvers' best friend, Maria.
But how exactly did Monica end up in the realm of WandaVision and why is she calling herself "Geraldine?" There are some theories flying around—some folks believe that Monica doesn't remember who she really is and is just as confused about what's going on as Wanda and Vision are, while others think she's intentionally keeping her identity a secret—but we'll learn more about this character as the series progresses.
For now, though, at least we have a sense of when this is all happening.
"[WandaVision] picks up right after the events of [Avengers:] Endgame, and for Monica, it's obviously years later from when we saw her as a girl in Captain Marvel," Parris explained to TVLine.
She also added that over the course of the show's first season, fans will discover more about "what's been happening with her over those years that we missed, how she's grown and evolved."
Since WandaVision is considered the official start of Phase 4 of the MCU, it's no surprise that the series takes place after Endgame—especially considering that there was apparently a post-credits scene for Endgame that, had it not been scrapped, would have seemingly teased the start of the series.
Paul Bettany, who plays Vision, spoke with IMDb recently about the series and revealed that Marvel Studios originally shot a scene to act as a post-credits stinger at the end of Avengers: Endgame.
"At one point there was going to be a tag, where [Wanda] opened a sort of body bag drawer and there was the Vision," Bettany explained. "[Marvel Studios president] Kevin [Feige] kind of talked to me and said, 'I've got to pull the shots.' And I was like, 'Ugh!' Because I really wanted that profit participation!"
Fans will remember that Vision was killed by Thanos in 2018's Avengers: Infinity War; if there was supposed to be a scene where Wanda tracks down the synthoid's body, that could maybe help explain how he's back in WandaVision. Perhaps that sequence will turn up in an upcoming episode of the Disney+ show, to clarify Vision's comeback. Or, maybe this is all an illusion happening in Wanda's head, and he's not really back, so those scrapped shots will stay on the cutting-room floor.
The first two episodes of WandaVision are available to stream on Disney+ with the third episode set to premiere Friday, January 22.
What do you think of when WandaVision takes place in the MCU? What do you think is Monica's story and how she fits in? Let us know in the comments section.