'WandaVision' on Disney+: Where the Show Fits Into the MCU Timeline
WandaVision will release its first two episodes on Disney+ on Friday, January 15, where Marvel fans will get their superhero fix for the first time in a year after the coronavirus took the MCU movies out of theaters. The nine-part show will see Elizabeth Olsen and Paul Bettany return as Scarlet Witch/Wanda and Vision—something that has left some fans wondering exactly where the show fits in the MCU timeline.
WARNING: The following contains spoilers for a number of Marvel movies, particularly Avengers: Infinity War.
After all, we saw Vision die in Avengers: Infinity War not once but twice—first as Wanda destroyed the Mind Stone to stop Thanos (played by Josh Brolin), then when Thanos took that same stone out of his head after reversing time. Of course, Endgame brought back all the heroes who had died following "the snap," but as Vision died prior to that he is thought to be gone for good.
Of course, what with him being an android and all, this does not mean that he cannot return via some sort of back-up or, as WandaVision seems to be dealing with shifting realities, through some sort of other means.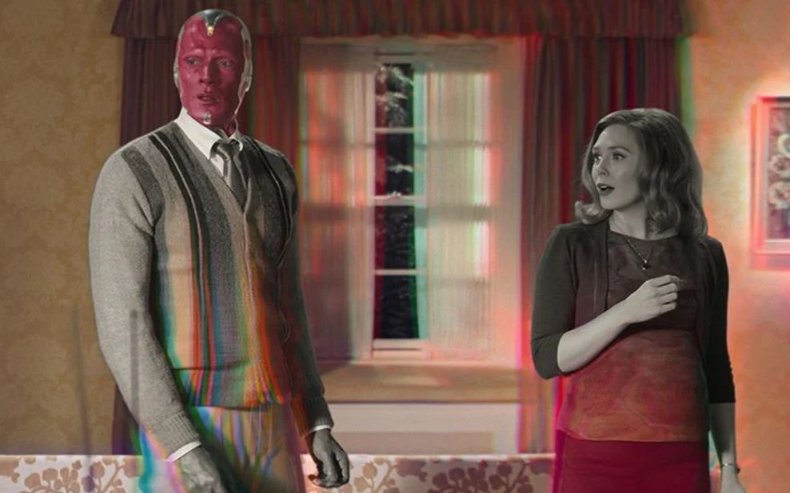 This seems to be what happens, as WandaVision has been confirmed to take place after both Infinity War and Endgame. This was seemingly confirmed by the trailer for the show, which saw a character telling Vision that he was dead—a move that led Marvel fans to speculate the show was adapting the 'House of M' storyline that saw Wanda altering the fabric of reality after being stricken by grief.
We also know the show is set after the recent series finale of the Marvel TV show Agents of S.H.I.E.L.D., which set up a space branch of the organization that is unnamed in the series but with similarities to S.W.O.R.D. from the comics. As the S.W.O.R.D. logo has been seen on the WandaVision set, we know that it exists in the world of this new Disney+ show.
The new show also has links with other MCU movies. It will star, for example, Monica Rambeau (Teyonah Parris), last seen at the age of five in Captain Marvel but now in her early 30s.
WandaVision is also central to the future of the Marvel movies, or "Phase 4" as it is known to fans. An Entertainment Weekly interview with the cast of the show saw Marvel boss Kevin Feige reveal it would directly set up Doctor Strange in the Multiverse of Madness, coming in 2022.
As that movie has "Multiverse" in its title, and is believed to be linked to Spider-Man 3, another movie that is rumored to be featuring all the previous live-action Peter Parkers across multiple universes, this seems a big hit about what might be going on in WandaVision and how they have managed to bring back the twice-dead Vision.
The show, however, is also trying to stand up on its own as what head writer Jac Shaeffer called "a love letter to the golden age of television," with reality shifting through sitcom tropes from the 1950s through to the present day.
Feige said of how the show links to the movies, meanwhile: "If you haven't seen any of them and just want to step into this weird thing because you love The Dick Van Dyke Show, it's going to work, but if you've been tracking the 23 movies we've made and following along the stories into Phase 4, there'll be a wealth of rewards waiting for you as it all unfolds."
WandaVision airs on Fridays on Disney+.