'Spider-Man 3' Cast: All The Marvel Stars Rumored to Be Returning
Spider-Man 3 is looking set to be the crossover events of the century...or at least, the best crossover event since Avengers: Infinity War. The Marvel threequel is filming now, and casting rumors keep emerging from fans eagerly awaiting Tom Holland's next appearance in the Spider-suit.
If reports are to be believed, however, Holland will not be the only Peter Parker in the as-yet-unnamed sequel to Spider-Man: Far From Home.
Unconfirmed but persistent rumors have it that Holland will be joined by both Tobey Maguire and Andrew Garfield, who between them appeared in five previous Spider-Man movies. Joining them in this expansion of the MCU multiverse are a number of other stars from those five films, as well as some faces from both the recent Marvel movies and even one of the Netflix TV shows.
It should be noted that not all the below have been confirmed by Marvel, but here is who fans think is set to return in Spider-Man 3.
All the Marvel stars rumored to be returning for Spider-Man 3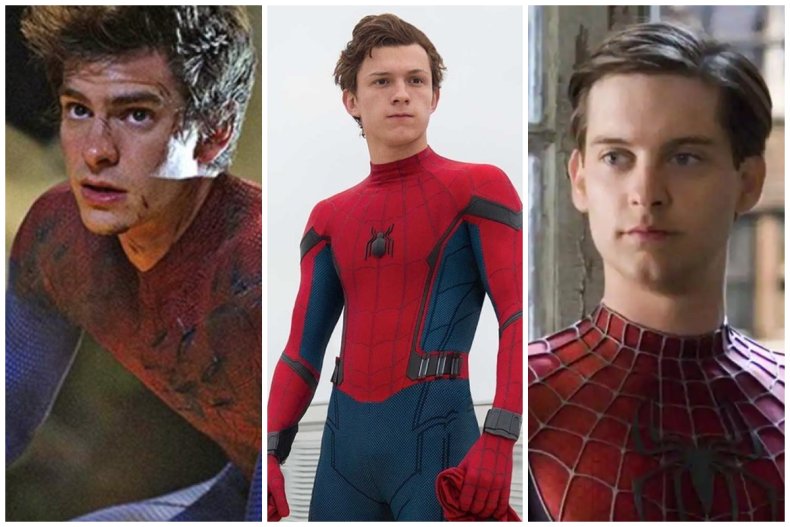 Tom Holland - Peter Parker
Holland is confirmed to be returning for his third Spidey movie, and his sixth Marvel movie overall. The actor, who this year appeared in Netflix's The Devil All the Time and will soon star in the upcoming adaptation of video game Uncharted, released a video in late October that confirmed that filming was about to start on the movie.
Zendaya - M.J.
Fresh off her Emmy win for Euphoria, Zendaya is confirmed to return for her third Spidey movie as M.J.
Benedict Cumberbatch - Doctor Strange
Doctor Strange is also confirmed to be joining his first Spider-Man film (and fifth Marvel movie over all), with the plot of Spider-Man 3 poised to set up the plot of Doctor Strange in the Multiverse of Madness. It was this tidbit that first left viewers to suspect that the Spidey threequel could use the multiverse to allow previous Spider-Man heroes and villains to return...
Alfred Molina - Doctor Octopus
Molina played the iconic Marvel villain with robotic tentacles in Spider-Man 2 in 2004. The actor was then spotted on the Spidey set, with sources later confirming to The Hollywood Reporter that he was returning to the role of Otto Octavius.
Tobey Maguire - Peter Parker
The first onscreen Peter Parker, Maguire played the character in three films in the '00s. If rumors are true, this would be his first time in the role since 2007.
Andrew Garfield - Peter Parker
Completing the Parker triumvirate is Andrew Garfield, who played the character in the (less than) Amazing Spider-Man and Amazing Spider-Man 2.
Jamie Foxx - Electro
One of the numerous villains Garfield faced in the sequel is also back per The Hollywood Reporter, with the Oscar-winning Foxx coming back as the lightning-charged Electro.
Kirsten Dunst - Mary Jane
The latest set of rumors are that the two previous Parkers will be bringing their beaus with them. Rumored to be back are Kirsten Dunst—famed participant in the upside-down Spidey-kiss—last seen as Mary Jane in 2007.
Emma Stone - Gwen Stacy
The Garfield-Parker's love interest is also rumored to be back, with Stone coming back for the first time since 2014.
Charlie Cox - Daredevil
The latest bombshell piece of casting news suggests that it is not only Spider-man past that Marvel is bringing in the mix. If TVLine's reports are to be believed, then Queens resident Peter Parker will be joined by Hell's Kitchen's own Daredevil, coming to the big screen two years after Netflix canceled the show led by Charlie Cox.
When the show was canceled, Netflix did say, "the Daredevil character will live on in future projects for Marvel," so this could be the character's move into the MCU.
Willem Dafoe - Green Goblin
Despite being skewered by his own hoverboard at the end of Spider-Man way back in 2002, the Green Goblin is also rumored to return, with the character said to be part of a Sinister Six of Spidey villains from across the multiverse.
Thomas Haden Church - Sandman
The original Spider-Man 3 is seen by many to be the nadir of the character's many movies, but rumor has it that one of its villains will be returning for movie redemption.
Jake Gyllenhaal - Mysterio
Though he was defeated by Tom Holland's character only a few years ago in Spider-Man: Far From Home, Mysterio could be back per Beyond the Trailer host Grace Randolph (who also reported on Dafoe and Haden Church joining the movie.)
Michael Keaton - Vulture
Per Randolph, Keaton is in talks to return to his Homecoming role, though has not fully signed up yet.
Spider-Man 3 is scheduled to be released on December 17, 2021.
This article was updated on December 15 to include Willem Dafoe, Thomas Haden Church Jake Gyllenhaal and Michael Keaton.