War Games: South Korea Warns North Not to Provoke Conflict as U.S. Military Officials Arrive in Seoul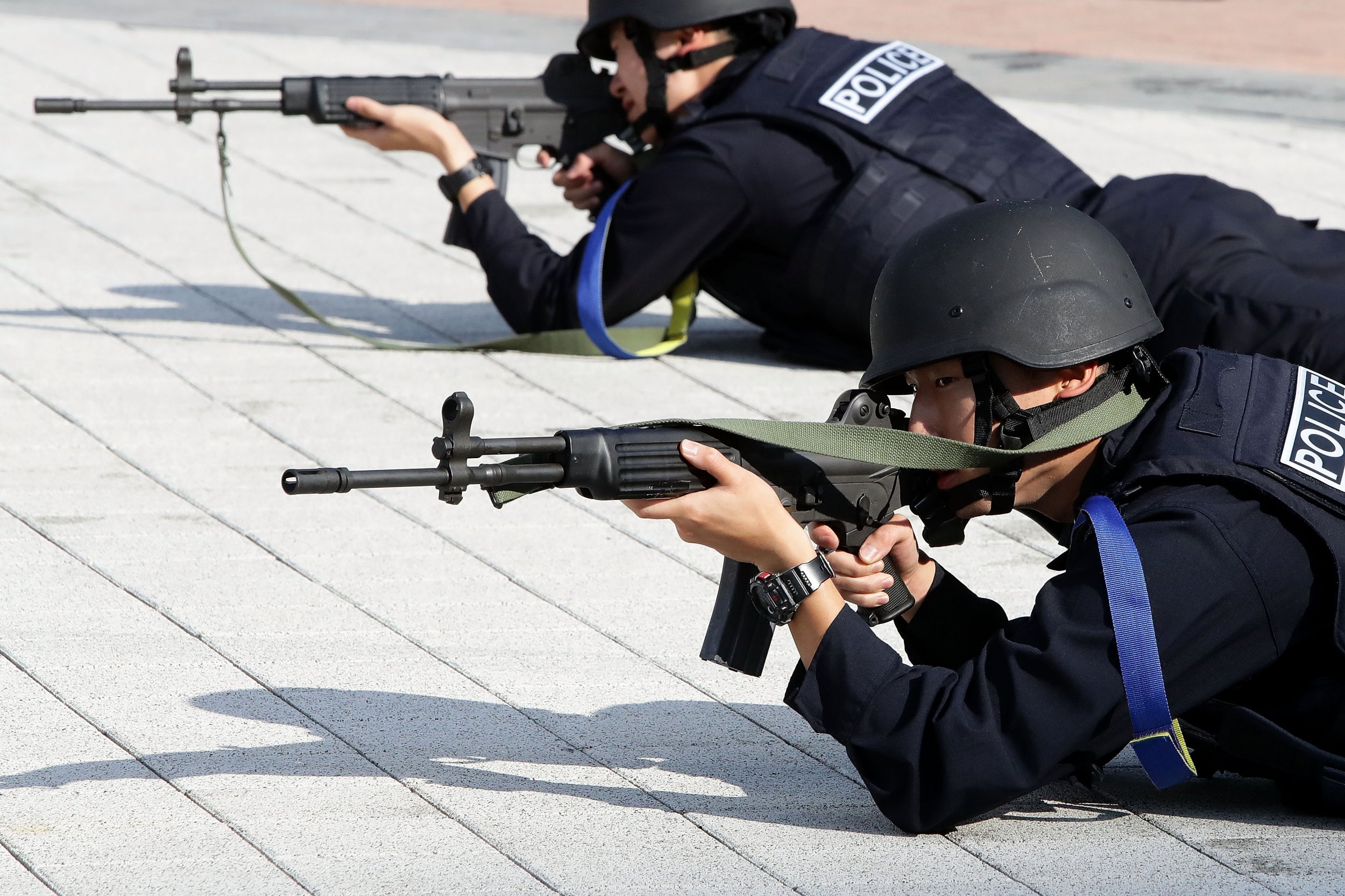 U.S. military officials have arrived in South Korea to oversee the annual joint military drills known as the Ulchi Freedom Games (UFG).
The 10-day exercise will see thousands of troops from South Korea and the U.S. joining forces for responsiveness drills alongside other nations that serve in the United Nations Command: Australia, Canada, Colombia, Denmark, New Zealand, the Netherlands and Britain.
North Korea routinely condemns the exercises as an example of hostility from the U.S. and its "puppet" South Korea, and this year was no different, with the North Korean press posting bombastic threats ahead of the drills.
South Korean President Moon Jae-in warned North Korea on Monday against taking the exercises as an excuse to escalate provocations.
"North Korea must understand that it is because of its repeated provocations that South Korea and the U.S. have to conduct defensive exercises, which in turn keeps the vicious cycle going," Moon said, as quoted in the South Korean news agency Yonhap.
"I earnestly hope to prevent a war from breaking out again in this land and to keep peace," he added.
The military drills involve roughly 50,000 South Korean soldiers, although the Ministry of National Defense did not specify an exact number this year. The Pentagon instead said the number of troops participating in the exercise has gone down to 17,500 this year from the 25,000 involved last year.
"This right now is an exercise to make certain that we're ready to defend South Korea and our allies over there. And because of the specific circumstance, we want it to be a command post—heavy command post exercise," Defense Secretary General Jim Mattis told reporters on Sunday. "It will mostly be officers and NCOs hunched over computers."
While part of the war games are computer simulated, South Korean forces also train in real-life action exercises to prepare for a potential terrorist and chemical weapons attacks.
Tensions escalated between Washington and Pyongyang in recent months, with North Korean ruler Kim Jong Un inspecting plans to strike waters near the U.S. territory of Guam and President Donald Trump threatening "fire and fury."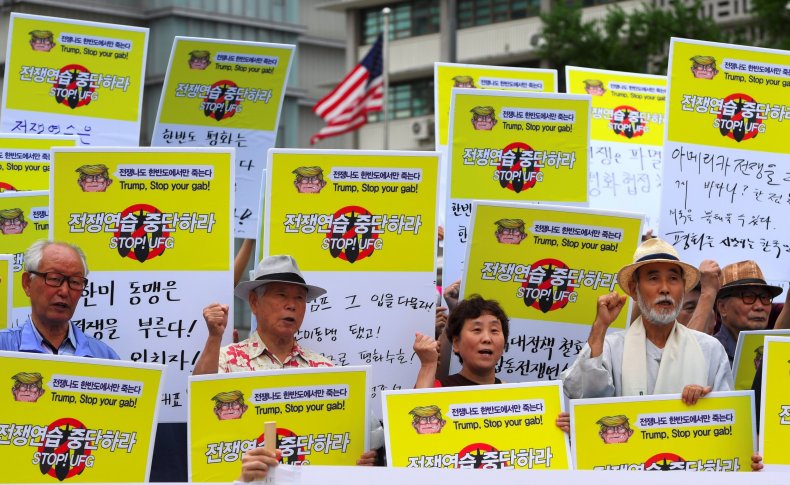 The annual games divide South Korean society, which sees a sizable anti-war movement. Three separate protests took place in Seoul on Monday to demonstrate against the exercises, Spanish news agency EFE reported. One of them saw a hundred people rallying outside the U.S. Embassy in Seoul, holding signs mocking Trump and calling for an end of the UFG.
The annual military exercises began in the late 1960s at a time of heightened tensions between North and South Korea, which peaked with an attempt from North Korea to assassinate South Korean President Park Chung-hee.
The name of the games honor a famous Korean general, Ulchi Munduk, who served as commander in chief of the army of Kokuryu—an ancient Korean nation that existed from 37 B.C. to A.D. 668. According to historical records, Ulchi cunning strategy defeated invading Chinese forces despite being heavily outnumbered.