A 'War Zone' That 'Smelled Lovely': Explosion of Women's Deodorant Rocks Truck Stop
About 27,000 pounds of Degree women's spray deodorant exploded in Northeastern Oklahoma after a semi-truck caught fire on Friday.
The bizarre explosion occurred at roughly 5 a.m. at the Love's Travel Stop near the town of Big Cabin, according to WFTV 9 News. The stop is about 56 miles northeast of Tulsa.
The truck had pulled into the location after the driver said he began experiencing brake problems. According to firefighters that responded to the incident, these issues caused the tires to catch fire, which eventually spread to the highly flammable spray cans in the trailer. The driver had attempted to put out the flames with a fire extinguisher but was not quick enough.
Speaking to Fox 23 News, local fire chief Kevin Oakley described the scene, with burned-out cans littered all around, as being "like a war zone."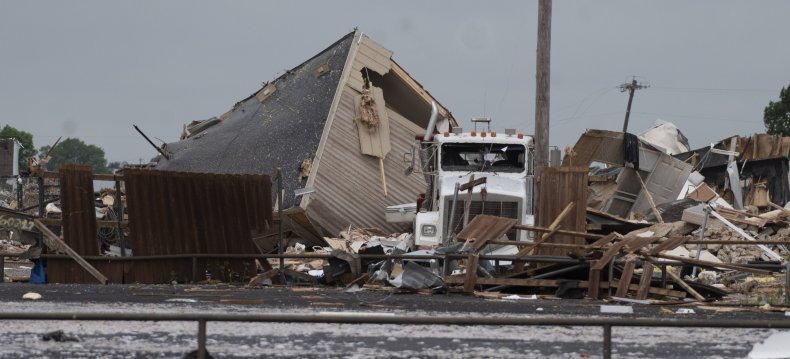 "It looks like Roman candles going off," Oakley told the outlet. "And you're walking through everything, it looks like a war zone. Especially at 5 o'clock in the morning."
Fox 23 reporter Scott Martin shared various photos from the scene. In one tweet, he shared a video of the fire in progress and described the aerosol cans as "popping off like fireworks."
"I was just dumbfounded at how it was ... deodorant," a witness from the truck stop told Fox 23.
The local fire department called in an unspecified company to help clear the scene of destroyed cans. No injuries were reported.
"Can I save I've covered it all? It's not like everyday a semi carrying 27,00lbs of @Degree deodorant explodes," Martin wrote in another tweet. "To certain degree, the scene smelled lovely."
The scene near Big Cabin was not the only explosion to rock Oklahoma in recent days. Early on Thursday morning, firefighters responded to a call about an explosion at a marijuana farm near the town of Mead, roughly 93 miles north of Dallas. The owner of the farm, Harold Lowcy, suffered considerable burns and had to be flown to a hospital in Plano, Texas, according to News 12.
"It was called out as an explosion with a structure on fire and when we got here the structure was fully involved," an official told News 12.
H&P Farms is a licensed medical marijuana growing facility. Workers at the farm reported that the explosion was caused by a spark that ignited a liquid butane tank. The facility reportedly had 300 gallons of the substance on its premises
"Just when we got here there was propane tanks popping off so that's about all we were worried about was another explosion," the official added. "[The fire] was contained to that one building the main building and nothing else was harmed."