Warehouse Worker Claims He Was Fired for Sitting in Chair, Causing Debate
A warehouse worker claimed his manager caught him using a rolling chair while working and fired him, which has ignited a debate on TikTok about the situation.
The viral TikTok, captioned, "#fyp, this was a year ago today, getting paid $5 more at least Lmao," has been viewed 335,900 times since it was posted by user @lolcarloz, or Carloz, on March 9.
The 7-second clip started with the TikToker holding a phone in his hand as he showed a video playing on it of himself working his previous warehouse job while seated in an office chair with wheels.
"My manager caught me doing this and fired me for it because I realized working hard for $10.65 in a warehouse ain't it Lmao," the screen read.
The video, which is accompanied by music, showed the TikToker wrapping up a bunch of packages on a pallet with a clear plastic covering while seated in the chair. He used the chair to wheel around the pallet of packages as he worked, securing them in place.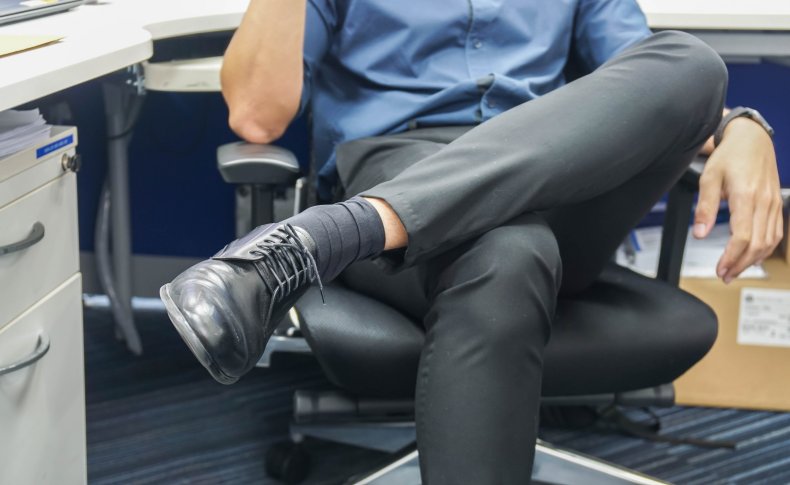 According to Salary.com, the average hourly wage for a warehouse worker in the U.S. is $16 as of 2022, but the range is usually anywhere from $14 to $19 an hour.
Over 25,000 people have liked the video, which has caused a debate about the situation. Some brought up the amount the worker claimed he was making at the time. "Bro gas stations pay more than that in some states," one TikToker pointed out.
Some seemed to be on the side of the TikToker about the situation. "I swear they like to see us suffer while we work because what's wrong with it if we still get things done?" a viewer asked.
A few brought up the fact that they could get paid more. One TikToker revealed they are "on unemployment and get paid more than that."
Another viewer wondered why the company couldn't "get a machine to do it...They can't because it's expensive."
One person thought the warehouse worker was "still doing too much," adding, "That's like $12 per hour work type."
Another viewer didn't think it was worth firing the TikToker over, however, had another point. "But OSHA would not approve of using an office chair in this manner...I'm glad you found a better job though," they reasoned.
Some thought the worker was putting in more effort than was needed, with one viewer saying, "I feel like it would be less effort to just walk around the pallet to be honest."
But not everyone is on the TikToker's side about the situation. One viewer thought more was going on. "You're packing things up to ship out at a certain time, and you're going as slow as possible," they added.
While another person noted the situation isn't "innovative, this is straight-up lazy."
Newsweek reached out to @lolcarloz for comment.