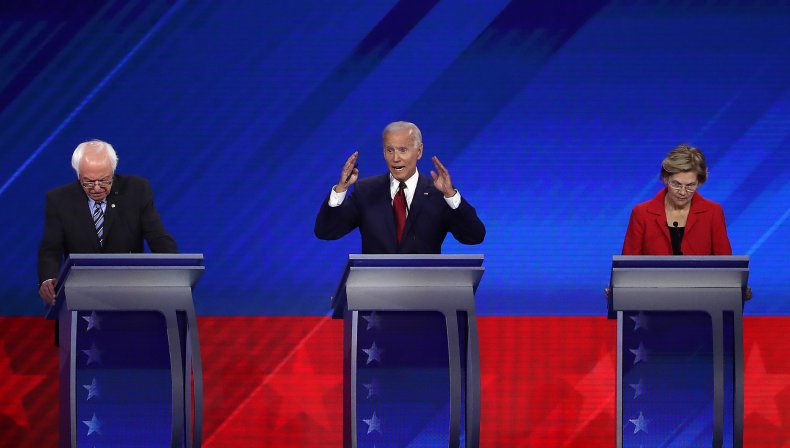 Democratic Senator Elizabeth Warren leads President Donald Trump by 4 percentage points in a new national poll that surveyed more than 1,500 registered voters earlier this week.
Concerns about Warren's "electability" emerged early in the race for the Democratic nomination, but this survey reflects a trend over the last few months: the growth of Warren's popularity despite her unabashedly progressive, structural proposals and policy-heavy agenda.
The survey, conducted online by Civiqs, asked respondents who they would vote for if the election for U.S. president were held today. When choosing between Trump and Warren, more said they would vote for Warren (48 percent), followed by Trump (44 percent). Less than 8 percent said they were "unsure" or would vote for someone else.
When the same question was asked about former Vice President Joe Biden, slightly fewer respondents said they would vote for Biden (47 percent) over Trump, but he still led the incumbent president by 4 percentage points.
Warren also fared better than Biden in a hypothetical match up against Trump across multiple demographics. Warren received stronger support from independent voters (41 percent), young voters (54 percent), Midwestern voters (48 percent), and college graduates (56 percent). Biden, on the other hand, bested Warren among black voters (73 percent) and people who watch Fox News, either "occasionally" (34 percent) or "frequently" (5 percent). Trump claimed a majority of independents and Fox News viewers against both candidates.
Senator Bernie Sanders and Senator Kamala Harris both tied with Trump at 44 percent each if elections were held today. Sanders' poll numbers have been slipping recently among New Hampshire primary voters, while Biden and Warren continue to compete for the top spot.
The Civiqs poll also asked people whether they would support the National Popular Vote interstate compact, which would guarantee the presidency to the candidate who receives the most votes. Most respondents said they would endorse the compact, with 52 percent voicing approval.
Another survey by Emerson College released Tuesday reported that Warren, Sanders, and Biden were pulling away from the rest of Democratic pack, who now sit in the single digits. The results broke with earlier poll results, awarding the former vice president one of the smallest leads since he entered the 2020 race.
The leading candidates (along with their less competitive counterparts) will face off once again at the fourth Democratic debate in October. In order to qualify for the debate, candidates had to achieve a polling threshold of 2 percent in at least four qualifying polls and receive the support of at least 130,000 unique donors.
The Democratic National Committee recently raised the requirements to qualify for the fifth debate in November, potentially walling off most of the 2020 field from participating as competition tightens among the top candidates.