#WarrenEndorseBernie Trends As Sanders Supporters Urge Warren to Drop Out and Endorse Her Fellow Progressive
The hashtag #WarrenEndorseBernie began trending on Twitter across the United States on Monday afternoon as supporters of Senator Bernie Sanders urged his 2020 rival Senator Elizabeth Warren to drop out and gather the progressive vote by backing Sanders.
It comes shortly after Senator Amy Klobuchar and former South Bend, Indiana Mayor Pete Buttigieg announced their decision to end their presidential bids. Both candidates are expected to back former Vice President Joe Biden, who now appears to be the candidate that most moderates will coalesce around for the 2020 Democratic nomination.
Warren, who on Saturday suffered a loss in South Carolina, is experiencing a low point in her candidacy after failing to secure high results in any of the first four contests ahead of Super Tuesday. Warren's polling numbers have been weakening in recent months as progressive voters have increasingly rallied around Sanders' campaign.
Klobuchar and Buttigieg's exit from the crowded field over the past 24 hours have shaken up the dynamics of the race. Their expected support for Biden, who secured a nearly 30-point victory in the South Carolina primary on Saturday, will likely propel the former vice president to become the leading candidate in the moderate lane. Although five candidates still remain in the Democratic primary, strategists say it's already become a head-to-head matchup. "At this point, whether some candidates realize it or not, it's essentially a two-person race," Democratic strategist Chris Kofinis told Newsweek. "It's really down to Sanders and Biden."
Tens of thousands of Sanders supporters took to Twitter to encourage Warren to leave the race and back her progressive colleague. Some argue that Warren and Sanders have crossover in policy and a Warren endorsement would allow Sanders a fighting chance against Biden. As of Monday afternoon, #WarrenEndorseBernie rose to the top trending topic on the social media platform in the United States. At the time of publication, the hashtag had garnered more than 35,000 tweets.
Newsweek reached out to Warren's campaign for comment.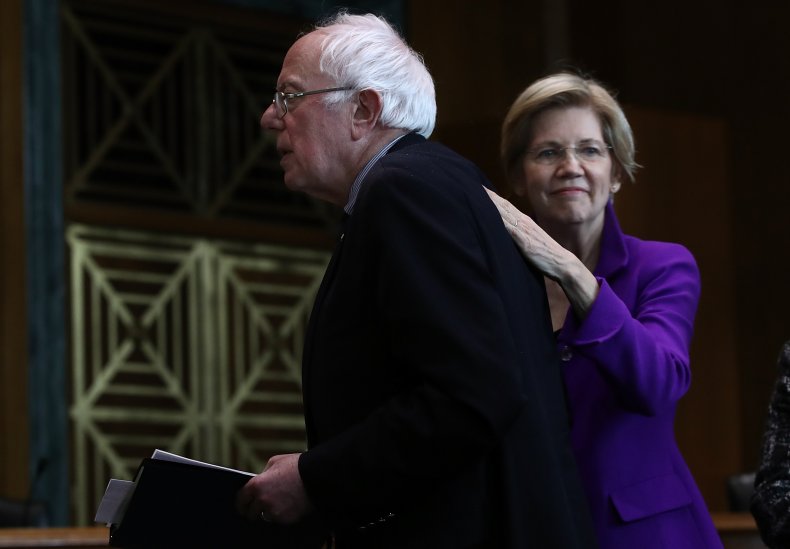 "Hey @ewarren, I'm going to be real with you, you're not going to win the nomination at a contested convention. We need you. Bernie needs you. Try to make amends for the damage you've already caused. Please drop out and endorse Bernie," user @yesthatCarlo tweeted.
"I've said for a long time those streams need to come together. One hopes warren stays true to progressive platform—if she stays in—where she could endorse Bernie or be vp," actor John Cusack tweeted.
"Elizabeth Warren has no path to winning the presidency now. If she gets the nomination without getting more votes than Bernie, she will lose to Trump," user @Joshua4Congress tweeted. "She should drop out and endorse Bernie at this point, unless she wants Joe Biden or Mike Bloomberg to win."
"Please Warren & her supporters, do the right thing. Join us, we can win the primary and beat Trump. Buttigieg & Amy struck a deal with Biden to consolidate their moderate base into one. We need the progressive left vote United," user @DynastyClarie tweeted.
"#WarrenendorseBernie no matter what you think of Warren she's objectively not doing well in the polls. She's losing to Bloomberg. She could very well get a lucrative cabinet position under a Sanders presidency. It'd be the right move," tweeted singer-songwriter Left at London, whose real name is Nat Puff.
Some supporters of Warren have used the hashtag to urge her to stay in the race.
"I can't think of anything more insulting than telling Warren to endorse Bernie. I don't know if Bernie supporters hate Warren, progressivism or themselves at this point. If Warren drops out, I'll be voting BIDEN," user @steelsnowflake1 tweeted.
"Why the hamburger would @ewarren drop out of the race before #SuperTuesday and endorse Bernie? Bernie didn't end his campaign in 2016 until July, yet his supporters think everyone else should pack their bags in March and kiss his ring?" radio host Bishop Talbert Swan tweeted.