Was 'Putin's Chef' Killed in HIMARS Strike? What We Do Know, What We Don't
Yevgeny Prigozhin, a Russian businessman and close ally of President Vladimir Putin, was reported to have visited a secret military base of the Russian paramilitary Wagner Group in Russia-controlled Popasna, Luhansk Oblast, which Ukraine says was destroyed in a HIMARS (High Mobility Artillery Rocket System) strike.
Over the weekend, reports began to emerge in some Ukrainian outlets and pro-Russian Telegram channels suggesting that the Armed Forces of Ukraine (UAF) used U.S.-supplied HIMARS to hit the Wagner Group HQ, allegedly after the base's location was revealed by a Russian war correspondent.
Russian Telegram channels covering Moscow's "special military operation" in Ukraine appeared to have shared graphic photos of the aftermath of an attack at a base in Popasna in the eastern Luhansk region, including what appeared to be wounded soldiers and bodies of those killed in the strike.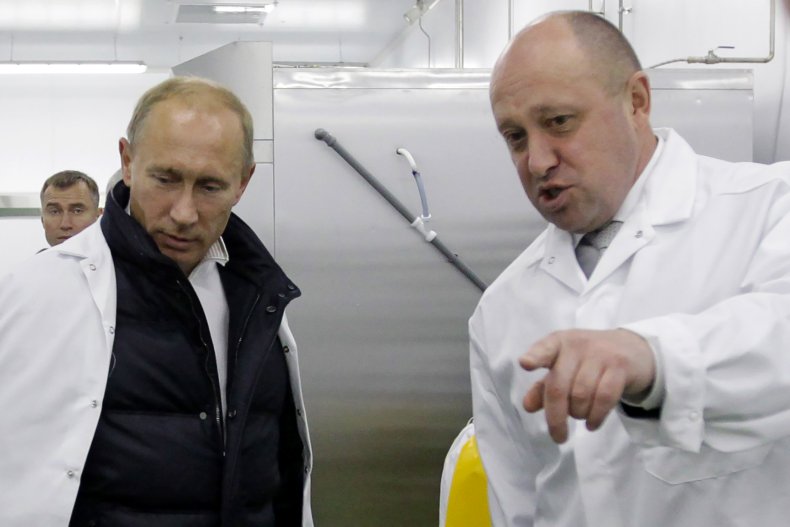 Ukraine, the posts said, became aware of the base's location after pro-Russian war correspondent Sergey Sreda came to the base on August 8. Photos published by Sreda appeared to show the paramilitary force's alleged base set up in a residential building.
One included a sign with the address of the nearest bomb shelter, Myronivska Street, 12, while another featured what many claimed to be Prigozhin himself, speaking to one of the soldiers.
These reports led some to conclude that Prigozhin—who features in a prominent position on the FBI Most Wanted list, and is often referred to as "Putin's Chef" (because his restaurants hosted dinners attended by Putin)—could have been one of the victims of the strike.
What We Do Know
While it is challenging to verify claims stemming out of the Russia-Ukraine conflict with a high degree of certainty, as both sides ramp up their propaganda and counter-propaganda efforts, there is fairly strong evidence to support the claim of a successful hit by Ukraine on Russian positions.
Whether or not it was indeed a Wagner Group HQ is harder to corroborate, and whether Prigozhin was among the casualties is tougher still.
A wide variety of photo and video evidence from the building in Popasna that was allegedly the target of an Ukraine Armed Forces (UAF) strike appears to support the claim, as does the fact that it has been reported by both Ukrainian and pro-Russian sources.
The latter are represented by a handful of pro-Moscow military correspondents and bloggers with a track record of reporting from the conflict hot spots across Ukraine.
One such Telegram channel, @voenkorKotenok, wrote on Sunday, August 14, 2022:
"A missile struck one of the locations of the PMC 'Wagner' in Popasna. Sources in the Donbass confirm. Probably HIMARS. Ukrainian resources have claimed the death of Prigozhin—we cannot confirm," the post read.
Another account associated with the Wagner Group (and previously known to distribute Wagner's recruitment materials), published photos of the alleged bomb site around the same time with the caption "Getting our guys out of Popasna. The khokhols' [derogatory term for Ukrainians] joy is vastly exaggerated."
Independent reporters and military experts spotted similarities between the destroyed building in the photos with those published by pro-Kremlin military reporter Sergey Sreda a week earlier, concluding that they were showing the same location.
Sreda's post, which appeared to feature a man looking eerily similar to Prigozhin, did not specify the dates the photos were taken. These were later deleted by the author, apparently, soon after the strike. However, the photos were still duplicated on a VK social network page for the Prigozhin-affiliated Concord Management and Consulting group at the time of writing, as well as on screenshots purporting to show the deleted post.
While it is unclear why the pictures were deleted, it led some analysts, including Ukrainian war correspondent Andriy Tsaplienko, to speculate that the Russia reporter had inadvertently revealed the Wagner positions, with the information being used by the UAF to pinpoint the target location for the HIMARS.
Some Ukrainian officials also appeared to confirm reports of a successful strike on a "Wagner HQ" in the area, including Ukrainian MP Oleksiy Honcharenko.
"There is no more Wagner HQ in Popasna. Thank you, HIMARS and the Armed Forces of Ukraine!" he wrote on his Facebook page.
The strike was also confirmed on Monday by the exiled governor of the Luhansk Oblast, Serhiy Haidai, who wrote that around "100 Wagnerites were killed in Popasnaya."
"The Armed Forces of Ukraine again successfully targeted the enemy headquarters, which was pointed out by one of the representatives of the Russian mass media. This time yesterday in Popasnaya, where the headquarters of the PrVK 'Wagner' was smashed with a well-aimed blow. The exact number of casualties is still unknown," Haidai said in a Telegram post.
Other Wagner- and Russian military-linked channels around the same time began spreading unverified claims suggesting that Prigozhin "has not been seen" since the strike, adding that members of the group were "in a state of panic" amid reports by Ukrainian outlets that their alleged boss had been killed in the strike.
The claim, with some additional details, was echoed in a number of Russian outlets, including the Russian magazine New Times, which cited human rights activists from Gulagu.net as saying that the Wagner Group founder was "taken to Moscow" after being "hurt" in the strike.
Another anonymous Telegram channel repeated the claim that Prigozhin was wounded and taken to Moscow, but cited a "source unaffiliated with the Wagner group." It added that sources inside the group insisted that Prigozhin is alive.
What We Don't Know
Despite a variety of sources sharing and repeating the "scoop" of Prigozhin's purported death, most of these seem to link back to one or two unverified claims made in anonymous (and hardly neutral or trustworthy) Telegram channels, which led to many OSINT (open-source intelligence) analysts and military experts commenting on the war to take the claim with a heap of salt.
The skepticism was fueled in part by Prigozhin's history of "playing" the media and, as the U.S. State Department alleges, manipulating social networks with disinformation.
A longstanding Putin ally, Prigozhin was widely seen as one of the key figures behind Russia's offensive in Ukraine, with the Wagner mercenaries, assessed to be one of the most effective units fighting on Russia's side, being deployed in some of the hottest conflict zones.
On August 6, 2022, independent Russian outlet MediaZona published an investigation, which suggested that Prigozhin was directly involved in recruiting soldiers for the Wagner Group in Russian prisons, even telling them, according to the report, "I don't give a ***k about anyone, I have to win this damn war at any cost!"
But in the U.S. Prigozhin is best known not for his military leadership skills, but as the alleged founder of the Internet Research Agency, also known as the Kremlin Troll Farm—a Russian company that, according to U.S. intelligence agencies, engaged in online propaganda and influenced operations on behalf of the Russian government and its political interests.
His companies' track record of playing cat and mouse with the media and investigators, which often involves false flags and fabricated "leaks" to divert attention, raised doubts about what really happened in Popasna.
"I'd seriously doubt that Prigozhin was still at the base, if that was him in the August 11th photo. Can you imagine that dude sticking around at a run-down base in Popasna for 3+ days?" wrote Aric Toler, a Bellingcat analyst.
Ruslan Leviev, military analyst from the Conflict Intelligence Team (CIT) investigative group, was likewise suspicious of the sensationalist claims.
"When I saw the photos that we were discussing with my colleagues, I said 'They look showy and staged.' Like they are posing for the camera. As if trying to provoke a strike on this building," Leviev wrote.
Leviev speculated that the goal behind this purported "photo op" was to draw a strike that would reveal the location of a HIMARS unit, which Wagner can then hit back.
"A destroyed HIMARS means Hero of Russia medals for the whole unit," he posited.
Suspicion that the rumors of Prigozhin's death were "vastly exaggerated" appeared to find additional confirmation on Tuesday, August 16, as several photos emerged apparently showing "Putin's Chef" alive and well, dressed in Russian military gear and inspecting what appeared to be the same damaged building that was targeted in the HIMARS strike.
While Newsweek could not immediately verify the date the photos were taken, and there is a possibility that they were taken at a similar location before the strike on the Popasna building, that appears unlikely.
The pictures were shared by both pro-Russian and pro-Ukrainian Telegram channels and Twitter accounts, with captions suggesting that he has not been hurt in the strike.
Additionally, in one of its most recent posts, the Prigozhin-linked Concord Group's VK page offered a link to an interview with its chief by a local Saint Petersburg news outlet, dated August 16. While, again, it is impossible to verify with 100 percent degree of certainty that the interview was not pre-recorded before the strike, it adds to the evidence that Prigozhin is likely still alive.
So while news of a strike, most likely with a HIMARS missile, on a building in Russian-held Popasna is supported by evidence and official statements, as well as reporting from both sides of the conflict, there are some doubts as to whether it was a genuine Wagner Group HQ, or a false flag operation to lure in a strike and expose a HIMARS location.
There is even less evidence to support the claim that the founder of the Wagner Group, Yevgeny Prigozhin, was among those killed in the strike, and recently surfaced photos of him appear to suggest that he was unhurt.
Newsweek has reached out to the Armed Forces of Ukraine, the Russian Defense Ministry, the Pentagon and Prigozhin's Concord Group for comment.