Washington Counties Struggle to Obtain Federal Funds for Homeless, While Thousands Remain on Streets
For thousands of people experiencing homelessness in northwestern Washington, the onset of the coronavirus pandemic exacerbated living conditions that were severe before the outbreak began. Emergency shelter beds, already in short supply, further dwindled. When one jurisdiction ultimately restored its original bed capacity, most were placed in congregate, albeit socially distant, facilities. The majority of individuals who were unhoused prior to last spring remain unsheltered in February. They often reside in outdoor encampments and personal vehicles, with limited access to basic resources.
Advocates in Washington's Pierce and Thurston Counties—which surround Tacoma and Olympia, two areas where recognized homelessness crises worsened over the past half-decade—have for years called on local officials to establish more, and safer, subsidized housing. Their calls grew louder with the introduction of COVID-19. Recently, activists in both counties organized motel occupations and sent formal requests to municipal governments seeking funds for non-congregate shelter space, such as hotel rooms and apartments, for unhoused people to use while virus transmission is ongoing. Their efforts have been unsuccessful so far.
The Federal Emergency Management Agency (FEMA) technically offers counties the option to secure funding for non-congregate shelters, with the intent of supporting people experiencing homelessness whose age or medical history puts them at a higher risk of developing serious health complications from COVID-19. Although President Joe Biden recently expanded FEMA's public assistance program to reimburse 100 percent of costs required to establish these types of shelters, up from 75 percent reimbursement provided earlier, Pierce and Thurston county leaders are concerned that logistical barriers will disqualify them from candidacy.
"There's a lot of uncertainty about FEMA reimbursement," said Heather Moss, the director of human services in Pierce County. She suggested that establishing adequate non-congregate shelter space could amount to a $5 million endeavor.
Questions about which costs are eligible for FEMA coverage, and whether the county could reasonably invest its own funds upfront, lingered following the program's expansion. Keylee Marineau, Thurston County's homeless prevention and affordable housing coordinator, additionally noted that discrepancies between the original public assistance statute and Biden's executive order warranted guidance from FEMA. Marineau said the county will consider possible next steps once it receives clarification.
Counties are also required to submit detailed proposals that outline plans to support unhoused people who would benefit from FEMA's program after it expires in September. The provision poses another hurdle for officials in Pierce and Thurston, where siting, staffing and operating sufficient emergency shelter space, much less more permanent housing, were challenges ahead of the pandemic.
"Our homelessness crisis was a preexisting condition before COVID," explained Derek Young, a Pierce County Council representative who chairs the Tacoma-Pierce County Board of Health. "So, while we would like to house everyone, the reality is, we didn't have enough space to begin with."
As Amazon and other major technology companies, headquartered 50 miles north in Seattle, continued to plant and expand their roots throughout the Puget Sound area, rental vacancies around Tacoma and Olympia decreased rapidly. The former city's rate dropped below 3 percent at the end of 2019, and the latter's fell to 1 percent mid-way through 2020. Low vacancy rates cause rental prices to climb, creating an environment that directly contributes to rising homelessness.
Shelter space became more scarce when COVID-19 emerged. Last year temporary, congregate housing facilities across the U.S. reduced their capacities in March and April, according to physical distancing recommendations adopted nationwide to combat the spread of COVID-19. In Pierce County, additional shelter beds were placed in venues rendered vacant during the pandemic, such as a high school gymnasium, and eventually exceeded the number of beds lost by about 300. In Thurston County, which is smaller than neighboring Pierce, beds were not added elsewhere when shelters removed roughly half to comply with mitigation guidance.
Public health orders effected to curb the virus' spread also meant that community centers, public libraries, and cafes were forced to restrict operations or close entirely, leaving many unsheltered people without access to indoor restrooms, electronic charging outlets and periodic reprieve from inclement weather. The setting offered few opportunities to practice fundamental personal hygiene or maintain active communication with others. These obstacles still exist today.
Federal funding, partially acquired through FEMA's original public assistance program, allowed Pierce and Thurston county officials to extend some resources to people experiencing homelessness who contracted, or were exposed to, COVID-19 last year. Alongside local initiatives to install mobile testing sites near encampments and deliver warm meals to unsheltered communities, each county established designated facilities where housed and unhoused individuals could isolate safely.
The facilities are still open, and can be available for public use if tenants meet necessary criteria. A number of individuals experiencing homelessness have been turned away from quarantine and isolation centers due to regulations against smoking and certain psychiatric diagnoses.
Gerrit Nyland, a data analyst and member of the Tacoma Pierce County Coalition to End Homelessness, recalled instances where emergency shelters released people who had COVID-19 or were exposed to it but were not admitted to designated quarantine centers. They returned to unsheltered homelessness.
"As a shelter, what do you do?" he said. "You can't have them in your facility, you can't pay for a hotel room for them. For the community, you need someone to take responsibility to see those people are isolated and quarantined. And there's a benefit to providing that facility for the community, to reduce spreads."
According to local officials, neither Pierce nor Thurston county has recorded a substantial COVID-19 outbreak in congregate shelter facilities since the pandemic began. However, in a region where the vast majority of unhoused people are consistently unsheltered, how the disease has really impacted these communities is difficult to track.
Personnel at the Tacoma-Pierce County Health Department identified 65 COVID-19 cases in people experiencing homelessness during contact and outbreak investigations, in addition to one related fatality. The department said it does not have thorough data to reflect the number of people hospitalized as a result of the respiratory disease.
"During our case and contact investigation, we ask people if they're experiencing homelessness. This information is voluntary and not a requirement. Also, during outbreak investigations at shelters, not everyone is willing to be tested," said Steve Metcalf, a communications specialist at the health department, in an email. "For these reasons, any data around our homeless populations is most likely an undercount and doesn't give a complete picture of the effects the disease has on this vulnerable population."
Newsweek contacted Thurston County's Public Health and Social Services Department for information about COVID-19 cases, hospitalizations and deaths reported in people experiencing homelessness. This story will be updated with statistics upon receipt.
The disproportionate volume of people experiencing homelessness in Pierce and Thurston counties, compared with available shelter beds and transitional housing units, elucidates a dangerous and chronic problem. Beyond immediate non-congregate shelter space for those most susceptible to critical infection, the numbers underscore a conspicuous need for more robust support, particularly in light of the Puget Sound region's cold, wet climate.
Nyland said that years of careful tracing efforts suggest upwards of 6,100 people are currently unhoused in Pierce County, an estimate he notes has hovered around that figure since the summer of 2019. His count is compiled using reports catalogued in the region's Homeless Management Information System—a database that indexes interactions between outreach workers and people experiencing homelessness—to which he is privy through his work at Catholic Community Services, a social services provider that focuses on housing.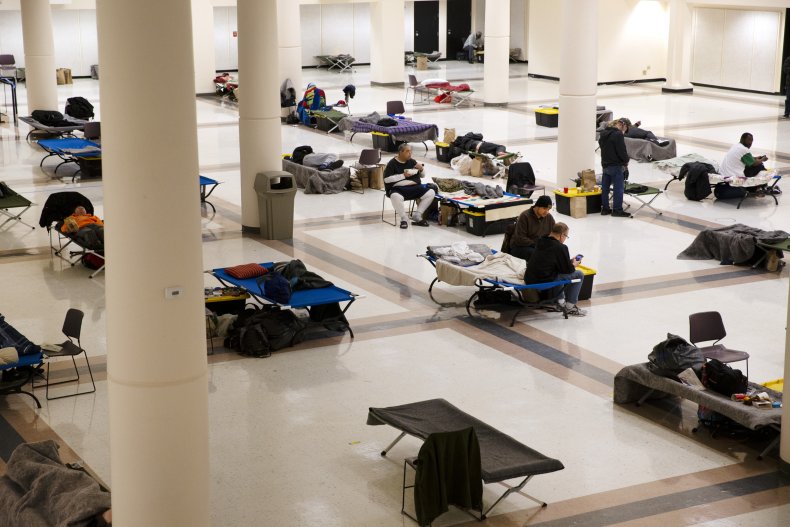 Nyland's estimate is much higher than the number reflected in Pierce County's most recent point-in-time census, a tally that aims to illustrate a yearly "snapshot" of homelessness by conducting in-person surveys and incorporating data from local shelter rosters. Obtaining accurate data using the point-in-time method is impossible when a large portion of an area's unhoused population is unsheltered, and officials in Pierce and Thurston acknowledge this. Regardless, each county's most recent census report, which federal and state agencies use to determine annual or biennial funding allocations, showed less than 50 percent of unhoused people were sheltered in January of 2020.
Pierce County's report accounted for approximately 1,900 people experiencing homelessness. Based on that number, its emergency shelter beds and transitional housing facilities could respectively accommodate 43 percent and 9 percent of individuals. Including the additional 300 beds introduced during the pandemic, which Moss said may not be available after social distancing restrictions lift, Nyland's estimate would drive down the maximum shelter capacity to 18 percent of the county's total unhoused population, and the transitional housing capacity to 2 percent.
Nyland has presented his estimate to Pierce County staff, who, he said, responded with "belief."
"It's not hard to believe, because it's true. What you do with that information is another story," he continued. Working to develop sustainable, supportive services that address homelessness is complicated, Nyland added, but understanding the extent of the crisis is imperative.
"You can't solve the problem until you know the scope of it," he said. "You can't possibly meet the need if you don't know the need."