Washington Monument Goes Dark, Sparking Blackout Probe
An investigation is underway into reports of a blackout at the Washington Monument in D.C., the site's caretakers have said.
Social media users shared photographs of the obelisk in the dark overnight on Sunday before the National Park Service (NPS), which looks after national monuments, confirmed there had been a problem.
"The exterior lights of the Washington Monument are currently out," it tweeted in the early hours of Monday. "We are investigating and will have them restored as soon as possible."
Pictures posted on Twitter and local media reports suggested the issue had not affected the red-flashing lights that alert aircraft pilots of its presence.
The 555-ft-tall (169m) tower, built to commemorate former President George Washington, is ordinarily lit-up throughout the night.
WUSA9 anchor Lorenzo Hall was among those to share a picture of the monument shrouded in darkness in the National Mall, a sight he described as "Creepy!"
The monument was closed on January 11 ahead of Joe Biden's inauguration ceremony nine days later. That closure has been extended "to protect staff and visitors from the spread of COVID-19," NMMP announced on Saturday.
Problems with the lighting and the closure of the monument site are not thought to be linked, Baltimore TV news station WJZ-TV reported.
Newsweek has contacted the monument's caretakers for comment.
The Monument and the White House were lit up in a fireworks display to mark President Biden's inauguration on January 20.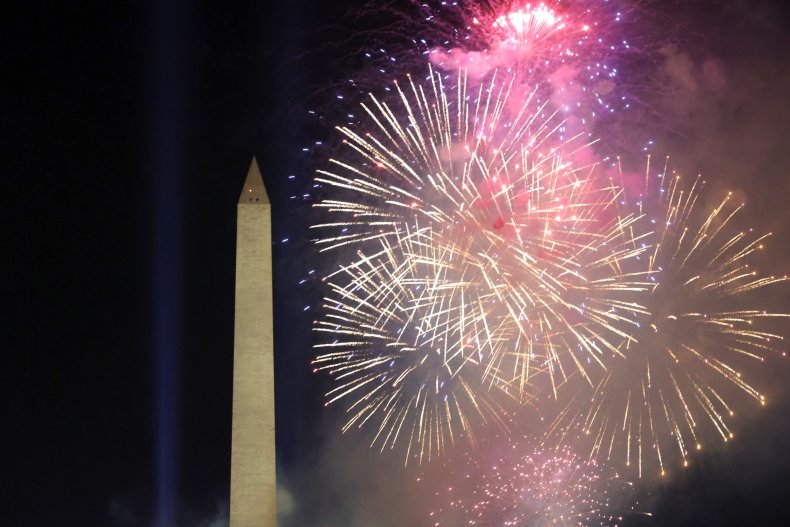 Last month, the structure was dragged into the debate about the future of monuments across the U.S. that followed protests over the death of George Floyd.
Many have called for Confederate statues to be removed amid a wider discourse about race and colonialism.
Arkansas Republican Senator Tom Cotton criticized those who were calling for a review of such monuments and said he was concerned protesters' antipathy towards them would reach the Capitol.
"What is the end of the cancel culture?" he asked the Senate. "I will tell you what it is. It is right here, in this city, Washington, the District of Columbia. That is where it will end if we don't put an end to the madness now.
"Just up the mall is the Washington Monument. Are we going to tear the Washington Monument down?
"Are we going to rename it 'the obelisk of wokeness,'" he said, before expressing fears for the future names of the Washington National Cathedral and the capital city itself.