One of Trump's Biggest Supporters Wants the Washington Monument Taken Down
One of Donald Trump's top supporters says he wants the Washington Monument removed from the National Mall the way ISIS terrorists destroyed temples of religious idols, contradicting Trump's claims that the political left are the ones who seek to remove monuments.
After a vandal defaced U.S. President George Washington's eponymous stone obelisk late Monday night, Ali Alexander—a principal organizer of the January 6, 2021, Stop the Steal rally in Washington, D.C.—told his followers on Truth Social he believed the structure should be destroyed, while seemingly equating America's first president to a false idol.
"Looks like the far left attacked and defaced Washington's Obelisk Monument tonight," Alexander posted. "To be clear, I think the Obelisk should be removed so I don't care. Like when ISIS jihadists destroyed ancient false god Baal temples."
Alexander was referring to ISIS' demolition of numerous ancient sites across the Middle East constructed in honor of the Semitic god Baal, a deity worshipped in many ancient Middle Eastern communities. In 2015, ISIS incited international outrage after destroying a Palmyra temple considered one of the best-preserved examples of ancient architecture in the region, in a string of strategic attacks on cultural heritage sites.
While he doesn't explicitly say why he dislikes the Washington Monument, he appears to suggest in replies to the post that he believes it is a monument to the occult, evoking conspiracy theories about Freemasonry and its alleged ties to the occult.
"Beauty and Order are only worth a damn when they reflect God and His standards," Alexander said to a follower critical of his post. "Acting like the perverse is worth preserving is how luciferians play you."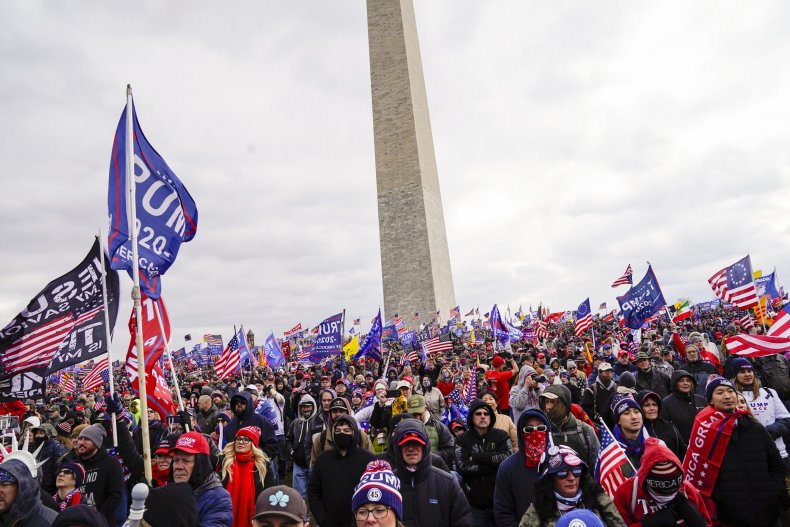 But it's also a wild break from one of Trump's biggest supporters and the rhetoric of Trump himself. Prior to Election Day, Trump falsely accused Washington, D.C., Mayor Muriel Bowser of wanting to tear down the monument, while a Twitter account run by Trump's campaign team tweeted a photo of the monument actively being demolished, saying, "This would be Joe Biden's America."
But Alexander, who appeared at a political rally in Nebraska on Monday night, has a history of claims that put him at odds with his party. In a podcast appearance earlier this week, Alexander announced he would likely not be voting in the upcoming midterm elections, saying he did not feel the Republican Party had done enough to earn his vote.
"My vote hasn't been earned on a personal level," he said. "If we live in a republic, my vote needs to be courted."
Alexander could not be reached for comment.