Washington Post Editorial Board Calls for Trump's Immediate Removal, Says He Caused Assault on Capitol
The editorial board of The Washington Post called for President Donald Trump to be removed from office in an opinion piece published on Wednesday.
Trump has come under blistering criticism after thousands of his supporters swarmed the U.S. Capitol building on Wednesday in an attempt to prevent the certification of President-elect Joe Biden as the winner of November's presidential election. Trump has repeatedly claimed baselessly that widespread voter fraud perpetrated by Democrats tipped the election in Biden's favor. No tangible evidence has been presented for Trump's claims. Many lawsuits filed by Trump's legal team seeking to overturn the results of the election have failed.
In Wednesday's op-ed, the Post's editorial board said that Trump's "refusal to accept his election defeat and his relentless incitement of his supporters led Wednesday to the unthinkable: an assault on the U.S. Capitol by a violent mob that overwhelmed police and drove Congress from its chambers as it was debating the counting of electoral votes. Responsibility for this act of sedition lies squarely with the president, who has shown that his continued tenure in office poses a grave threat to U.S. democracy."
"He should be removed," the editorial added.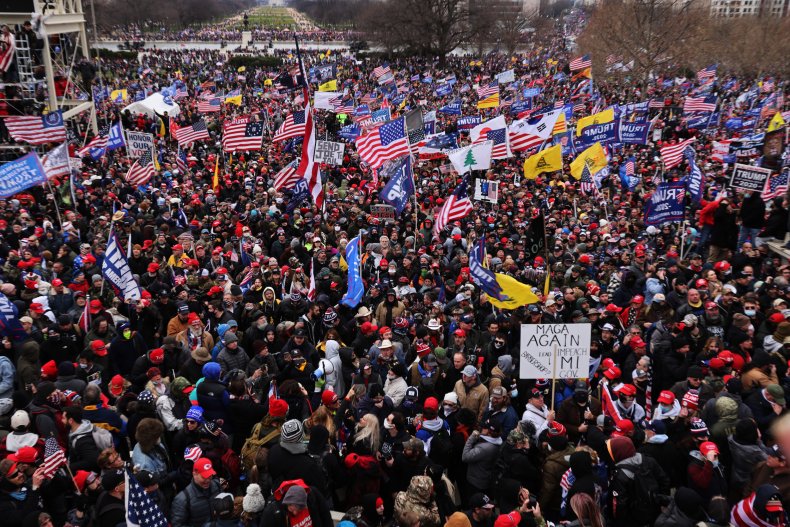 According to the editorial, Trump is "unfit to remain in office" for the remainder of his term and should be replaced by Vice President Mike Pence under the auspices of the 25th Amendment, which provides for the removal of a sitting president should they be "unable to discharge the powers and duties of his office."
"Mr. Trump is a menace," the article concluded, "and as long as he remains in the White House, the country will be in danger."
Newsweek reached out to the White House for comment.
During his remarks at Wednesday's rally at the Ellipse near the White House, Trump encouraged his supporters to "fight like hell and if you don't fight like hell, you're not going to have a country anymore."
Trump ended his address by telling the crowd to "walk down Pennsylvania Avenue" in order to encourage GOP members of Congress who had stated they would lodge formal complaints against Biden's certification.
Thousands of rioters descended upon the Capitol after Trump's speech, many waving flags or brandishing weapons. Some members of the mob were able to enter the Capitol building. One rioter attempted to gain access to the Senate floor, prompting an armed standoff between Capitol police officers and the rioter. Washington, D.C. Mayor Muriel Bowser declared a 6:00 p.m. curfew for the city. Congress reconvened Wednesday night to continue its official tally of the Electoral College votes.