Trump-Supporting Teacher Claims Principal Bullied Him for Wearing MAGA Hat
A Washington teacher who took a "Make America Great Again" hat to a school training session on racial equity and diversity has filed a lawsuit, claiming that his freedom of speech was violated.
Eric Dodge, a Washougal resident who was due to teach science at Wy'East Middle School for the 2019-20 academic year, clashed with the school's principal Caroline Garrett in an alleged incident in August 2019.
According to the complaint, seen by The Columbian, Evergreen Public Schools teachers were required to attend a two-day training session prior to the start of the new academic year.
The first day included a session on implicit bias, diversity and racial equity. When Dodge arrived for the session, he wore the MAGA hat synonymous with President Donald Trump and his supporters.
According to the suit, Dodge purchased the hat as a "conversation-starter, with the idea of explaining that ordinary and normal people support Trump, despite some of Trump's flaws." Dodge removed the hat when he entered the building and did not have it on during the sessions, but did keep it with him.
Several teachers said they were shocked to see Dodge with the hat, especially given the school's large number of Hispanic and Latino students.
According to the official response to the lawsuit, Garrett spoke to Dodge about the hat, saying that he had caused "disruption to the learning environment" by bringing it to the sessions.
Garrett said his colleagues were also "worried, upset, threatened and intimidated" by him wearing the hat and they expressed concerns about the "potential harm to students."
Dodge reportedly left the hat in his car for the second day of training at Wy'East, but was seen wearing it in the parking lot when he went to training at Evergreen High School.
Garrett then spoke to Dodge again about the hat, where their stories differ about what occurred next.
Dodge claimed Garrett became "aggressive and hostile," towards him, as well as accusing him of being a "racist," "bigot," "homophobe," "liar" and "hateful person."
Garrett disputes these claims, adding she did not raise her voice during the conversation.
Dodge also alleges that his complaint to Human Resources was handled in a "biased and unfair manner."
Dodge, who has been on leave since early in the school year, claims he suffered "emotional devastation" and a "recurrence of debilitating stroke symptoms" after being defamed, harassed and bullied by the principal.
In their response to the suit, district human resources manager Janae Gomes and the school district dismissed Dodge's claims as "legally frivolous" and that he did not exhaust available administrative remedies.
It adds that "discovery may reveal that [Dodge] failed to mitigate his damages, if any," and that any potential damages may have been caused by others not named in the suit.
Dodge's attorney, Michael Estok, rejected the response to the suit.
"The answer doesn't say much of substance; the district merely states that it lacks sufficient information to many of Eric's key allegations,'' Estok told Clark County Today. "The case will be moving into discovery soon.''
An investigation commissioned by the district concluded that Garrett "did not violate any school board policy or procedure," which Dodge appealed.
Dodge was placed on administrative leave before later being transferred to an unpaid leave of absence. He is now seeking lost wages and emotional damages.
"People who are public employees enjoy certain First Amendment rights," Estok added to The Columbian.
"They shouldn't be targeted or treated differently because they have certain political viewpoints. That's what's going on here."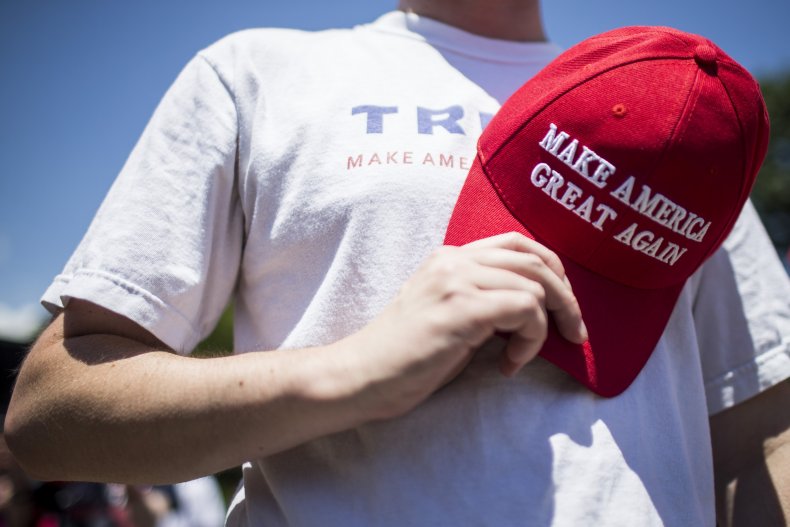 Update: The first paragraph of this article was updated to clarify that Eric Dodge did not wear the MAGA hat during the training session but did carry it with him.