An Arizona snake catcher pulled two diamondback rattlesnakes out of a cactus in one go, footage shows.
The video taken by Marissa Maki—who works at snake removal service Rattlesnake Solutions—shows the two snakes hiding in a pink cactus in a back yard in Phoenix. The venomous snakes can be heard rattling their tails as Maki reaches inside the cactus with a pair of tongs.
Using the tongs, Maki then carefully pulls out both the snakes in one go.
"I got two in one shot," Maki can be heard saying. "That was pretty cool."
Maki then places the two rattlesnakes in a bucket.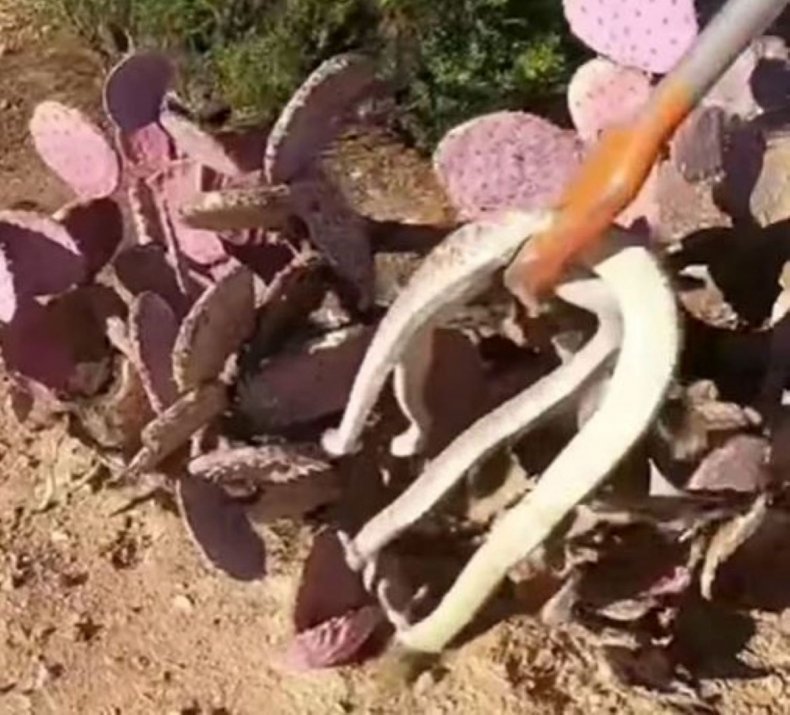 Arizona is home to 13 species of rattlesnake and they are particularly active during the spring and summer months. The most common species encountered in the state are the diamondback, Mojave, sidewinder and black-tailed.
Rattlesnake Solutions specialize in removing the snakes from populated areas and owner Bryan Hughes told Newsweek that it is not unusual for them to find multiple rattlesnakes in one location like this.
"During the spring, rattlesnakes are quite social, and courting pairs are something we count on. In fact, if we find a lone breeding-age female during March and April, we know to look for others, since she surely has at least one male looking for her," Hughes said.
Hughes said this particular catch was notable, as Maki was able to capture both snakes "securely and gently" at the same time.
"Whenever possible, we want to avoid disruption of mating animals, and the fact that these two were able to be captured and released without too much hassle (for them) makes this a successful relocation," he said.
Rattlesnakes are venomous and bites can be dangerous if they go untreated. The venom has the ability to cause tissue damage and in some cases, internal hemorrhaging. However, the bites are rarely fatal.
The snakes are not usually aggressive but they will attack if they feel threatened. According to the U.S. Department of Agriculture, most bites occur when the snakes are handled or accidentally touched.
Hughes said rattlesnake season is in "full swing" and the business is "exceptionally busy."
"Encounters with them are at the highest point of the year. This isn't because there are more rattlesnakes around, but our habits coincide with theirs. A nice 75 degrees Fahrenheit afternoon is a great time for a hike, and rattlesnakes also want to be active at this time," he said. "Rattlesnakes can pose a danger to humans and pets, but this can be greatly reduced or eliminated by following some basic prevention and awareness guidelines."
After the two rattlesnakes were captured, they were released back into their natural habitat.
Hughes said that once a rattlesnake is captured at a home, the business uses satellite maps to select a release location.
"This is specific to each species and each location. The snake is transported to the selected location immediately and released," he said.