Watch: China Fires Deadly Cruise Missiles Capable of Destroying U.S. Military Bases in Never-Seen-Before Footage
Chinese state-owned media claims to have broadcasted never-seen-before footage of three of its DF-10 cruise missiles firing in rapid succession this week.
Chinese Communist Party mouthpiece The People's Daily tweeted the video of the 'long sword' missiles being fired from a rolling missile launcher truck.
The DF-10, previous known as the CJ-10, has a range of 930 miles, which means it could reach U.S. military bases in South Korea and the Japanese island of Okinawa. They can also carry 1103-pound nuclear warheads and be mounted on missile trucks, submarines or warships.
The ground-based land-attack missile is reportedly made by the Third Academy of the China Aerospace Science and Industry Corporation (CASIC) and the China Haiying Electro-Mechanical Technology Academy (CHETA). It made it's first public appearance at the 2009 military parade that celebrated the 60th anniversary of the People's Republic of China.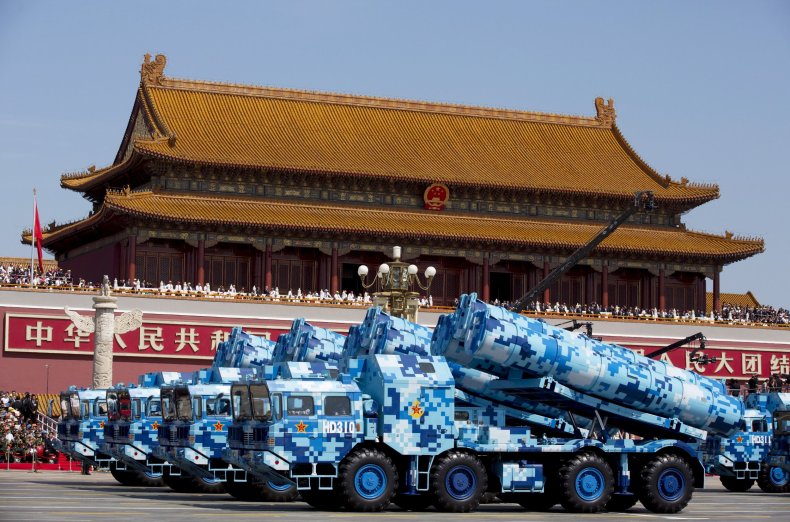 According to Army Recognition, the DF-10 is the world's most advanced "nuclear and conventional ground-based remote cruise missile."
In recent years China has ramped up its military efforts. Last month, President Xi Jinping rallied thousands of troops for a military address and grand display of might in Baoding, in the northern province of Hebei, China.
During the address, Xi told 7,000 heavily armed officers and soldiers standing in formation that they should not fear "hardship or death" as they fight for their country's Communist values.
Later in January, the Chinese military expressed its intention to update their nuclear weapons to match those of the U.S. and Russia, China's top global weapons competitors.
In Pictures: The 50 Most Powerful Military Forces in the World
The PLA Daily, the official newspaper of the People's Liberation Army, published a commentary that argued that nuclear weapons were a "strategic pillar of national defense" and were a necessary tool to ensure China as a major international player.
"In the roiling unpredictability of today's world, to upgrade the capability of our country's deterrence strategy, to support our great power position... we must strengthen the reliability and trustworthiness of our nuclear deterrence and nuclear counterstrike capabilities," it said.
Watch the video below: