Video: CNN's Don Lemon Mocks Trump and GOP's Sycophantic Tax Bill Celebration and Asks If It's a 'Saturday Night Live' Sketch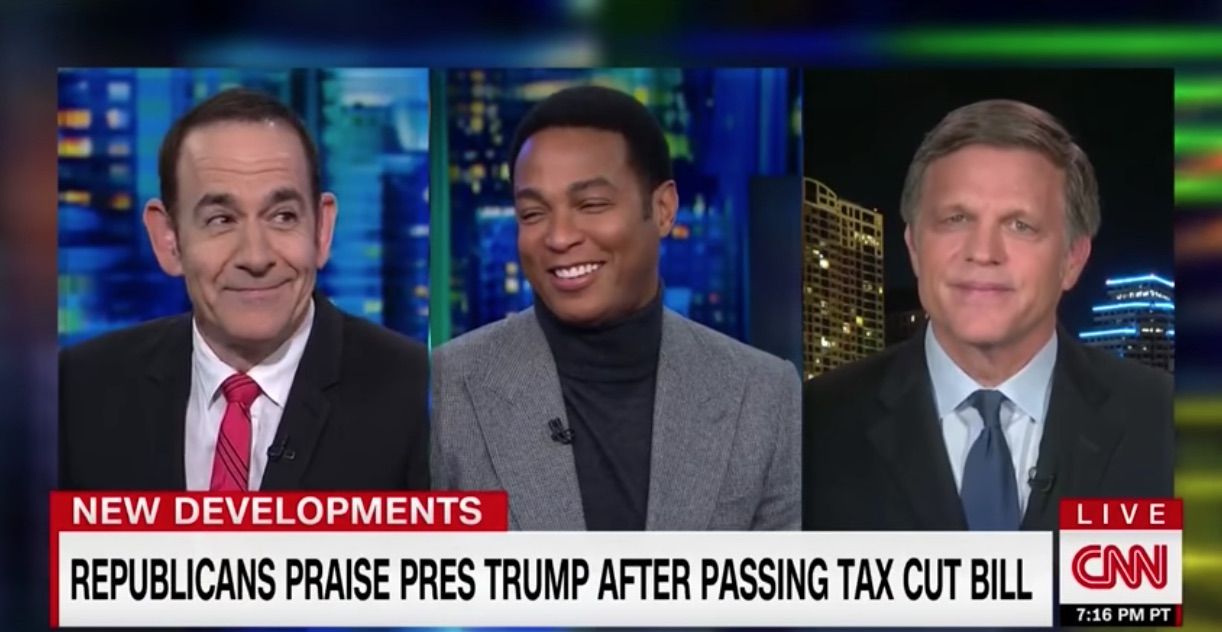 President Donald Trump took part in another display of bizarre ceremonial back-patting Wednesday when congressional leaders including House Speaker Paul Ryan and Tennessee's Diane Black effusively praised him for the new tax bill that passed Tuesday.
Republican representatives stood on ceremony and applauded Trump at the White House. Ryan declared the tax bill would not have passed "without exquisite presidential leadership" and Black thanked Trump "for allowing us to have you as our president."
Over on CNN Wednesday night, Don Lemon, who was criticized by Trump on Twitter last week, could simply laugh and ask, "My God, is that real? Is that SNL?," likening the scenes to a Saturday Night Live satirical skit.
Reporting on the "festival of flattery on the White House lawn," Lemon, 51, could barely muster his words through laughter as he introduced two presidential historians to analyze the pomp and ceremony. "I mean, listen..." he began before descending into giggles.
"What is going on here?" Lemon laughed, before sarcastically complimenting the historians, Timothy Naftali and Douglas Brinkley, in the same tone as Ryan and company. "By the way, you gentlemen look so handsome. You are such fantastic historians, I'm just honored to be on television with you," the CNN anchor joked to Naftali and Brinkley.
Commentating over footage of the GOP applauding Trump, Lemon said, "Oh my gosh, look at them."
Brinkley said "the exaggeration of having to kiss the ring of Donald Trump, it almost seems like a scene out of The Godfather, not what you'd expect from the president of a democracy."
Naftali added that he hasn't seen "this kind of sycophancy" since listening to the Nixon tapes in which former U.S. Secretary of State Henry Kissinger told President Richard Nixon "what a remarkable human being he is."
Lemon's mockery of Trump comes a week after Trump attacked him on Twitter in response to a report in The New York Times, which claimed he "hate-watches" CNN—particularly Lemon.
Trump tweeted December 11 that Lemon was the "dumbest man on television."
CNN responded by accusing Trump of bullying Lemon. "In a world where bullies torment kids on social media to devastating effect on a regular basis with insults and name calling, it is sad to see our president engaging in the very same behavior himself. Leaders should lead by example," said the news network in a statement.