Watch: CNN's Don Lemon, Branded 'Dumbest Man' on TV by Trump, Lost for Words at Kayla Moore's Cringeworthy Anti-Semitism Defense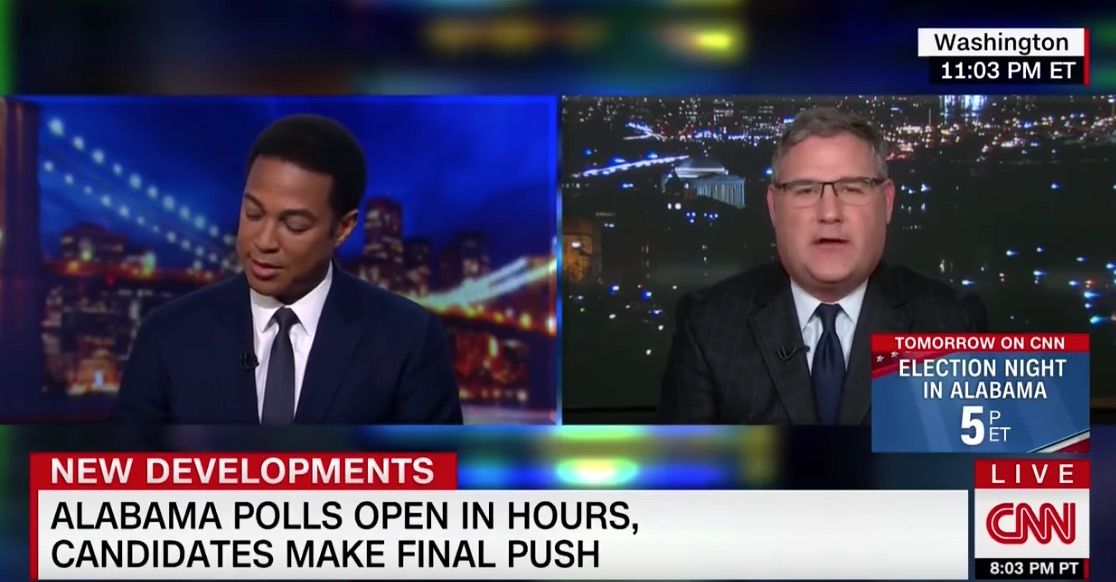 Don Lemon, the CNN news anchor President Donald Trump once called "the dumbest man on television," echoed the sentiments of a nation Monday night after Roy Moore's wife, Kayla, said the couple could not be anti-Semitic because they have a Jewish attorney.
"Fake news would tell you that we don't care for Jews," Kayla Moore said at an Alabama rally for her husband on Monday night, the eve of the state's U.S. Senate election. "I want to set the record straight while they're here: One of our attorneys is a Jew. We have very close friends that are Jewish and are rabbis."
After playing the clip on CNN Monday night, Lemon, 51, appeared incredulous. Following a silent pause, the news anchor said, "Wow," before bowing his head and giving a wry chuckle at Moore's inarticulate reasoning.
Political analyst Mark Preston then asked Lemon: "Don, do you consider me a friend by any chance?" Lemon responded, "Yes." Preston then sarcastically responded: "I can say I have a black friend now. I'm very, very excited."
Lemon again tried to make sense of Moore's remarks. "'One of our attorneys is a Jew'… How can…" he began before stopping and shaking his head.
Lemon found himself not reporting on the news but being the subject of it Monday when Trump attacked him on Twitter, following a New York Times report over the weekend that said the president "hate-watches" CNN sometimes to get worked up, singling out Lemon for scorn.
Trump tweeted that the Times's story was "fake news" and that he never watches Lemon. The president even said he once referred to him as the "dumbest man on television."
CNN responded Monday by accusing Trump of bullying Lemon.
"In a world where bullies torment kids on social media to devastating effect on a regular basis with insults and name calling, it is sad to see our president engaging in the very same behavior himself. Leaders should lead by example," said CNN in a statement.
Trump's claim that he never watches Lemon on CNN prompted Twitter users to unearth a tweet from 2015 in which the then-businessman praised the journalist.