Watch: Did Cambridge Analytica Use Facebook Data to Snatch the Election for Trump?
The British television station Channel 4 plans to air a third installment of its exposé on Trump campaign firm Cambridge Analytica on Tuesday in an episode examining how the firm influenced the 2016 U.S. presidential election.
Before the new installment in the series airs, however, a whistleblower who worked for the data analysis firm told CNN that Cambridge Analytica tested catchphrases Donald Trump used during the campaign, such as "drain the swamp" and "deep state," and worked with Steve Bannon years before the election.
At the time, Bannon was chief executive of Breitbart News, a hard-right website that he has called a platform for the alt-right. He later became the Trump campaign's chief executive and then President Donald Trump's chief White House strategist.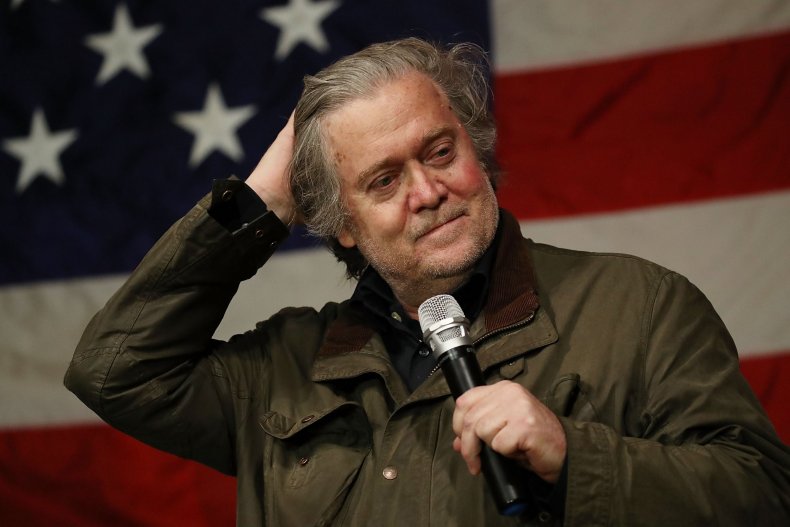 Breitbart is known for its anti-immigrant, anti-Muslim and anti-feminist sentiments, as well as for promoting far-right conspiracy theories like Pizzagate.
"We were testing all kinds of messages and all kinds of imagery. That included images of walls, people scaling walls. We tested 'drain the swamp.' Testing ideas of the 'deep state' and the NSA watching you—the government is conspiring against you," the former Cambridge Analytica employee, Christopher Wylie, told CNN late Monday. Wylie said his work for Bannon went back to 2014.
Cambridge Analytica, a London-based firm, is accused of harvesting more than 50 million Facebook profiles against the social media platform's rules and using those to profiles to build a psychological tool that could identify voters who could be persuaded to vote for Trump. Britain's Information Commissioner's Office is now seeking a warrant against the firm.
Related: Where to watch: Trump campaign's Cambridge Analytica faces undercover exposé
The third part in Channel 4's undercover exposé of Cambridge Analytica will look at the firm's work on the 2016 U.S. presidential election and will appear on its YouTube channel at 3 p.m. EST on Tuesday. Cambridge Analytica denies it used Facebook data to target voters during the Trump campaign.
In the second part of Channel 4's exposé, which aired Monday, senior employees of the firm, including CEO Alexander Nix, detailed how Cambridge Analytica could lay honey traps using Ukrainian girls and offer bribes to politicians to ensnare them as part of its services.
"We just put information into the bloodstream of the internet…and then watch it grow, give it a little push every now and again…like a remote control," Mark Turnbull, the managing director of Cambridge Analytica Political Global, told an undercover journalist posing as a potential client.
"It has to happen without anyone thinking, That's propaganda, because the moment you think, That's propaganda, the next question is, Who's put that out?" Turnbull said.
Wylie, the whistleblower, told The Guardian last weekend that he helped create a "psychological warfare mindfuck tool" for Bannon at Cambridge Analytica in 2014.
After he was pushed out of the White House last August, Bannon returned to head Breitbart. He was ousted in January 2018, after making disparaging comments about Trump and his family in the White House exposé Fire and Fury, by author Michael Wolff.
Libertarian billionaire Robert Mercer holds an ownership stake in Cambridge Analytica, and late last year he sold his shares in Breitbart to his daughter Rebekah. Mercer contributed heavily to the Trump campaign, and Bannon was his protégé. Wylie said he met with the two as the firm worked to build its psychological tool.
Wylie told CNN Tuesday that "a lot of these narratives, which, at the time, would seem crazy for mainstream candidates to run on— those were the things we were finding there were pockets of Americans who this really appealed to." He said Bannon knew what would work in a campaign "because we were doing the research on it."