Watch as Dog Tries to Bark at Owner for the First Time: 'Indoor Woofs'
A dog called Beeba has left online commenters in stitches after a video showing her learning how to bark went viral on social media.
In the video, shared Sunday on TikTok by the dog's owner under the username Goldenwolfjuno, Beeba can be seen struggling to bark as her owner teaches her, then finally letting out her first bark.
The hilarious clip comes with a caption that says: "Watch my dog bark at me for the first time." This is followed by: "Rate that bark 0 - 10"
There are many different reasons why dogs don't bark, according to the Hill's Pet Nutrition website. One is breed disposition. Some breeds, such as basenji, have quiet temperaments and aren't geared toward a lot of barking. This doesn't mean they don't bark at all, just that they don't bark much, and when they do it sounds more like howling or whining.
Another reason your dog is not barking may just be its personality. In fact, some dogs are just too laid back to bother with barking, and others don't like the sound of their own barking. But it could also be vocal stress or a health problem.
If your dog has suddenly stopped barking or is trying to bark but can't make any noise, it could be that too much barking has strained its voice. It could also indicate a health problem, so in this case it's best to contact your veterinarian.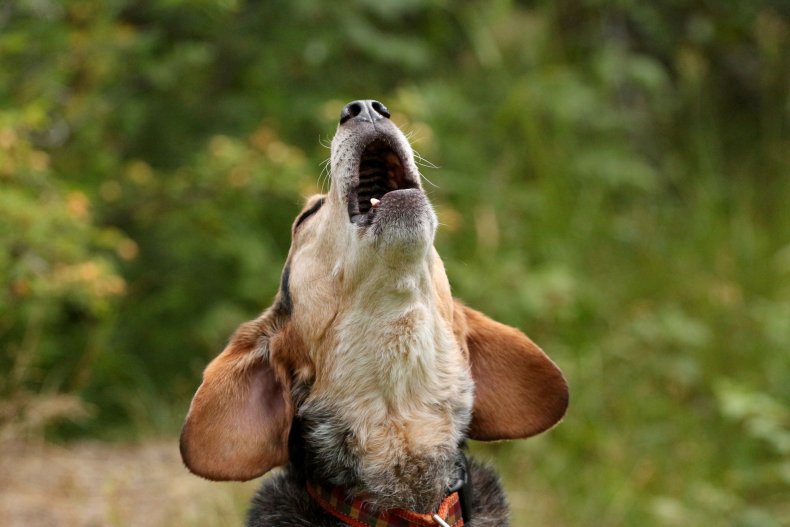 The TikTok video quickly attracted animal lovers, receiving over 771,900 views and 133,500 likes so far.
One user, Pixie Dust, commented: "Dog looks like Frank Gallagher." And alicia.xo wrote: "Why does it look like Daniel Radcliffe when he had long hair."
Other users rated Beeba's bark. VenusVenom365 said: "12/10 +2 for that ball bump." Jessicaquerry wrote: "That's a solid 20 plus 3 for all the snippies." And it's.the.nars added: "100/10 I'm so proud."
Lyna_garries said: "Uhoh. Going to regret that. Lol." And Ohnoodles17 wrote: "That's a super cute dog, but it has the eyes of a Victorian haunted doll." Whereisthebeach added: "I wish my dog didn't bark."
Another user, miranda, joked: "Is your dog by chance a Scottish old man?" And Angela Zacharek said: "It's the chomps for me! What a cutie!"
Honey wrote: "Bros gonna be so confused when you train him not to bark." And just-beth added: "Doing his indoor woofs, outside."
Newsweek could not verify the details of the case and reached out to Goldenwolfjuno for comment.
Do you have funny and adorable videos or pictures of your pet you want to share? Send them to life@newsweek.com with some details about your best friend and they could appear in our Pet of the Week lineup.