Video: Florida Man Steals Police Car, Takes Off at 150 Miles Per Hour
A bare-chested 22-year-old man from Largo jumped into a highway patrol trooper's car and led officers on a chase during which he reached speeds of up to 149 miles an hour, police said.
A Florida Highway Patrol trooper had stopped at the side of the turnpike in Okeechobee County when they saw Shane Jensen, who was shirtless, apparently needing medical help.
Police said that Jensen "was incoherent when the trooper began talking with him." The trooper spoke to Jensen for a few minutes and then went to speak to a road ranger so they could call for medical help, NBC News reported.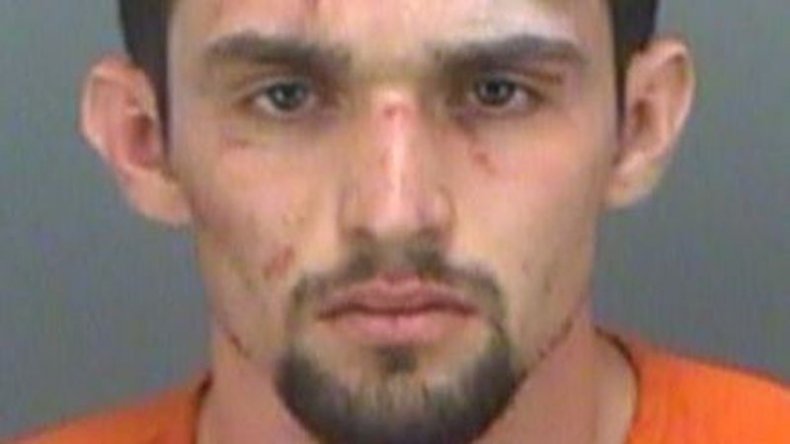 Jensen spotted an opportunity and made a dash for the driver seat of the trooper's 2013 Dodge Charger, and jumped on the accelerator. Dramatic dashboard camera footage from the incident on May 2 has just been released and shows Jensen speeding off and the trooper heard yelling, "Hey, hey, where are you going?"
Officers tried to stop Jensen by setting up a roadblock further down the highway in Osceola County. When the car came to a halt, three officers approached the stopped car with guns drawn and one moved to open the passenger-side door. But Jensen then accelerated on the road shoulder and escaped.
The suspect weaved through traffic at 120 miles per hour and at one point, reached 149 mph while officers chased him. Undeterred after he swerved to a halt at another stop strip, he got out of the car, jumped the median barrier and ran past oncoming traffic and into the woods where he was later arrested.
No one was injured in the incident. Jensen had a $400,000 warrant out of Pinellas County for carjacking and aggravated assault with a hammer.
He has been charged with grand theft, high speed fleeing, aggravated battery on a law enforcement officer and reckless driving, The Miami Herald reported.
Earlier this month, another Florida man, Oswald Pereira, led officers on a high-speed chase in a Dodge Charger which looked like the General Lee from the television show The Dukes of Hazzard.
Police say he had set his wife's home on fire prior to the chase after the couple had an argument. Pereira, 44, from Morriston, faces charges of arson, fleeing and attempting to elude law enforcement, resisting without violence, and aggravated assault with a deadly weapon, Click Orlando reported.
Video: Florida Man Steals Police Car, Takes Off at 150 Miles Per Hour | U.S.