Watch How This Needy Rottweiler Gives Owner Kisses: 'Aggressive'
A "needy" Rottweiler obsessed with smooching her owner has TikTok users in hysterics.
In a clip shared on January 23, Rianna (@nala_the_needy_rottie) explained that her five-year-old dog Nala offers kisses on demand.
"OK, so my Rottweiler has somehow learned that when I puck up my lips it means I want a kiss," she said.
"This is probably saying that I kiss her too much, but it is the cutest thing."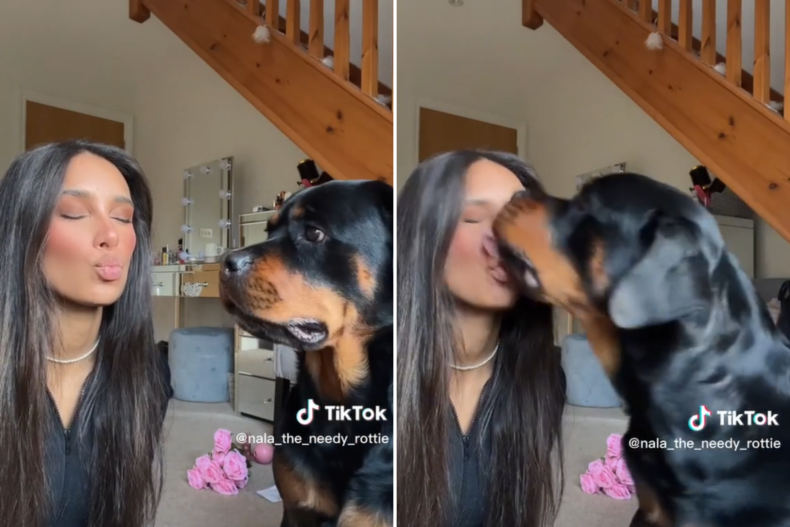 Rianna then puckers her lips to demonstrate, with Nala planting a kiss right on her mouth and nose.
The adorable footage melted TikTok users' hearts but also made them chuckle, with the video receiving over 23 million views and 4.6 million likes.
Do Dogs Really 'Kiss'?
Humans aren't the only animals to kiss as a sign of affection. Admittedly, a dog's kiss isn't exactly like a human's—it's more of a lick. Still, according to the American Kennel Club (AKC), licking is a way that your dog expresses fondness.
However, licking also has a bunch of other possible meanings. For example, your pet might just think you taste good (apparently, the salt on our skin is flavorsome to dogs) or you have some food left on your face from dinner.
If they lick you when you walk through the door, they're saying "hello," as licking is also a pack greeting ritual in the canine world.
Nevertheless, if you kissed your canine companion a lot as a puppy, then they likely do recognize this as a sign of affection, even if it's not innate.
'That Was an Extremely Disney Moment'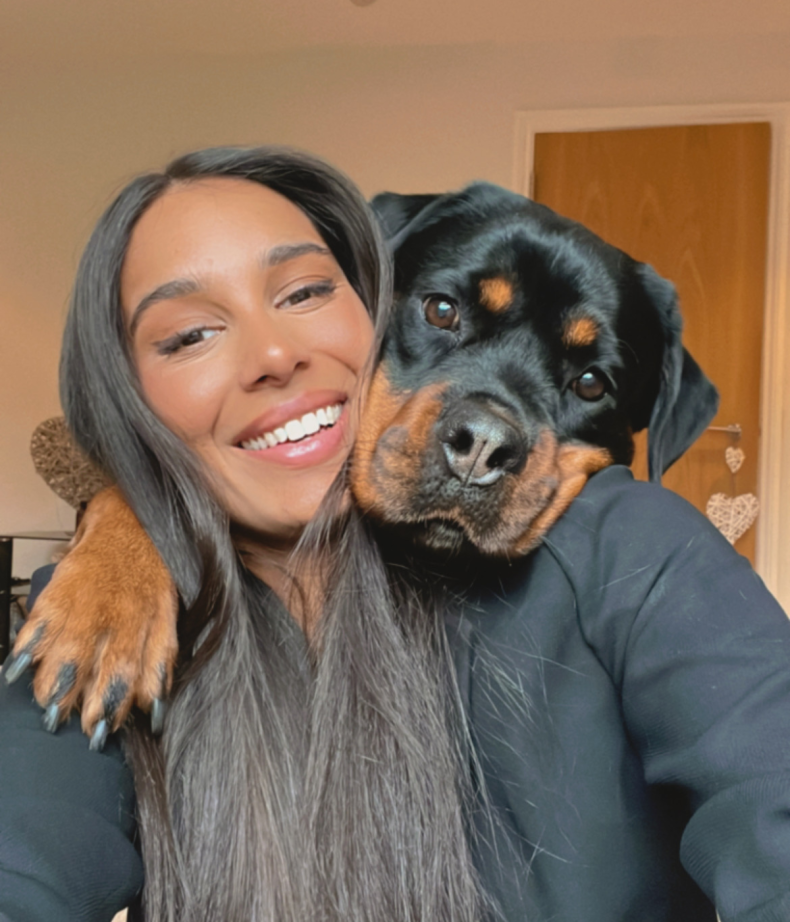 In the video, Rianna puckers up waiting for a kiss. However, it takes Nala a while to realize her owner is waiting, distracted by something off-camera.
When Nala does notice her owner's pout, she gives her a big smooch, licking Rianna's nose in the process.
"It doesn't matter how long you leave it, she'll come and give you a kiss," Rianna said.
She then puckers up again, and Nala comes running over immediately for another. Rianna does it again, and Nala runs off on cue and pecks her on the cheek.
"Do you see what I mean?" she said. "Did I kiss her too much as a puppy?
"Did I give you a kiss too much, yeah?" she asks Nala, who gives her another smooch.
Rianna adopted Nala in 2018, when the pup was 5 months old. She may look fierce, but Rianna said Nala has been "needy" from day one.
"The morning after she came home with me, she followed me around from room to room and it is still the same now—my mini-me," she told Newsweek.
"She is renowned for her infamous needy paw—she has learned from a puppy that if she taps you with her paw non-stop it ends in belly rubs and cuddles."
Nala adores Rianna, but is wary of strangers. However, her younger brother Axel—also a Rottweiler—"complete opposite" and will pester anyone for attention.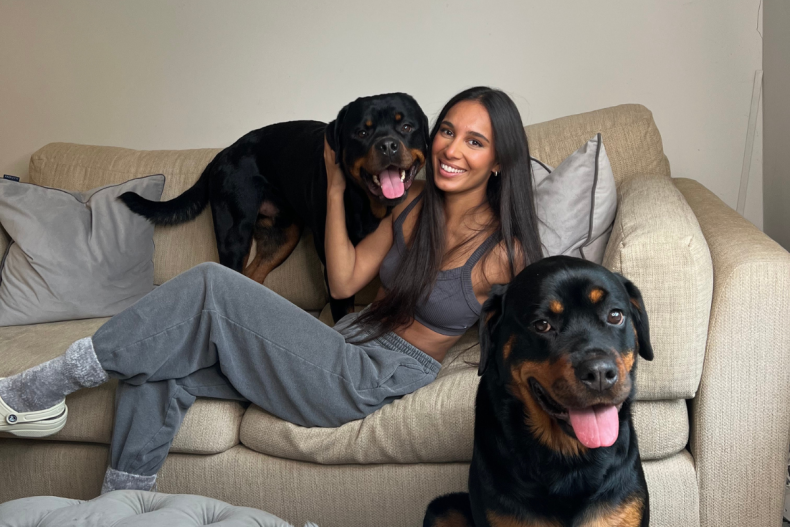 Nala is super loyal and is never out of sight. She is also super smart and people are always convinced she is human," said Rianna.
"She tilts her head side-to-side when you speak to her like she understands."
Nala's smooching obsession began with Ri giving her goodbye kisses on the way to work.
"[I would] kiss her hello when I got back and it sort of became a routine ever since," she said.
"She's probably given thousands and thousands of kisses by now!
TikTok users couldn't get enough of the lovable pup, with Jess calling the clip the "sweetest thing I've seen!!"
Nell agreed, commenting: "THAT WAS TOO CUTE GOOD GIRL!!!"
"That was an extremely disney moment," said HEEM.
"The face she made before, my heart," wrote Reya.
"So cute. You can actually see her double take and 'go ooh the lips, it's kiss time," said Jenny.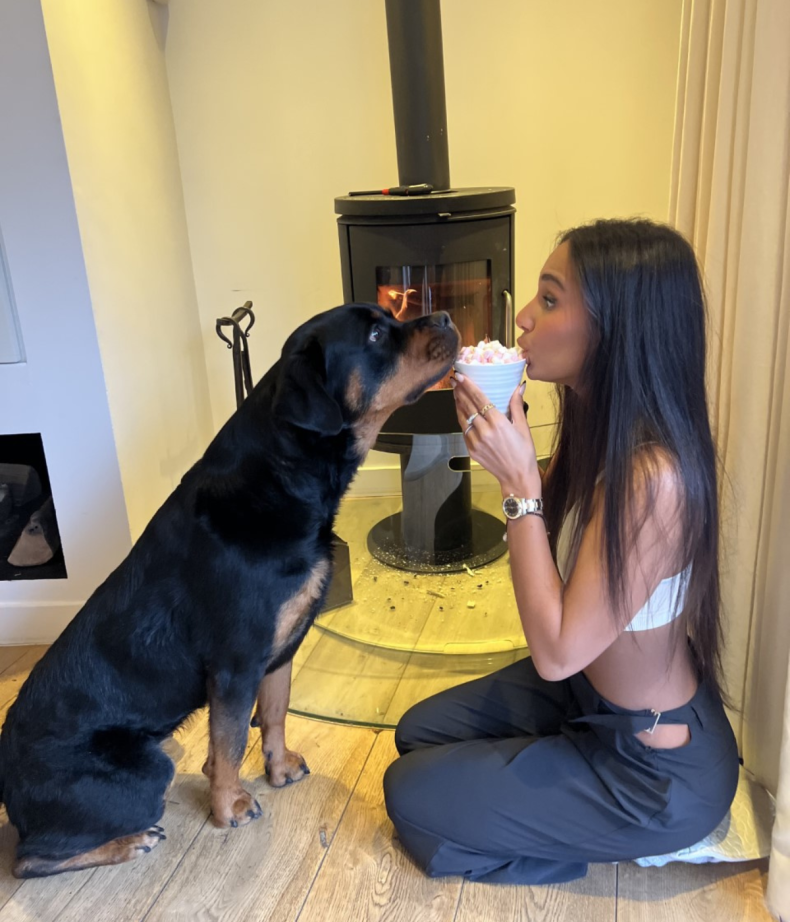 Still, users found the initial pause hysterical, with Ruby X Rose commenting: "That moment of [silence]."
"She's like 'wait rn? on camera?'" joked Kaity E.
"It was awkward for a second, then BAM!!!" wrote The_Crafty_One.
"The way she thought about it being like 'I'm supposed to do something... OH YEAH'," said Catherine Barr.
"That look on her face was like, 'OMG, my human is OBSESSED WITH ME!'" commented Nikki.
Nala isn't the only kiss-obsessed canine to take over TikTok. A Labrador demanding kisses from her owner—who was in the middle of a DIY job—recently made animal lovers chuckle, while an Alaskan Klee Kai jealous over his owner kissing another dog received over 3.8 million likes.
Do you have funny and adorable videos or pictures of your pet you want to share? We want to see the best ones! Send them in to life@newsweek.com and they could appear on our site.