Watch: India's Vladimir Lenin Statue Toppled After Communist Election Defeat
A controversial statue of Soviet leader Vladimir Lenin has been pulled down in India following election defeat for local Communists, who claimed the crowd then dismembered the monument and "played football with [his] head."
India's ruling Bharatiya Janata Party (BJP) swept to victory in the northern state of Tripura, unseating the Communist Party of India (Marxist) after 25 years. In a first-ever for the party, the BJP-coalition took 43 out of the 59 local assembly seats in what was a stronghold state for the Communist Party.
The statue dedicated to the Bolshevik figurehead has stood in the town of Belonia for five years and was brought down using an excavator as supporters gathered around and cheered.
Related: Why Lenin's body is still on show in Moscow when most Russians think he should be buried
Officials from the Communist Party blame the BJP for the destruction, claiming that "its head was dismembered from the body."
"Then the BJP workers played football with Lenin's head," Tapas Dutta, a local party member told The Indian Express newspaper.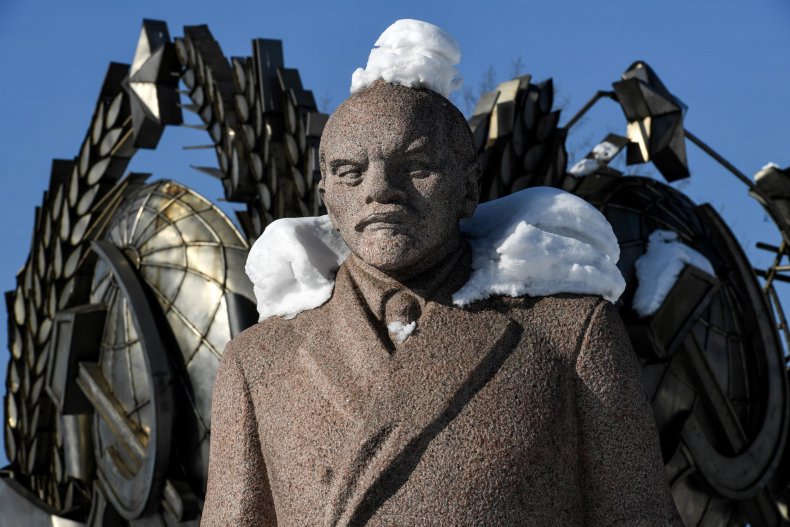 Members of both parties have clashed with one another in Tripura, in what the police has called "post-poll violence," NDTV news channel reported.
But BJP officials denied responsibility for the destruction of the statue, insisting that it was triggered by an "overflow of anger" in the local community.
"For years, there has been resentment against this statue of Lenin," local BJP leader Raju Nath told the BBC. "It was built by the municipality and funded by the taxpayers' money. Why should the taxpayer have to finance a statue of Lenin? What does this foreigner Lenin have to do with our people?"
Nath dismissed the argument that the incident was the result of anti-Communist sentiment, arguing that if the statue had displayed a left-wing politician of Indian origin, such as the late Nripen Chakraborty, "nobody would have touched it."
Police arrested the driver of the excavator but released him on bail, according to South Tripura police chief Ipper Monchak.