President Joe Biden and Vice President Kamala Harris called the family of George Floyd following the reading of a guilty verdict against former Minneapolis police officer Derek Chauvin.
Benjamin Crump, the attorney for the family, shared a video of the moment on Twitter.
Biden could be heard saying, "Feeling better now. Nothing is going to make it all better, but at least now there is some justice."
The president added: "You're an incredible family. I wish I were there ... We've been watching every second of this, the vice president, all of us. We're just all so relieved."
Biden vowed to "get a lot more done" when it comes to police reform. Crump said during the call that he hopes to see the George Floyd in Policing Act—which would ban chokeholds and "qualified immunity" for law enforcement as well as create national standards for policing—to get passed and signed by Biden.
"You got it pal. That and a lot more," the president said.
Harris thanked the family for their courage and said today was a "day for justice in America."
"In George's name and memory, we are going to make sure his legacy is intact and that history will look back at this moment and know that it was an inflection moment," she added.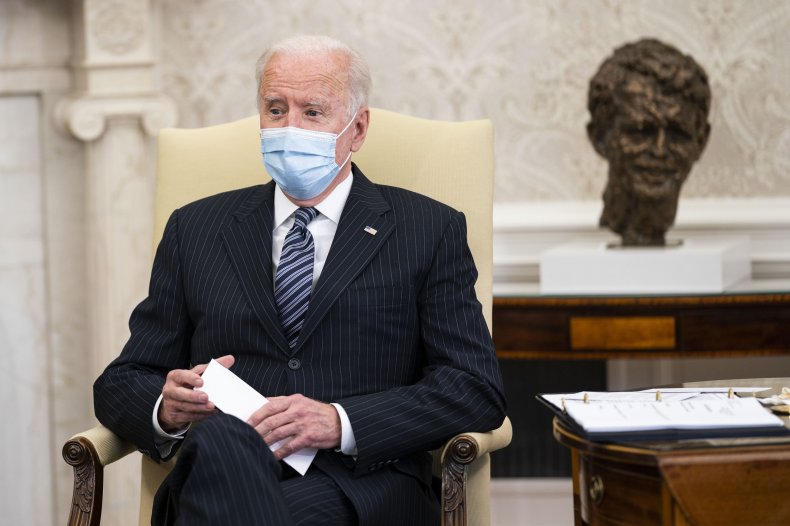 Judge Peter Cahill read the jury's decision shortly after 5:00 p.m. Eastern time on Tuesday. Chauvin was found guilty on all three charges of second-degree unintentional murder, third-degree murder and second-degree manslaughter.
Cahill revoked Chauvin's bail and he was ordered back to jail. His sentencing will be scheduled in eight weeks time.
Second-degree murder carries a maximum sentence of 40 years; third-degree murder carries a maximum sentence of 25 years; and an additional second-degree manslaughter is punishable by up to 10 years.
George Floyd's youngest brother Rodney praised the verdict as historic, telling MSNBC that he was feeling "tears of joy, so emotion that no family in history ever got this far."
"This right here is for everyone that's been in this situation, everybody," he said.
Chauvin was the first of four officers involved in the fatal arrest to face a jury. The other three responding officers—Tou Thao, Thomas Lane and J. Alexander Kueng—have been charged with aiding and abetting murder and will be tried jointly in August.