A social media personality has gone viral with an over-the-top performance of a rap song calling for the assassination of Russian President Vladimir Putin.
Alex Stein, of Dallas, Texas, can be seen rapping in front of a televised North Texas city council meeting. The songs' lyrics include, "Put a bullet in Putin's brain," and "Vladimir Putin needs to die." This is not the first time he has performed a musical number at such a meeting.
Stein, who briefly appeared as a contestant on ABC's 2012 reality competition The Glass House, has gained fame by posting videos of himself making a spectacle at political meetings. But while he describes himself as a comedian and satirist, one journalist has accused him of transphobia over his past comments.
Dressed in a navy blue suit with a yellow pocket square and tie—roughly resembling the colors of the Ukrainian flag—Stein played a backing beat and began singing, "I'm the proof when I'm in the booth spitting on the mic. Anti-vax, Putin hates all of them Blacks. Putin is a bad racist. Put him in the ground, white or brown, and I'm in Plano town, and you know you just got found. I'm a pimp, I own a blimp."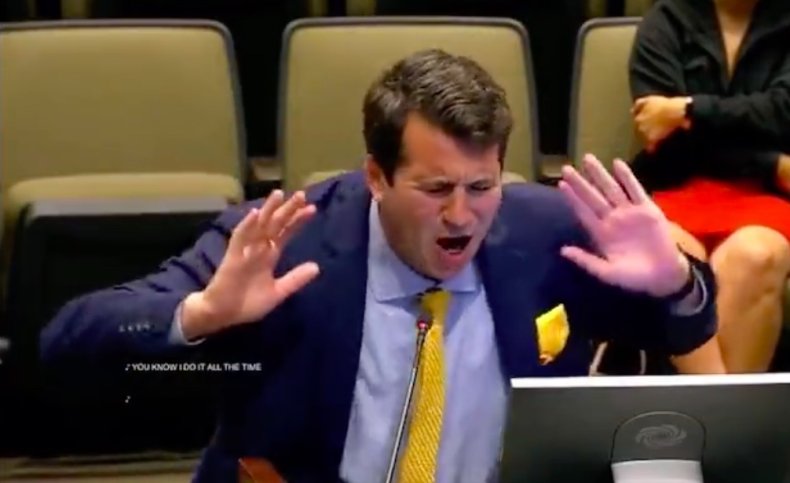 He continued, "Zelensky is a VIP. Ukraine and I go insane. Put a bullet in Putin's brain. You know that is the plan. I'm a Zelinsky stan.... Gas prices way too high. Vladimir Putin needs to die. I love you. Volodymyr Zelensky you're so smart. What that's smell? Did somebody fart? Oh well, what can you say? Doesn't make me straight or gay."
At the end of the rap, Stein said into the microphone, "I love you. We need to take out Vladimir Putin like Lindsey Graham said." He then thanked the mayor and mentioned the name of his Instagram account.
Stein's allusion to Graham referenced the Republican South Carolina senator's repeated suggestion that someone assassinate Putin in order to end Russia's invasion of Ukraine.
In response to the video of his rap in front of the Plano City Council, Steven Monacelli, a freelance reporter, said on Twitter that Stein has a history of making "transphobic posts" on social media.
While Monacelli didn't cite any specific statements by Stein, in a video posted to Stein's Twitter account on March 15, Stein told a meeting of officials in Marin County, California, "My 9-year-old is openly gay and identifies as a lizard, and every time that I take her to a public park, all we see are monkey bars. That is non-inclusive...[and] racist to a child that identifies as a lizard. But you guys don't take it seriously. Why? Because you don't care."
He told the officials that if politicians refer to Rachel Levine, a transgender woman who serves as the U.S. Assistant Secretary for Health—as a "woman," they should refer to his daughter as a lizard.
In an October 2021 Dallas City Council meeting, Stein identified himself as "Alexandria Stein," a post-op trans woman, while wearing a red cape and bonnet similar to the oppressed women in Hulu's dystopian drama series The Handmaid's Tale.
"In all seriousness I love Gay and Trans people," Stein told Newsweek. "I just feel like children taking puberty blockers and gender reassignment surgery before the age of 17 is insane."
"I have gay family members that I love very much, I love the gay community and the trans community," he added. "I'm a comedian and a satirist so I make fun of everything under the sun."
Stein also performed a rap at a Dallas City Council meeting during the COVID-19 pandemic. Wearing medical scrubs and waving face masks, he sang, "You gonna get corona from Mona. Don't. Vaccinate. Don't wait. Don't hesitate. You gotta vaccinate in the Lone Star State."
"I want to vaccinate your mom. I want to stick it deep in your arm," he continued. "Oh Ma, where are you? I want to vaccinate you, but you can't hear my song. Vaccinate me and in my thong. Vaccination, right or wrong. Dr. Fauci give me that ouchie."
Stein is a graduate of Highland Park High School in the affluent Dallas neighborhood of Highland Park. In September, a fake press release announced his death due to COVID-19.
"Alex Stein was an anti-vaccine and anti-COVID leader who believed that the vaccine contained a nano-particle that caused Myocarditis in young people," the press release stated. "And sadly, we regret that his views on the dread virus cost him his life. Alex also felt the terror attacks on 9/11 were orchestrated by people within the United States government."
The press released included a photo of Stein holding a cake that said, "COVID is a hoax" in icing.
Newsweek contacted the city manager of Plano, Texas, for comment.