Lindsey Graham Repeats Call to 'Take Out' Putin After Zelensky Speech
South Carolina Senator Lindsey Graham on Wednesday said he stood by his previous comments that Russian President Vladimir Putin should be assassinated.
The Republican lawmaker made the remarks during a press conference following Ukrainian President Volodomyr Zelensky's video address to Congress. Graham said he supported President Joe Biden's current approach in not supporting a no-fly zone over Ukraine, and he said he also supported Zelensky's request for MiG-29 fighter jets from Poland.
On March 3, Graham tweeted that somebody in Russia needs to "take this guy out."
Graham took questions from reporters following his Wednesday statement and was asked about the previous comments.
"Yeah, I hope he will be taken out. One way or the other. I don't care how they take him out," Graham answered. "I don't care if we send him to the Hague and try him. I just want him to go. Yes, I'm on record."
Graham added: "It's time for him to go. He's a war criminal. I wish somebody had taken Hitler out in the '30s."
Graham noted that he's not calling for American forces to enter Russia to kill Putin. He'd prefer the citizens there overthrow him.
"I am asking the Russian people to rise up and end this reign of terror for you and the world at large," he said.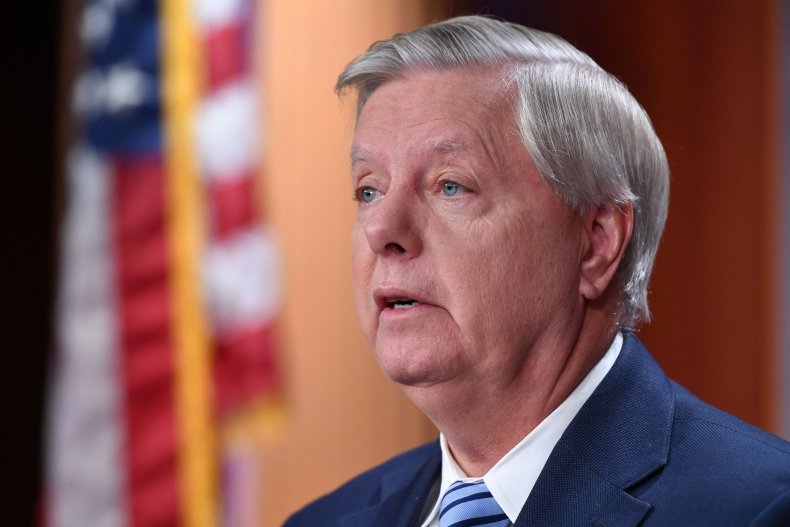 During his prepared remarks, Graham also discussed a non-binding resolution he introduced to the U.S. Senate that condemned Putin as a war criminal. The resolution passed unanimously on Tuesday and calls for the International Criminal Court (ICC) in The Hague and other nations to investigate potential war crimes carried out by Putin and the Russian military.
Senate Majority Leader Chuck Schumer, a New York Democrat, said both political parties stood together in denouncing Putin's actions in Ukraine.
"The legislation passing today, championed by Senator Graham, sends an unmistakable message that the U.S. Senate stands with Ukraine, stands against Putin, and stands with all efforts to hold Putin accountable for the atrocities levied upon the Ukrainian people," Schumer said on Tuesday.
Graham acknowledged Schumer's comments about the resolution on Wednesday and said there is bipartisan support for helping Ukraine acquire Polish MiGs.
"We cannot let Putin get away with this after 20 years of murder and war crimes and thievery that led to this moment," Graham added. "Every time he did something outrageous, the world complained but not enough. And now he has crossed a Rubicon where there is no going back if he's still standing when this is over."
A spokesperson for Graham declined to comment further when reached by Newsweek.
Newsweek reached out to the Russian Foreign Ministry for comment but did not hear back in time for publication.
Follow our live blog for updates on the Russia-Ukraine conflict.
Update 03/16/22, 12:55 p.m. ET: This story has been updated to include more comments from Graham's press conference and background information.