Watch Katie Hill's Defiant Resignation Speech Before Backing Trump Impeachment Inquiry 'on Behalf of the Women of the United States of America'
Katie Hill, the freshman Democrat congresswoman who resigned after allegations of improper relationships were made against her and nude photos of her emerged, has condemned the "misogynistic culture" that forced her to stand down in a defiant final speech.
Hill, who represented California's 25th District, announced her resignation Sunday after the photos were reproduced in two right-wing publications, Britain's Daily Mail and the conservative website Red State.
In her final speech as a member of the House of Representatives, moments before voting in favor of formally launching impeachment proceedings against President Donald Trump, she called out the double standard of being forced to resign while men such as Trump stayed on in their role despite facing sexual assault allegations.
"I'm leaving because of a misogynistic culture that gleefully consumed my naked pictures, capitalized on my sexuality and enabled my abusive ex to continue that abuse, this time with the entire country watching," she said.
"I'm leaving, but we have men who have been credibly accused of intentional acts of sexual violence and remain in boardrooms, on the Supreme Court, in this very body and, worst of all, in the Oval Office.
"So the fight goes on to create the change that every woman and girl in this country deserves. The forces of revenge by a bitter, jealous man, cyber exploitation and sexual shaming that target our gender and a large segment of society that fears and hates powerful women have combined to push a young woman out of power and say that she doesn't belong here.
"Yet a man, who brags about his sexual predation, who's had dozens of women come forward to accuse him of sexual assault, who pushes policies that are uniquely harmful to women, and who has filled the courts with judges who proudly rule to deprive women of the most fundamental rights to control their own bodies, sits in the highest office of the land today.
"As my final act I voted to move forward with the impeachment of Donald Trump on behalf of the women of the United States of America. We will not stand down. We will not be broken. We will not be silenced. We will rise and we will make tomorrow better than today."
The final vote to proceed on impeachment proceedings was passed by 232 votes to 196 in the House of Representatives and will now go to the Senate, where the Republican party has a majority of 53 members to the Democrats' 45.
Following Hill's resignation, a number of Republicans and Democrats announced their intentions to contest the seat in a vote that will take place in December.
Among them are George Papadopoulus—the former Trump aide who was jailed for lying to FBI agents about the timing of meetings with alleged go-betweens to Russia during the 2016 election campaign—and Steve Knight, the Republican who formerly held the 25th District until Hill defeated him 2018.
Christy Smith, a Democrat from the California State Assembly, will also contest the seat.
In a separate revelation, it transpired on Tuesday that the reporter who broke the Katie Hill story was campaign manager for GOP assembly seat candidate Suzette Valladares, and had also previously worked on Knight's campaign.
Papadopoulus also appeared to be aware of the pictures before they were released, tweeting on several occasions that Hill's seat was soon "for the taking."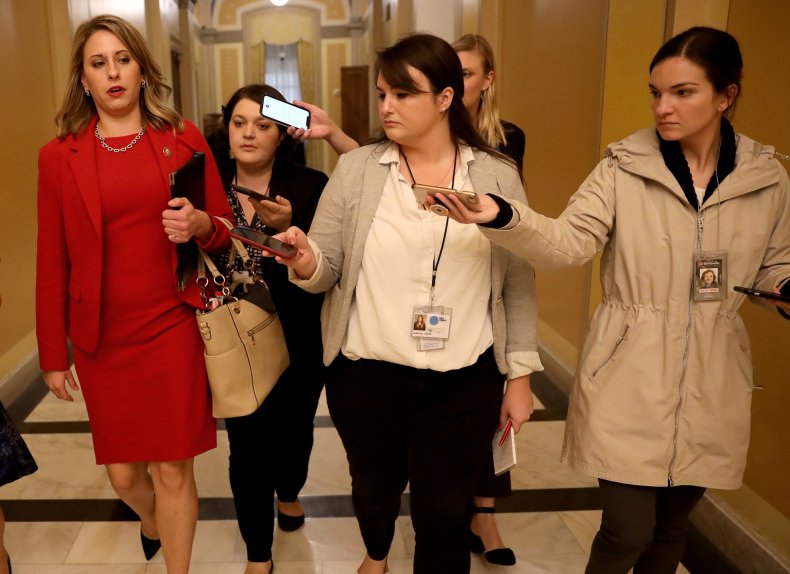 In her speech, Hill said the release of the photos led to some of the most difficult moments in her life.
"The mistakes I made and the people I've hurt that led to this moment will haunt me for the rest of my life and I have to come to terms with that," she said.
"Ever since those images first came out, I barely left my bed, I've ignored all the calls and the texts and went to the darkest places that a mind can go and I've shed more tears than I thought were possible."