Video: LeBron Is Shocked after His Son Tries to Dunk
It is not often that LeBron James appears absolutely bewildered on a basketball court. During his stellar career, the four-time MVP has pretty much seen it all and there is little, if anything, that can catch him off guard.
His son, LeBron Jr., however, managed to accomplish that feat as he tried to dunk over the weekend during a game valid for the "Balling on the Beach" tournament at Southwest Miami Senior High School.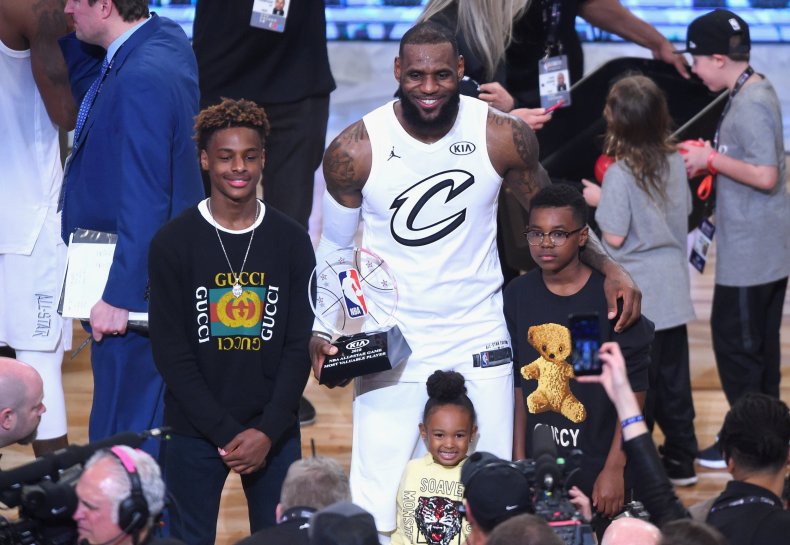 While LeBron's eldest son did not successfully complete the dunk, his attempt clearly left his father very impressed.
SLAM magazine tweeted a video of LeBron standing on the sideline, looking absolutely shocked at what he has just witnessed.
The three-time NBA champion then put in words just how surprised he was to see his son trying to dunk.
"Man what!?!?!," LeBron wrote on his Instagram profile.
"First time he ever tried that in a game today! And it was someone kinda trailing him behind too! Surprised not only me but everyone in the gym. Man o Man!"
James Jr., also known as Bronny, is a very promising eighth grader and has already received scholarship offers from a number of major colleges. Earlier this month, the San Jose-based Mercury News reported LeBron Jr. had "committed" to attend a high school in Los Angeles County, prompting speculation LeBron could move to the Lakers next season.
While being LeBron's son certainly means he enjoys much more coverage than any of his peers, the teenager is obviously very talented.
In March, the 13-year-old dazzled spectators at the prestigious John Lucas All-Star weekend in Houston, scoring at will, freeing up space for his teammates to finish at the hoop and protecting the paint with the kind of determination that would make his father proud.
Last year, LeBron told the media that his son was a better passer and shooter than he was at the same age.
"They [James Jr.'s team] do a great job of teaching him the right way," he said.
"I didn't handle the ball as well as he does, he handles the ball exceptionally well and he shoots a lot better than I did at that age."
If LeBron looked so shocked at Bronny's attempt to dunk, his reaction once he manages to finish off the move promises to be a sight to behold. And given his son's talent, that moment doesn't appear to be too far off either.
Video: LeBron Is Shocked after His Son Tries to Dunk | Sports