Watch Lin-Manuel Miranda, Josh Groban Honor Late Stephen Sondheim in Times Square
On Sunday, the Broadway community gathered in Times Square to honor Stephen Sondheim, who passed away on Friday in his home in Roxbury, Connecticut.
Stars including Lin-Manuel Miranda, Josh Groban and Sara Bareilles were among those who congregated on the red stairs above the TKTS booth to pay tribute to Sondheim. Miranda read from Sondheim's Look, I Made A Hat, an anthology of lyrics, and joined the crowd as they sang "Sunday" from the musical Sunday in the Park with George, for which Sondheim wrote the music and lyrics.
"This felt like church," Bareilles told Variety after the performance. "In his remembrance, we did what theater does best. We sang and raised our voices and came together in community."
"Everybody who's here has a touchstone for why Sondheim's music has brought them to this place," Groban told the publication. "And whatever part of the entertainment industry we're in, everybody is here because we were first influenced by Sondheim's music. To mourn his passing is a crushing blow."
The event was organized by Broadway actor Erich Bergen, who told CBS New York that he got the idea while on the train on Saturday.
"I was listening to the cast album of Sunday in the Park and the idea just popped into my head, and I made some calls," the Waitress star said. "Everyone showed up. It was the biggest piano bar I've ever been to."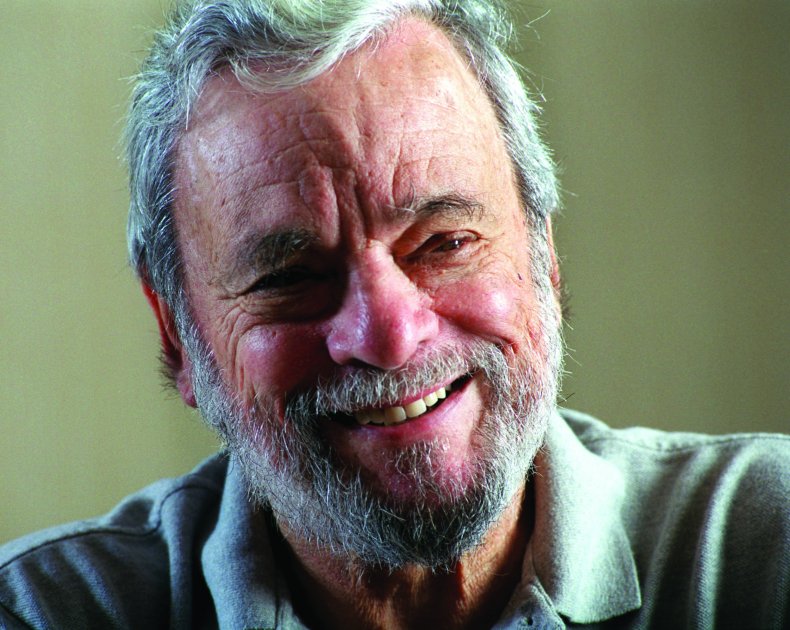 Sondheim reshaped American musical theater with musicals such as Sweeney Todd, Company, and Follies. A Little Night Music, which opened in 1973, contains the famous song "Send in the Clowns," which has been recorded by over 900 singers, including Frank Sinatra, Barbara Streisand and Bing Crosby.
Early in his career, he wrote the lyrics for the musical West Side Story, which is inspiring generations to this day. A remake of the 1961 film will be arriving in cinemas this December.
"How do you put into words that loss of someone who gave us the words his whole life?" Rachel Zegler, who will be playing María, said during a Q&A at an advanced screening of the movie. "Especially when it comes to this musical—[West Side Story] was one of his first professional gigs."
"We were so lucky to have him in the room," Zegler said about meeting Sondheim. "That wasn't lost on any of us when we were sitting there listening to him speak."
"This song in the middle of Times Square, in tribute to Sondheim, this is as Broadway as it gets. Stephen Sondheim is as Broadway as it gets," theater great Brian Stokes Mitchell told CBS New York. "He changed kind of the way music was structured on Broadway, too, and the way music and lyrics were intricately linked and connected, and the way they worked together to propel a story, to propel a character. That's something that he really really perfected."