Watch: Mitt Romney Applauds Jackson Alone While GOP Senators Leave Chambers
In a video that has since gone viral, Republican Senator Mitt Romney is seen standing alone applauding the official confirmation of Judge Ketanji Brown Jackson to the Supreme Court as his GOP counterparts exit the room.
On Thursday, Jackson was confirmed as the first Black woman on the Supreme Court by a 53-47 vote. The highly shared video of Romney highlights Washington's divide.
On Monday, Romney praised Jackson as "a person of honor" and congratulated her on the anticipated confirmation.
"After reviewing Judge Jackson's record and testimony, I have concluded that she is a well-qualified jurist and a person of honor. While I do not expect to agree with every decision she may make on the Court, I believe that she more than meets the standard of excellence and integrity," Romney said in a statement.
Only three Republicans voted for her confirmation; Romney of Utah and Senators Lisa Murkowski of Alaska and Susan Collins of Maine.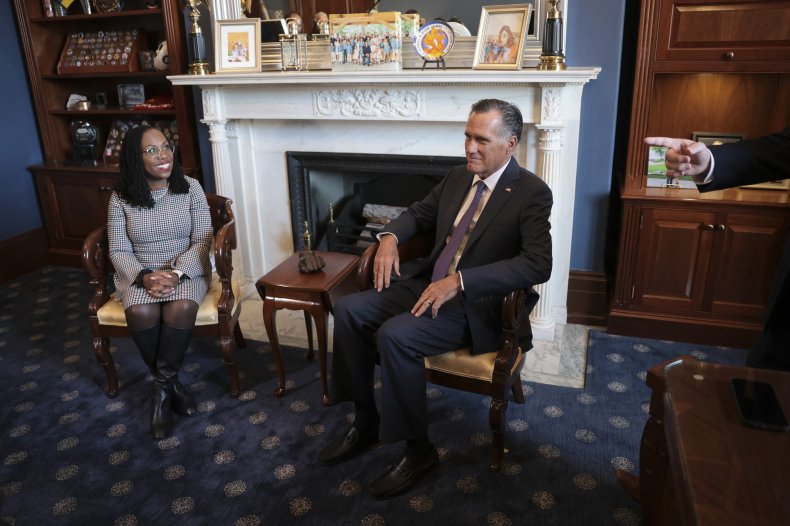 Questions have swirled over Romney's flip to siding with Jackson. In June 2021, Romney voted 'no' on Jackson's nomination to the U.S. Court of Appeals for the District of Columbia Circuit.
However, after meeting with Jackson, Romney said his view of the judge changed.
"In her previous confirmation vote, I had concerns about whether or not she was in the mainstream," Romney told reporters on Tuesday. "And having spent time with her personally and reviewing her testimony before Congress [I] became convinced that she is in the mainstream."
Romney was met with cautious approval on social media for staying to congratulate Jackson on Thursday while other Republicans beelined to the exit.
"I may not agree with his policies or religious views, but I think it's pretty safe to say that Mitt Romney conducts himself with decency and respect," said actor Parvesh Cheena.
"Class is a matter of choice, not a matter of politics," said Art Acevedo, former Austin chief of police. "Thank you Mitt Romney for displaying the class and dignity the United States Senate was once renowned for the world over.
And of course, Romney also faced major backlash.
"Mitt Romney needs to be expelled from the Republican Party TODAY," said conservative author Nick Adams.
Some have even faulted Republican Senate Minority Leader Mitch McConnell for "letting" Romney vote for Jackson.
"This is a failure of Mitch McConnell as the Republican leader in the United States Senate ... ," said Breitbart's Matthew Boyle. "The fact that he's letting Mitt Romney, Lisa Murkowski, and Susan Collins get away with this is just absolutely abhorrent."
Newsweek reached out to Romney for comment.