Watch the Moment George Floyd's Family Hears Derek Chauvin Guilty Verdict
George Floyd's family cheered, leaped from their seats and exchanged high-fives upon hearing about Derek Chauvin's guilty verdict as it was reported on TV news. A video captured the family's response as the judge read the verdict.
The family had been watching TV for the decision along with the family's lawyer, civil rights attorney Ben Crump. President Joe Biden and Vice President Kamala Harris also called Floyd's family following the verdict.
On Tuesday evening, Judge Peter Cahill announced that Chauvin, a former police officer, had been found guilty of all three criminal counts related to Floyd's May 25, 2020 death. Chauvin was found guilty of second-degree unintentional murder, third-degree murder and second-degree manslaughter.
After delivering the verdict, Cahill also revoked Chauvin's bail, meaning that Chauvin will remain in jail until his sentencing hearing.
Floyd's youngest brother Rodney Floyd called the verdict historic. He told MSNBC that he was feeling "tears of joy, so much emotion that no family in history ever got this far."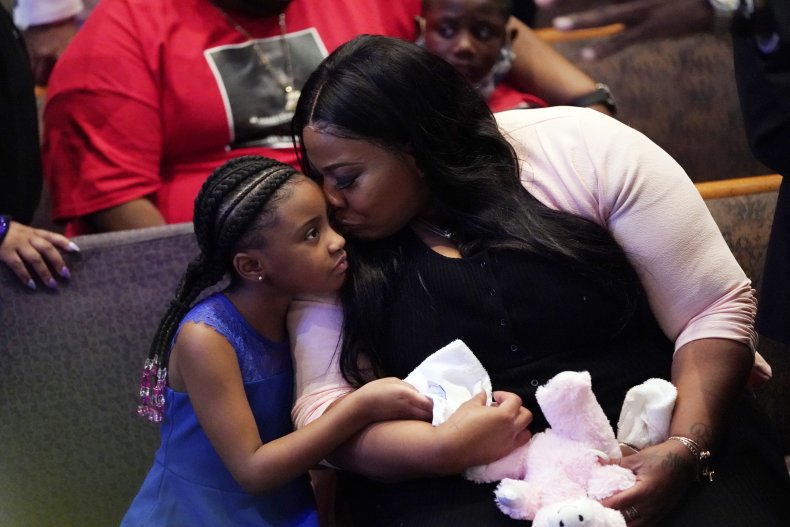 "You know, to get a guilty charge on all accounts... This right here is for everyone that's been in this situation, everybody," he said, referring to Black families in the past that had sought justice after police killed their relatives.
However, he added, "I know that we're not done yet."
Police officers are prosecuted for murder in less than 2 percent of fatal shootings, according to Philip Matthew Stinson, a criminal justice expert at Bowling Green State University.
Following the verdict, Crump posted video of Biden speaking with the family over the phone. In the video, Biden can be heard saying, "Feeling better now. Nothing is going to make it all better, but at least now there is some justice."
"You're an incredible family. I wish I were there," Biden added. "We've been watching every second of this, the vice president, all of us. We're just all so relieved."
Harris thanked the family for their courage. She called the verdict's announcement a "day for justice in America."
"In George's name and memory, we are going to make sure his legacy is intact and that history will look back at this moment and know that it was an inflection moment," Harris added.
Crump and the Floyd family released a statement following Chauvin's conviction.
"Today's verdict goes far beyond this city and has significant implications for the country and even the world," the statement said. "This case is a turning point in American history for accountability of law enforcement and sends a clear message we hope is heard clearly in every city and every state."
Newsweek contacted Crump's office for comment.