Watch: Netherlands Coronavirus Healthcare Workers Receive Nationwide Standing Ovation for Tackling Pandemic
Residents of Amsterdam, Netherlands have taken to their balconies and doorsteps to clap and cheer on health care workers who are putting themselves at risk to stem the rising tide of the COVID-19 coronavirus pandemic.
A video posted to Twitter Tuesday shows the homebound residents of the city briefly heading outside to step to their balconies and doorsteps at 8 p.m. and offer rapturous applause and cheers for the workers.
"At 8pm, people from across the Netherlands came outside - to their balconies, doorsteps, and more - all to clap and cheer on the country's healthcare workers who are keeping everyone safe. You could hear the clapping echoing throughout all of Amsterdam," the tweet from @Goodable read.
Although the Netherlands has not joined other some European countries in implementing a full public lockdown in hopes of containing COVID-19, a shutdown of schools, restaurants and bars is in place and many residents are in self-isolation. As of Tuesday, the country had reported 1,705 cases of the virus, including 43 deaths and two recoveries.
Balcony cheers were also reported at 8 p.m. in Paris, France, after a call went out on social media encouraging people to cheer on healthcare workers. France is on full lockdown in hopes of containing the virus, with orders for residents remaining in their homes enforced by police.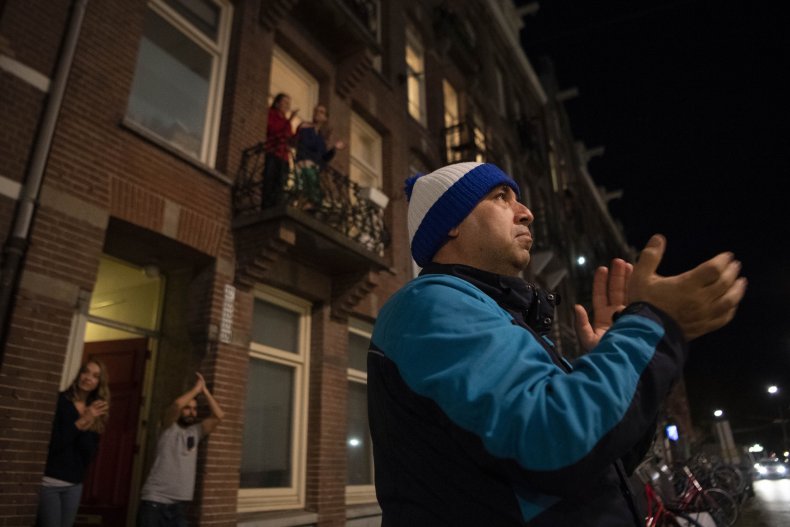 Confined residents in Italy in Spain responded to an earlier social media call, taking to their balconies to cheer on workers at 10 p.m. on Monday. Similar scenes played out across Europe, with balcony cheers reported in many countries including Croatia, Malta and Armenia. The cheering may have begun in Spain, where confined residents were said to have made the show of support over the weekend.
Italians have also taken to singing from their balconies to buoy spirits of their locked-down compatriots during the health emergency. Elaborate rave parties conducted by DJs and featuring laser light shows have also been reported.
Using music to help ease tension during the pandemic has become popular around the world. Full public concerts give from safe distances have been reported.
Musicians, comedians and other performers who are no longer able to safely perform in public have also taken to the internet to provide entertainment. Famed cellist Yo-Yo Ma is one of several entertainers to recently offer video performances in an effort to ease anxiety during the pandemic.
As COVID-19 continues to spread across the world, Europe has been hit particularly hard. Cases in Italy reached 31,506 including 2,503 deaths and 1,028 recoveries as of Tuesday night. Worldwide, cases were approaching 200,000 with almost 8,000 deaths and over 81,000 recoveries.