Watch: President Jokes About Vetoing Ivanka Trump's Legislation
President Donald Trump joked on Thursday that he might veto legislation that his daughter has been working to further.
The exchange occurred during an Iowa roundtable event, during which the first daughter touted the Perkins Career and Technical Education Act, which its supporters say reauthorizes and modernizes existing legislation which offers incentives to technical colleges with instruction in science, technology, engineering and mathematics (STEM) subjects.
It "passed the Senate last week, passed the House this week and will be signed into law by the president after over a decade of languishing," Ivanka Trump said.
"Maybe I'll veto it," the president said, prompting his daughter to smile hesitantly and point at him.
"Let's see, let's see, I think I'll veto that bill, what do you think?" the president added.
"No, no, no," the first daughter said, shaking her finger.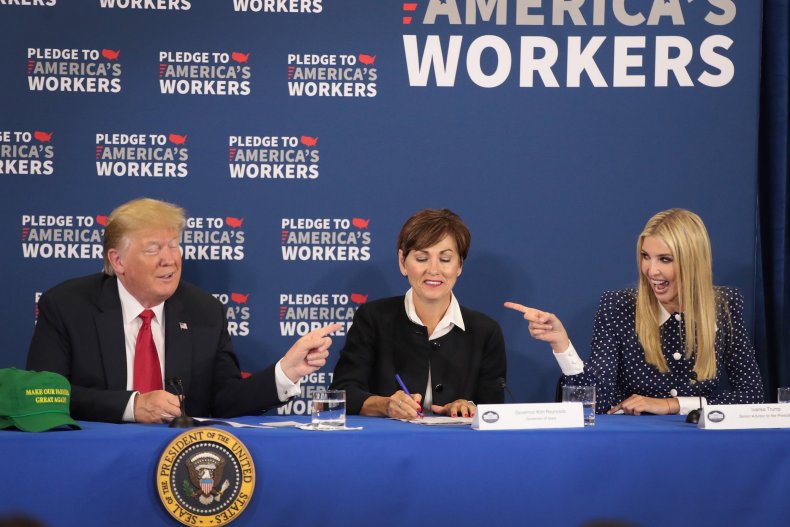 "It's going to affect 11 million students and workers across the nation who are seeking to acquire the technical skills to be able to thrive in our modern and increasingly digital economy," she continued. "So it is very, very exciting and it's just an enormous piece of legislation and it's going to be very transformative to education across the country."
Ivanka Trump said she was in Iowa last month touring a facility that would benefit with Governor Kim Reynolds, who from her facial expression also appeared shocked by the president's joke.
"And its great legislation that was in dire need of being modernized, so thanks to the president's leadership and thanks to the push of the White House it got done," Ivanka Trump said.
"So we're very excited and he'll be signing it into law," she reiterated, looking at her father.
President Trump, who has been criticized for hiring both Ivanka and her husband Jared Kushner as advisors, has often made a point of boosting his daughter.
When she spoke to Cabinet members last week about a new White House initiative around training and hiring American workers, the president applauded her speech and bashed the media for being critical of her efforts.
"Thank you very much. Wow," the president said. "So if that were Ivanka Smith, the press would say, 'That was totally brilliant, we've never seen anything like that.'"
"That was great," he said. "That was really great. Unbelievable."
Ivanka Trump has cast herself as an advocate for women, children and families, but has been broadly criticized not only for failing to further the interests of those groups, but also for failing to prevent controversial policies including prosecuting and separating immigrant families found crossing the border.