Watch: Seattle Man Attending Far-Right Rally Picks a Fight with Anti-Fascist Sign and Loses
A demonstrator's valiant attempt to tear up an anti-fascist sign during the May Day march in Seattle, Washington, has gone viral after the sign bested him.
On May 1, hundreds of people took to the streets of Seattle for the annual March for Immigrant and Workers Rights. Alongside the march were also a few dozen men from the Proud Boys group, who had organized their own march in order to "take the streets back."
One of those who attended the rally was Luke James Mahler, who appeared to take objection to a placard reading "No! In the name of humanity. We refuse to accept a fascist America."
In the clip, which has since been viewed hundreds of thousands of times after it was uploaded by Nate Gowdy, Mahler tries, and fails, to rip apart the sign. His efforts delighted onlookers.
"Come on you've worked so hard, you're so close" one woman can be heard saying in the video to mockingly spur him on.
"This is a very educated city, there's a lot of engineers in this city, you could get a lot of help," she adds.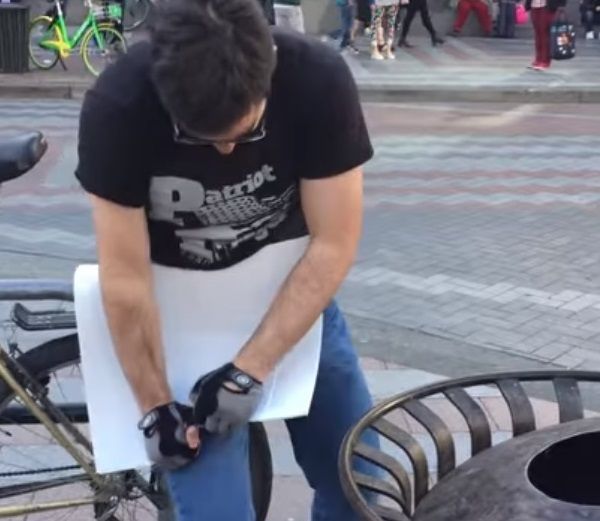 After Mahler continues to try and tear the sign apart, the woman tells him to "Do it for the boys, they're not so proud of you right now," in reference to the far-right group who had come to the city.
Eventually, Mahler ends up folding up the sign and walks away with it under his arm.
Speaking to Newsweek, Mahler said he was at the Proud Boys rally, but is not a member himself.
"I decided to attend the rally because I wanted to see what was going on and because I wanted to bridge a lot of divide with the Proud Boys," he said.
On social media, Mahler appears to have embraced his newfound fame, constantly posting about how many views the footage has since gained.
"Why would I not?" he added. "Proud Boys love me. Free media attention and my old high school crush just messaged me yesterday asking me to have lunch with her. Yeah, life is horrible with this fame."
According to the Southern Poverty Law Center, the Proud Boys are a hate group "known for anti-Muslim and misogynistic rhetoric." Their members have shown up at several alt-right demonstrations, including 2017's Unite the Right rally in Charlottesville, Virginia. The group was launched in 2016 by Vice Media co-founder Gavin McInnes.
During the clip, Mahler is also wearing a black patriot prayer t-shirt, another far-right group based in Portland, Oregon.
Watch: Seattle Man Attending Far-Right Rally Picks a Fight with Anti-Fascist Sign and Loses | U.S.