Watch: Seth Meyers on Donald Trump's Visit to California Wildfires—He Looked Like A 'Weirdo' Who Lives in a 'Trailer in the Woods'
Comedian Seth Meyers compared U.S. President Donald Trump to a "weirdo" who lives in a "trailer in the woods" during Monday night's episode of Late Night.
Meyers was discussing recent footage of Trump's visit to California in the wake of deadly wildfires. In the video, Trump claims the president of Finland recently told him people in the country rake the "floors of the forest" to prevent fires.
"Look at everyone else [in the video] trying not to look at him," Meyers said. "They all look like parents at the grocery store whose toddler just said, 'Daddy, that lady is fat.'"
"If you didn't know Trump was president you'd think he was a weirdo who just walked up to them from his trailer in the woods," the comedian added, before performing an impression of Trump as said "weirdo."
"'You've gotta rake the floors. You've gotta rake the floors of the forest. That's what my friend Nutty the squirrel told me,'" Meyer said, while pretending to feed an imaginary squirrel on his shoulder.
Trump's raking comments have been mocked widely on social media in Finland. "Here I am just #raking around as all us #finns do to prevent forest fires," Twitter user Iida Korhonen wrote alongside an image of a group of people raking leaves.
Meyers said the president fabricates "fantastical lies" like the raking story because they're "easier to swallow than reality." The reality, he added, is that climate change is making forest fires more extreme—a scenario with "deadly real-world consequences."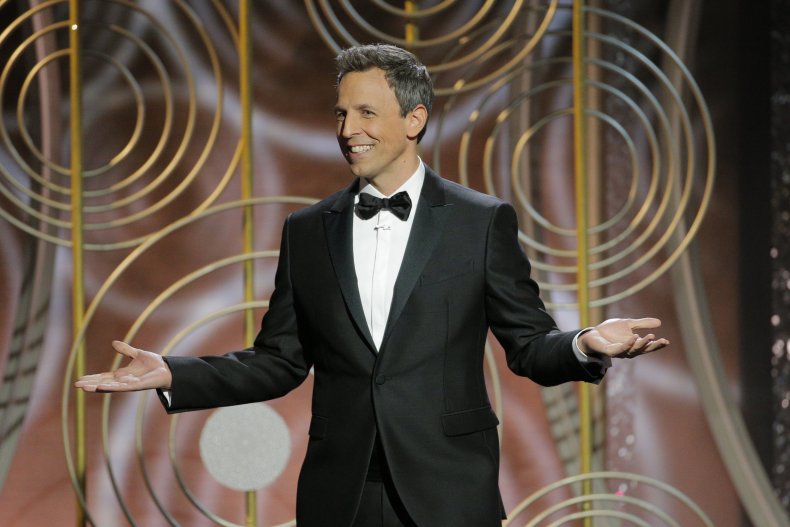 The comedian then introduced footage of Trump further discussing the issue of raking leaves in forests. In a Fox News clip, the president says he saw firefighters raking areas already hit by fire. "That should have been all raked out and cleaned out," to prevent the fires, he said.
When asked if climate change was a factor in the deadly blazes, Trump concedes that "maybe it contributes a little bit." But the main problem, he said, was forest management. "I'm just saying the facts," he added. "I've really learned a lot."
"No, you haven't," Meyers said after the clip. "Though in fairness, If you didn't know anything and then you learn one thing, it seems like a lot."