Watch: Seth Meyers Invites Speaker Paul Ryan Onto Late Show to Discuss Health Care Bill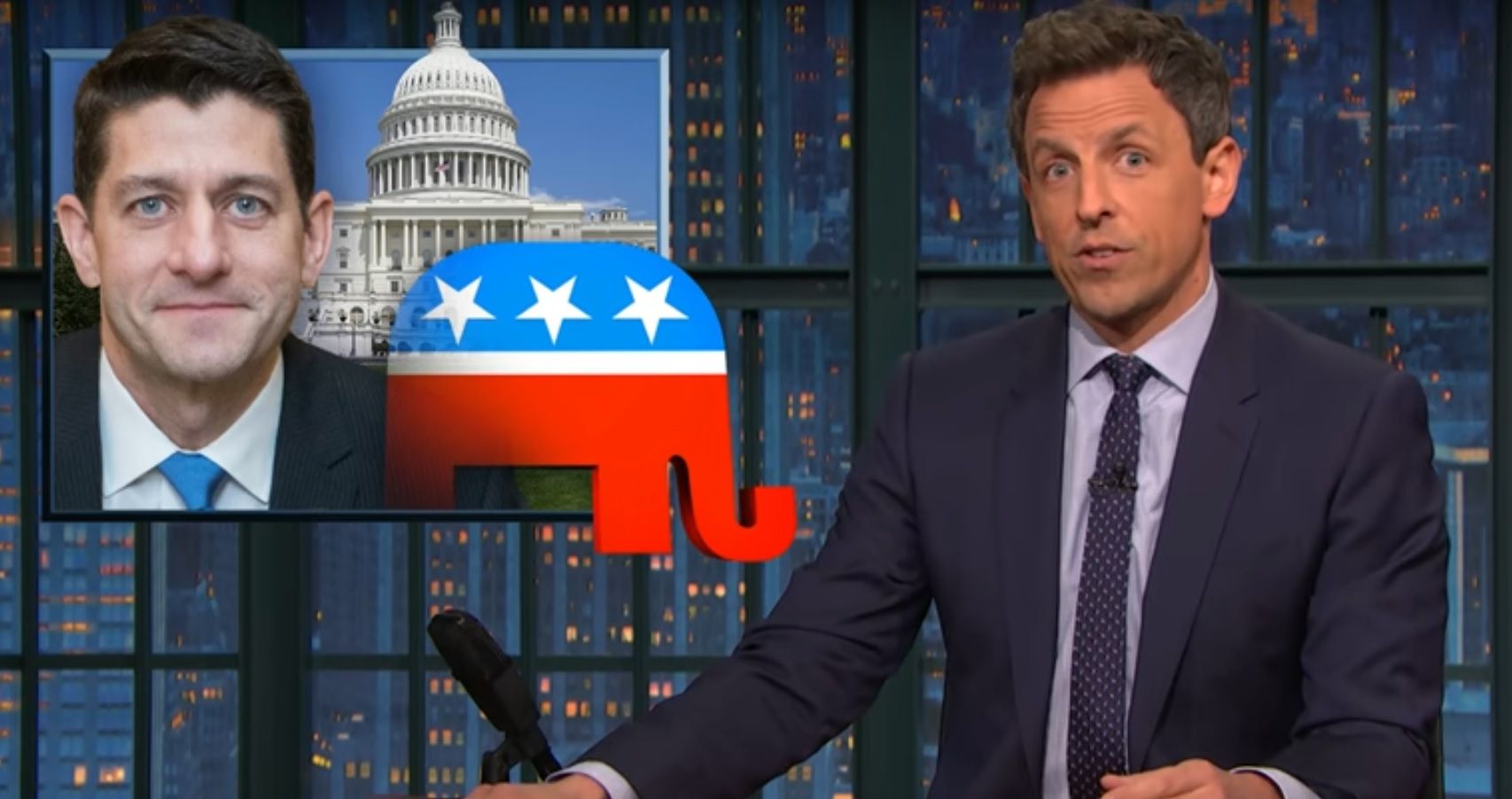 Since President Donald Trump took office in January, late-night talk show hosts have had more than enough material. But Monday night was a particularly special occasion for Seth Meyers, who managed to open a televised dialogue with House Speaker Paul Ryan on NBC's Late Night With Seth Meyers.
Meyers received an email from Ryan's office "taking issue with our analysis of the healthcare bill and rushed process," Meyers said Monday.
The analysis in question is a segment during the May 4 episode of the show that aired just hours after the House of Representatives voted to repeal the Affordable Care Act and institute the American Health Care Act.
Meyers grilled the GOP, the majority of whom voted in favor of the bill, for not reading the AHCA bill in its entirety before voting to pass it and criticized it being rushed through the House of Representatives when "in 2010, when Democrats passed Obamacare, Republicans complained constantly about what they claimed was a rushed process that lacked public input."
One of those Republicans was Ryan, as shown in archive news footage from 2009 and 2010 resurfaced by Meyers.
On Monday's Late Night , Meyers read out portions of the email he received from Ryan's office and offered his rebuttal. "Unlike Republicans and their health care bill, we actually read the whole email," the comedian quipped.
Ryan's office denied that the bill was rushed, arguing in its email it "has been online for a month, went through four House committees, and the only change this week was a simple three-page amendment."
"That three-page amendment is the reason a lot of Republicans changed their minds and voted for this bill," responded Meyers. "You can't claim it's a small change. A lot can happen in three pages." (The bill passed after an amendment on May 3 added $8 billion to help seriously ill people with pre-existing conditions with their insurance costs.)
The other sticking point for Ryan's office was Meyers's evaluation that "this bill literally takes from the poor and gives to the rich," citing plans to cut taxes to the wealthy—particularly the repeal of 0.9 percent tax on individuals earning more than $200,000—while simultaneously cutting $880 billion of social health funding to Medicaid, which helps low-income and older Americans.
Ryan's office said it isn't just cutting taxes on the wealthy, but repealing all of Obamacare's tax regulations. That includes taxes on investment incomes and on medical device manufacturers.
Meyers argued that the rich are still getting a pretty good deal—showing news footage from March that reported the top 1 percent of earners in America would save approximately $33,000 annually. Another news report claimed that the top 400 wealthiest households in America would save $7 million.
Meyers's take? "So, basically, Donald Trump is giving himself a giant tax cut."
The comedian noted that although he disagrees with the statements made by Ryan's team, he "genuinely appreciated" the email and invited Ryan onto the show to discuss further in person.
So, Paul Ryan—the ball's now in your court.