Watch: Spike Lee's Powerful Speech at Oscars to 'Do the Right Thing' in 2020 Election
Famed director and New York native Spike Lee won an Academy Award on Sunday for Best Adapted Screenplay for his work on "BlacKkKlansman." Lee delivered an acceptance speech that both encapsulated his award and sent a political message to voters in the next presidential election.
In a nutshell, Lee pulled out some yellow legal pad paper that appeared to shake in his hands as he read announcements from it. After a few thank yous, salutations and acknowledging it was Black History Month, the shortest month of the year of which he reminded the audience, Lee got to the heart of his speech.
After telling a brief history of slavery, Lee said it's time for America to be on the "right side of history" even using an old movie of his, "Do The Right Thing," to exclamate his speech.
"The 2020 presidential election is around the corner," Lee said. "Let's all mobilize. Let's all be on the right side of history. Make the moral choice between love versus hate. Let's do the right thing!"
The story of the film revolves around the first black detective to serve in a Colorado police department who eventually infiltrates the infamous hooded klan, and he winds up taking them down with the help of a younger and even more inexperienced partner.
The film isn't just a flick that hits the theater and sparks a conversation dating back 400 years. Lee's involvement in the film resonated back in 2017 during the deadly clash in Charlottesville, Virginia, where a woman was killed after a man crashed his vehicle into a crowd during protests over Confederate statues.
"We're asking that Spike Lee not just try to raise some awareness about the issues in Charlottesville by showing that footage, but to support the efforts and day-to-day activity of organizing by donating some of the profits of the film to people who are still healing from those attacks, to people who are still trying to figure out how to create a safer, freer Charlottesville," said Kendall King, a former student.
"We have respect for Spike Lee and recognize Spike Lee is somebody who has power and an ability to reach a lot of people," King said. "For us, it's not just about the money. It's about the exchange of ideas and the exchange of the impact of this narrative. It matters that the BlacKkKlansman is not just consumed by people, but that the reality is understood as well."
The infographic below, provided by Statista, illustrates how this year's Oscar nominees for Best Picture fared in critic and audience ratings.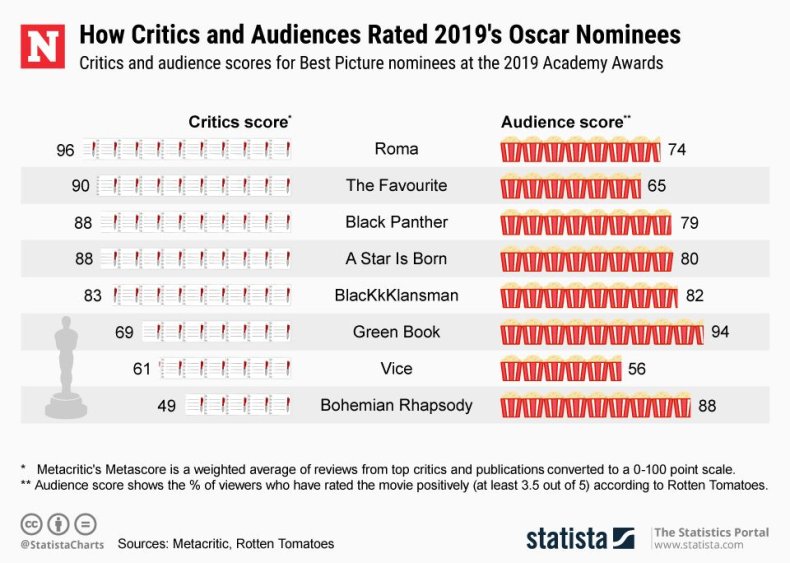 This article was updated to include an inforgraphic.