Watch: Stephen Colbert Finally Interviews Donald Trump (Sort Of)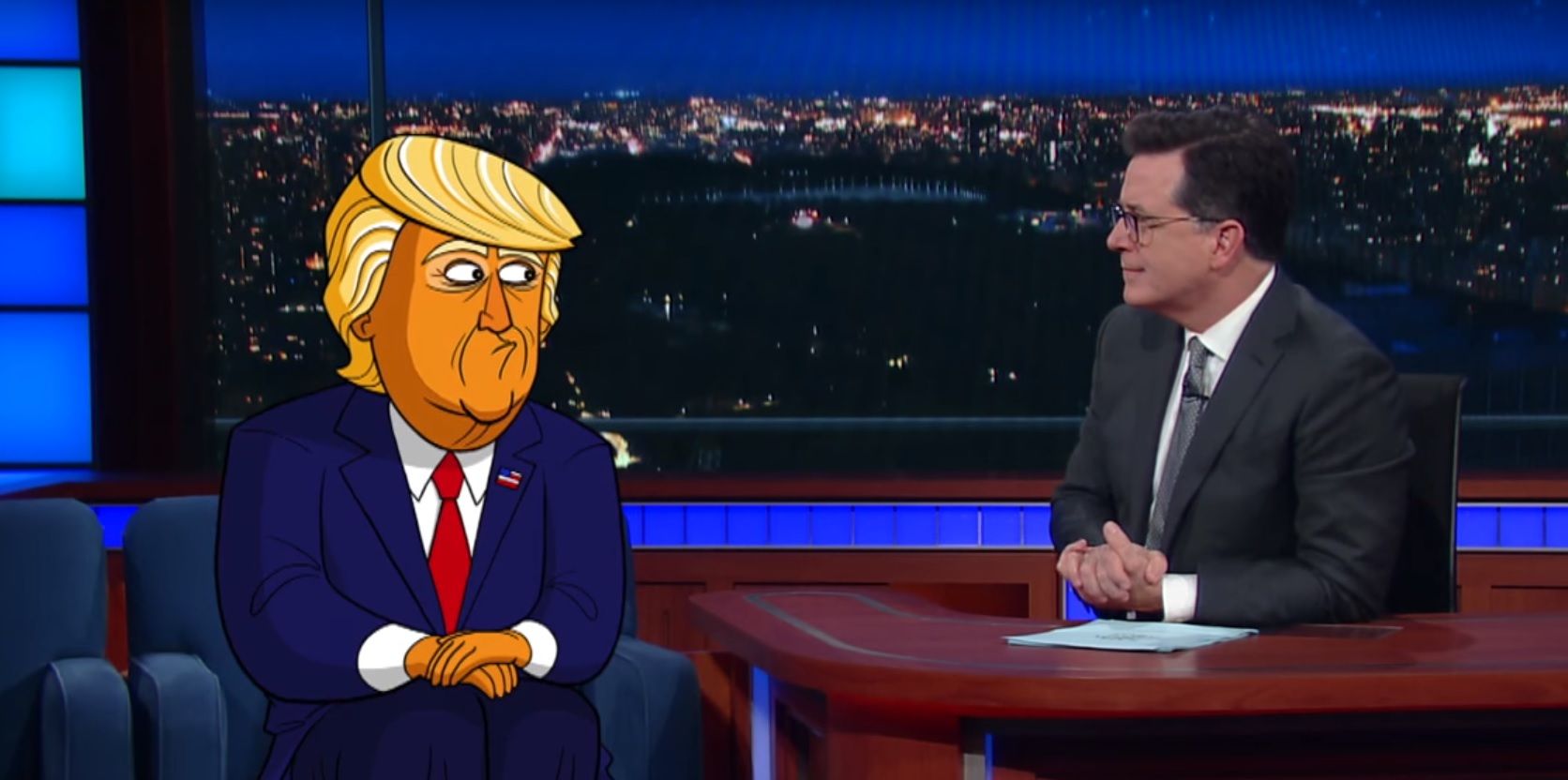 Stephen Colbert finally got to put some tough questions to U.S. President Donald Trump on Tuesday's episode of The Late Show on CBS—well, a cartoon version of him anyway.
The late-night comedian, who Trump called a "no-talent guy" in May, mocked Trump for his overzealous social media use in the last few days, which has "hurt your own case," Colbert said. Case in point: Trump's administration repeatedly ensuring the public that his travel ban is not, in fact, a travel ban, only for him to tweet Sunday that it is.
"The president backed them up...and off a cliff," joked Colbert.
The Late Show host said that Trump's "frequency of tweeting, even for him, has become cartoonish," and introduced an actual cartoon president onto the show.
"Are you concerned about the news that Russians may have hacked our election?" asked Colbert.
Cartoon Trump responded: "No, Hillary [Clinton] lost because she didn't campaign in the swing states—Michigan, Wisconsin, Moscow...it's a red state."
Colbert next asked Trump if he was worried about former FBI director James Comey's testimony in Congress Thursday. "They say he took notes of every inappropriate thing you said to him."
"Come on, no one has time to write down every inappropriate thing I say," joked cartoon Trump, and he's probably right.
Colbert finally confronted Trump about his incessant Twitter use. "All these reckless tweets are hurting your agenda," he said, and challenged Trump to stop tweeting for the remainder of the interview.
Trump, looking more than a little agitated without his phone, began shifting his eyes—like an addict looking for a fix—and said "I can stop tweeting any time I want." Sure, and the travel ban isn't a travel ban.
If you're not already grabbing the popcorn every time Trump tweets, the Washington Post's Robert Costa reported Tuesday that Trump may tweet during Comey's congressional testimony later this week. The fired FBI head will be asked if he was asked by Trump to drop his investigation into Russian hacking of the U.S. election Thursday.