Donald Trump Helps 'No Talent Guy' Stephen Colbert Win Ratings War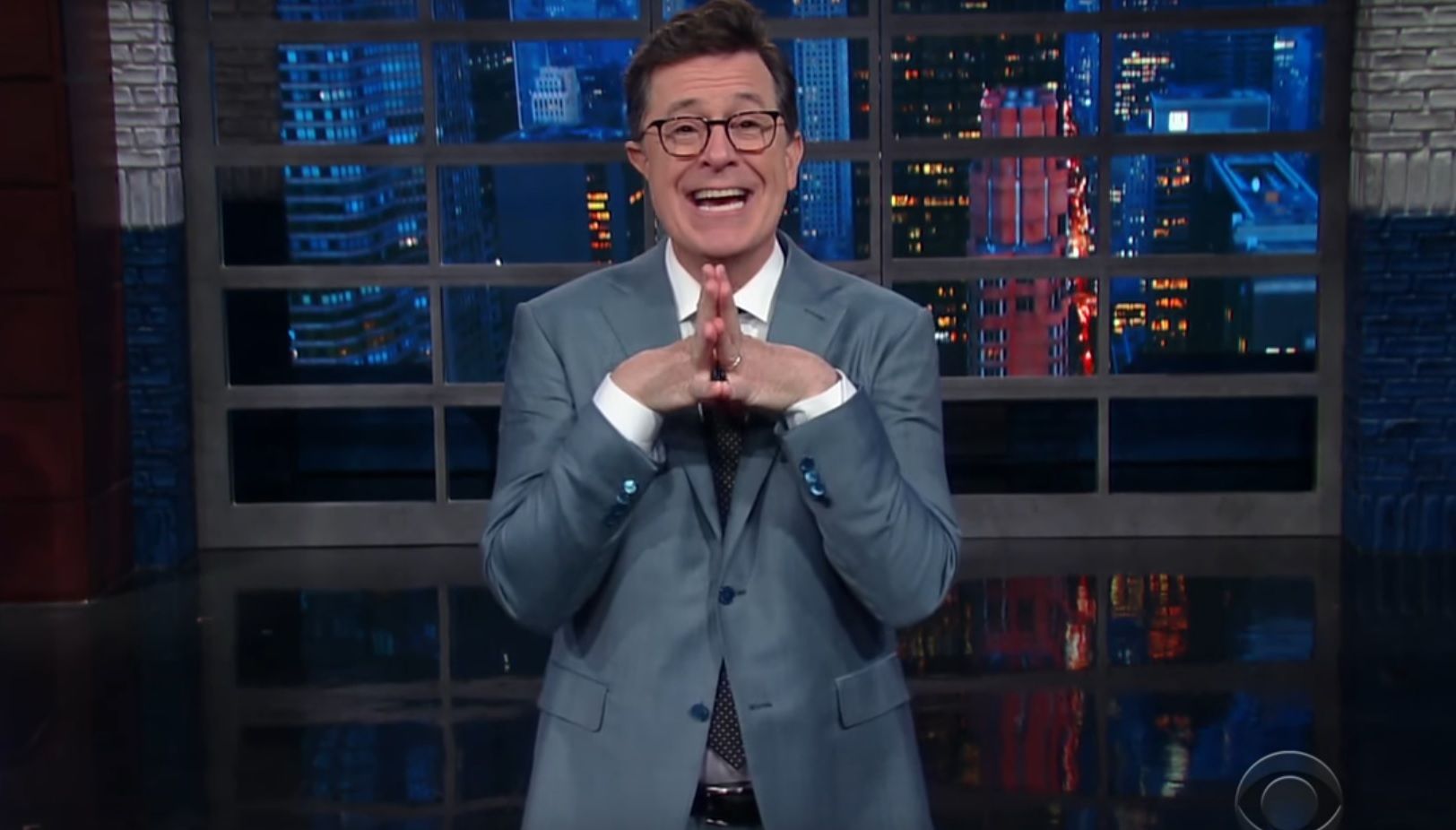 Donald Trump's approval ratings have taken a nose dive during the first four months of his presidency. But on the bright side, he's done wonders for Stephen Colbert.
CBS's The Late Show with Stephen Colbert finishes top of the late-night talk show ratings heap, according to The Hollywood Reporter. It is the first time since 1995-96 that The Late Show has come ahead of NBC's stalwart The Tonight Show , hosted by Jimmy Fallon, in total viewers.
The difference in numbers is marginal— The Late Show averaged 3.195 million viewers for the 2016-17 season, while Fallon averaged 3.173 million—and in the coveted 18-49 adult demographic (advertisers' sweet spot) The Tonight Show remains king.
But it is a victory nonetheless for CBS and especially Colbert, who bore immense pressure taking over The Late Show from David Letterman in September 2015. He initially served as both host and showrunner before CBS brought in reinforcements, hiring This Morning executive producer Chris Licht to run the show in April 2016.
That move allowed Colbert to focus more on his performance and jokes and fit in perfectly with the U.S. election. As long time Colbert viewers will know, politics is an arena the comedian thrives in having previously hosted and produced the political satire show, The Colbert Report , on Comedy Central.
Colbert's ratings increase has only grown since Trump took office in January. The constant stream of White House drama—including the firing of National Security Advisor Paul Flynn 24 days into his new role and FBI director James Comey—have been fodder for late-night monologues, and none have been more succinctly skewering than Colbert. (NBC's Seth Meyers finishes a close second.) The viewer boost is evidence that in Trump's America, a little comic relief goes a long way to digest that day's latest development.
Some of the kudos, however, must also go to Colbert's rival, Fallon. The NBC late-night host's overly-genial demeanor and apolitical stance on The Tonight Show in these unprecedented times for the U.S. feels too far removed from reality. Fallon's interview with then-Republican candidate Trump in September 2016 lacked the bite you would expect of an interview with a presidential candidate; at the time, Newsweek described it as a "giddy" exchange peppered with softball questions. Then came that good humored hair tousle that Fallon has since admitted he regrets.
Trump, meanwhile, has already taken credit for Colbert's viewership boost, calling him a "no-talent guy" in the process. Of course, being lampooned by the president in hundreds of headlines around the world is pretty good for ratings, too. Colbert seized the moment, too, sarcastically telling Trump: "Please don't make trend on Twitter."
In Trump's America, at least in Colbert's case, no-talent guys finish first.