Watch: Theresa May Admits Failure, Announces Resignation in Emotional Address
Theresa May announced the end of her turbulent three-year reign as U.K. prime minister, saying she would resign as leader of the Conservative Party on June 7.
In a tearful speech on the steps of 10 Downing Street, May said she had done her best to honor the result of the 2016 EU referendum.
She described her tenure as the U.K.'s second female premier as being "the honor of my life."
With her voice audibly cracking, she said she would leave "with no ill will but with enormous and enduring gratitude to have had the opportunity to serve the country I love," the BBC reported.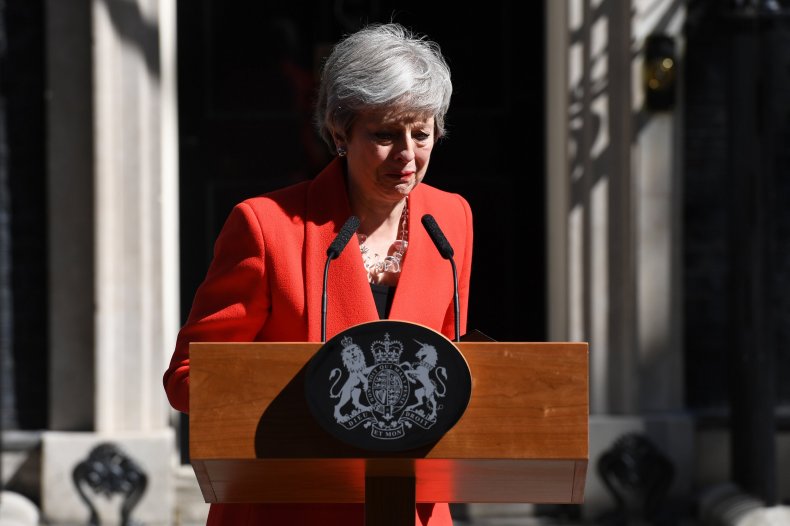 She listed what she said were the achievements of her government, such as reducing the deficit and unemployment, and increasing funding for mental health.
She noted, "It is and will always remain a matter of deep regret to me that I have not been able to deliver Brexit."
May succeeded David Cameron as prime minister after the EU referendum in June 2016, pledging that "Brexit means Brexit." She had previously backed remaining in the EU.
During negotiations she lost the support of both hardline Brexiters and former Remainers. Her compromise deal satisfied no one and was defeated three times in the House of Commons.
Her fate had apparently been sealed this week following a meeting with Graham Brady, who heads the powerful 1922 Committee of Conservative backbenchers, which was prepared to trigger a second no-confidence vote in her leadership if she tried to stay on, The Guardian reported.
This was because many in her Cabinet, as well as backbenchers—members of Parliament who do not hold office and sit behind the front benches in the House of Commons—and even opposition Labour MPs she had tried to woo, all rejected her new Brexit deal announced Tuesday.
The leader of the House of Commons, Andrea Leadsom, resigned rather than present this new 10-point Brexit bill to Parliament.
May said on Friday that her successor would have to build a consensus in Parliament that "can only be reached if those on all sides of the debate are willing to compromise."
May will remain at Downing Street to host President Donald Trump when he visits next week.
A six-week leadership contest will take place after she steps down on June 7. A YouGov poll for The Times suggested former London Mayor Boris Johnson was the overwhelming favorite among the 125,000 Tory members to be the next leader.
Other contenders include Cabinet members Rory Stewart, Foreign Minister Jeremy Hunt, as well as Michael Gove, Penny Mordaunt and Sajid Javid, The Guardian reported.
May's former deputy Damian Green told The Times that history may vindicate her reputation.
"All prime ministers, in the end, take responsibility for what happens on their watch, but I think that it's undeniable that suddenly and unexpectedly becoming prime minister after the seismic shock of the Brexit referendum meant that she was dealt an extremely difficult hand to play," he said.