Watch This Anti-Masker Throw a Shopping Cart at an Essential Worker in a Grocery Store
As the end of 2020 nears, anti-masker moments continue to grow in viral shock and violence. An unnamed man was filmed hurling a shopping cart at an essential grocery store worker. We can only hope it doesn't get any worse.
In the video, which was uploaded to Reddit's r/publicfreakouts, a man was spotted without a face covering in a grocery store checkout line somewhere in Orange County, California. Another man, who was identified only as an unnamed store employee, approached him to ask him to put on a face covering. Instead of complying, the man lifted his shopping cart off the ground and shoved it toward the other man.
Thankfully, the man opposite the anti-masker was able to keep the semi-full shopping cart from hitting him hard by pushing the cart away with his arms. You can watch it all below.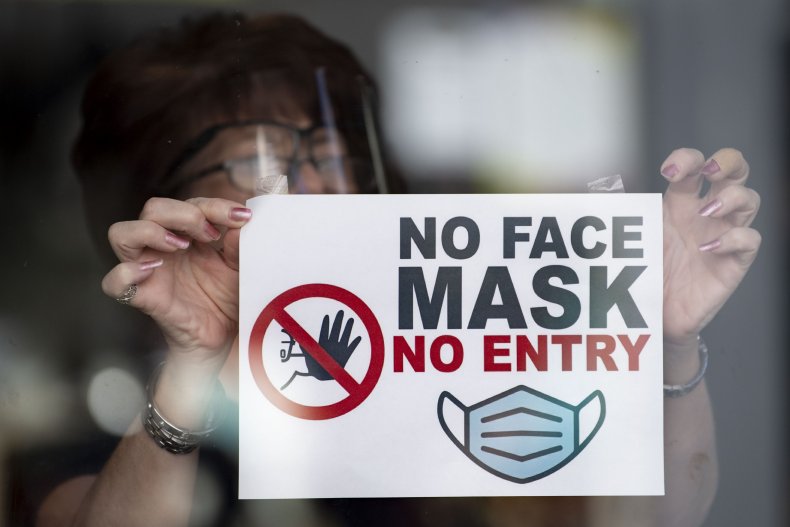 Bystanders were vocally appalled by the man's behavior and called out warnings at him as he fled the store without his groceries. "I'm gonna put this guy on the internet" the man filming is heard saying. A woman echoes the point: "Bye! Wear a mask next time!"
Reddit commenters appeared to think the man left the store quickly once he realized he was being filmed. They called him out for attempting to flee the scene. "I love how he thinks walking away quickly will save face," the top comment read.
The original poster responded. "It's like you can see him realize there will be consequences after he sees the camera haha."
Another top-liked comment questioned why the man was in the store in the first place. "Why don't anti-maskers do grocery pickup?" a Reddit user wrote. "Costs me $3 and it's brought right out to my car. Not that I'm an anti-masker myself just trying to avoid crowds. It's not perfect, they've made a few mistakes and things aren't as cheap as they used to be but I'll be damned if I'm going into a busy grocery store during lockdown."
Unfortunately, this is far from the only anti-masker public freakout to happen in American grocery stores in 2020. Last week, a group of anti-maskers invaded a Walmart store in Arizona and got their own viral moment, too.
A video posted to Twitter showed a group of around 20 people walking into a Walmart without face coverings and chanting something about why they wouldn't wear them. Some even brought signs that read "Masks=666" and "Saving Face."
One anti-masker rally in Utah went viral for a totally different reason, though. Some were apparently convinced the ghost of Abraham Lincoln appeared, and the similarities are hilarious.