Video: Trump Gives Kim a Look at Presidential Limo as Leaders Bond
North Korean leader Kim Jong Un is reportedly a big fan of American culture and luxury items.
Maybe that's why President Donald Trump took an apparently unscheduled detour during their summit walkabout to show Kim his presidential limousine, known as "The Beast," the Associated Press reported.
As the two leaders walked around the luxury Capella Hotel in Singapore, Trump led Kim over to his waiting car. He could then be seen speaking and gesturing to a Secret Service agent, who leant forward to open the door, allowing the North Korean leader to peer inside. Kim seemed to be smiling, though whether he was genuinely impressed or politely bemused is unclear.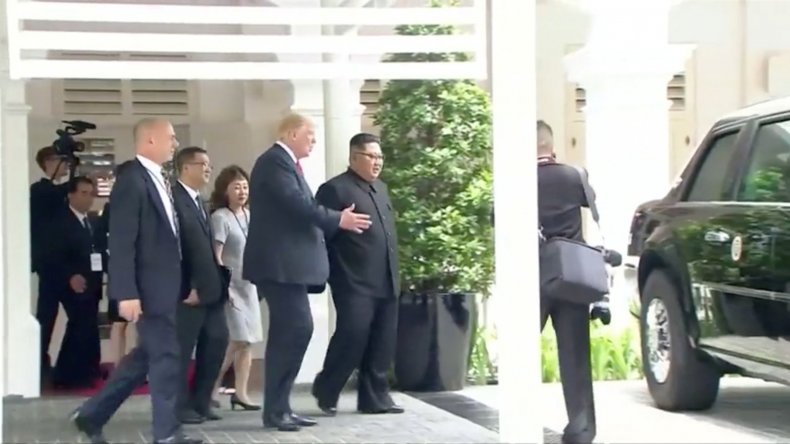 The Beast is some way between a luxury limousine and a tank. A Cadillac built on a medium-duty truck platform, the vehicle has offensive and defensive capabilities, according to The Hill, including tear gas launchers, armor-plated fuel tank, steel-rimmed tires and pump-action shotguns stored inside.
The car also houses potentially life-saving medical equipment in case the president is injured, including bags of blood suitable for the president's blood type, and first aid kits. The interior of the car is hermetically sealed and has its own environmental system on board, with an emergency oxygen supply that can be used in the case of chemical attack.
The car's doors have no keyholes, and only the Secret Service agents accompanying the president know how to open them. The only window that works is in the driver's side door, in case the agent needs to pay a toll.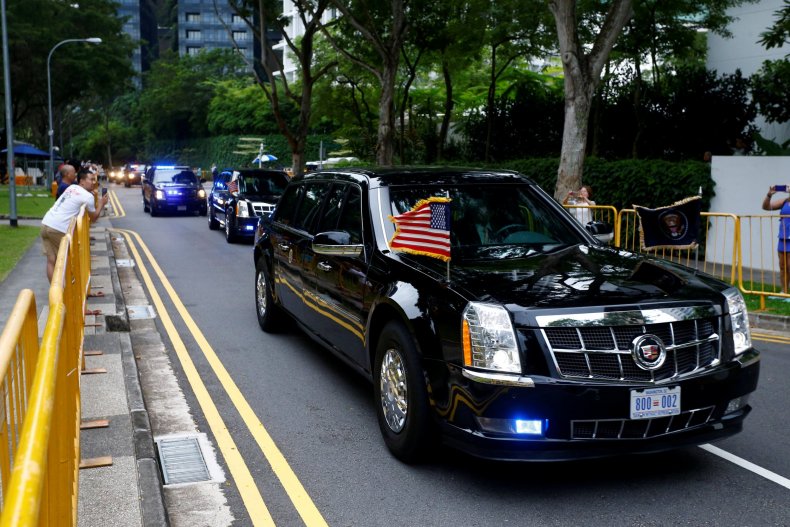 The current Beast model is believed to cost more than $1 million, and is one of a fleet of 12 used to ferry the president around. Weighing almost 9 tons, its 8 inch-thick steel doors weigh the same as those on a Boeing 757 passenger jet.
For all its fearsome armaments, the Beast fleet has faced a fair few mishaps. In 2013, one of the cars broke down while President Obama was on a trip to Israel. The failure was caused by the driver, who put the wrong type of fuel in it. Two years before, when Obama was visiting Ireland, The Beast's mammoth proportions worked against it, as the vehicle got stuck on a speed bump outside the U.S. Embassy in Dublin.
Though the details of Trump and Kim's conversation have not yet been fully revealed, the two leaders appeared to be in good spirits as they strolled around outside. The coming days, weeks, months and years will give us some indication of how successful the historic meeting has been and whether it represents a new era in American-North Korean relations.