Watch Weird Giant Ice Boulders Form on Lake Michigan
Huge ice boulders have been spotted on the shoreline of Lake Michigan.
The balls were found at Esch Road Beach in Benzie County, with some were reported to be up to 36 inches—or three feet—wide.
A local, Hal Sorstokke, posted pictures and videos of the balls to Facebook on January 24. In the post, which can be found here, Sorstokke said that "thousands" of them were between 8 to 12 inches, with some much larger.
The footage shows many giant, pearl-like ice balls bobbing about on the icy shoreline.
Sorstokke, who is local to the area, living about seven miles from the beach, told Newsweek that the balls show up most years. However, he said the large ones measuring up to 36 inches are "uncommon." He said he has only ever seen smaller ones before.
Footage was also posted to Facebook by another local, Timothy Fitzgerald Young, a day later on 25 January. Young described them as "ice cojones." His video can be viewed here.
The ice balls are a well-known phenomenon in Michigan. They form when consistently cold weather takes its toll on the waters close to the shores of the lake.
Local broadcaster Upmatters reported that the slow start to winter this year has delayed their formation. Michigan has seen much warmer weather this winter, compared with average years.
Over the last three months the weather has not dropped below freezing, meaning there has been very little ice on the lakeshore.
Water reaches freezing temperatures when it drops below around 32 degrees Fahrenheit. In recent weeks there has been a surge of low temperatures in Michigan. This week, the temperature is expected to get as low as 21 degrees Fahrenheit.
The ice balls form as ice collects on the surface of the water. As the water moves, the ice is rolled around by the waves and eventually bonds all together, forming a ball.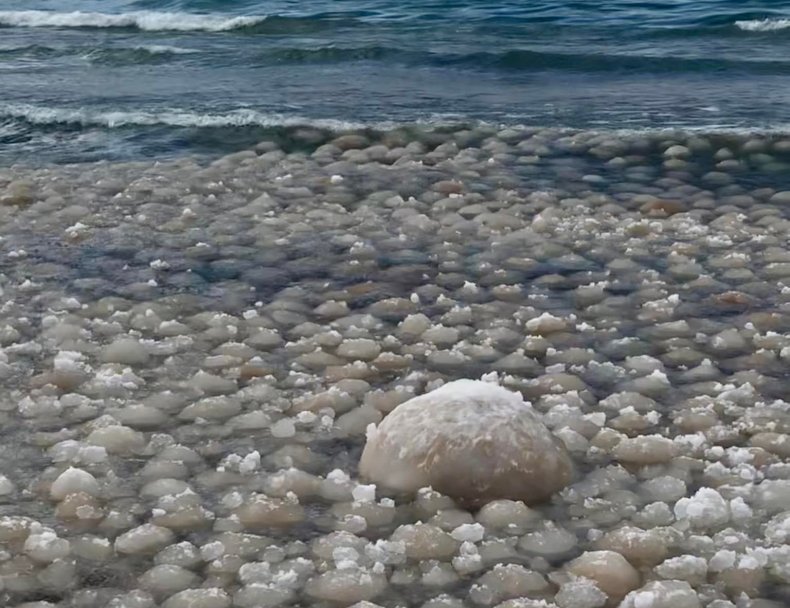 Sorstokke told the Detroit Free Press that anyone who wanted to check the balls out for themselves should be careful, as the ice on the lake near them is soft.
"They are fun to see rolling around," he told the newspaper. "I don't think they last very long."
In February 2020, thousands of them washed up on Lake Michigan's icy shore. The Holland State Park warned residents to be extra careful when visiting the body of water.
Ice balls have also been observed in different bodies of water around the world. They have been spotted in Russia, Northern Germany, and, more recently, Finland.
Lake Michigan is one of the five Great Lakes in North America. It is the second largest of the lakes by volume, and the third largest by surface area.