Watch Video of Blindfolded Man Breaking World Record Slacklining Across Chinese Canyon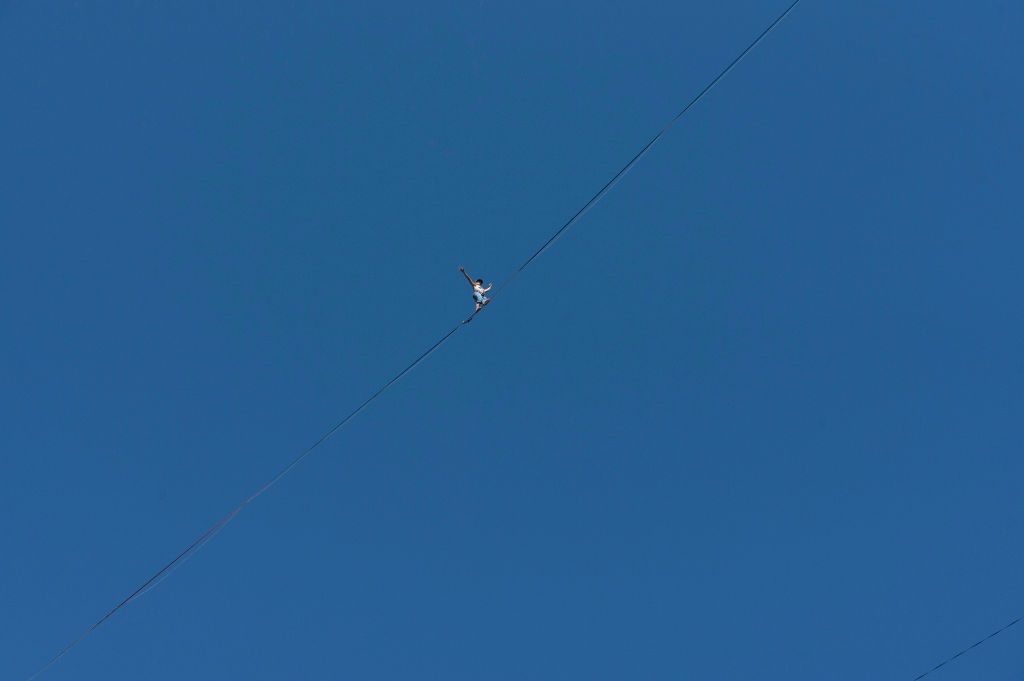 A French athlete known as The Kid has set a Guinness World Record for the "longest blindfold slackline walk" over a canyon in Yunnan Province in southwest China.
Pablo Signoret completed the feat as part of the 2017 International Highline Challenge at Shimenguan Geopark near the city of Dali, according to the Chinese state television network CGTN.
The nascent sport, which involves balancing on a strap called "webbing" that is suspended above the ground and anchored between two points, has grown in popularity in recent years.
Unlike the more traditional tightropes, slacklines are looser and people walking along them do not use a pole for balance.
It is not the first slacklining world record Signoret has held, having previously taken part in the longest ever slackline walk in Navacelles valley in southern France.
The 5,453-foot slackline was walked by two fellow compatriots—Guillaume Barrande and Nathan Paulin—on June 9, 2017.
Read more: 'Iron Man' just broke the world record for the fastest ever jet pack flight
Former Canadian figure skater Mia Noblet, who also took part in the International Highline Challenge event in China, said she hopes her performance will help inspire other women and girls to try the extreme sport.
Noblet said: "My favorite thing about slacklining is just exploring these beautiful places in the mountains or over canyons seems scary and for girls maybe, just the thought of having something that seems extreme—or is talked about as extreme—might deter girls to actually go and trying it, but it's actually one of the safest things you can do."
Despite its extreme nature, the unofficial governing body of the activity also claims it is one of the safest extreme sports to participate it in. In a 2016 accident report from the International Slackline Organization, only one death has been recorded since slacklining's inception.
The incident in Slovenia in 2011 was ruled to be a result of a carabiner being used in place of more suitable equipment known as leash rings.
"A lot of people tell us that we are crazy and when they see it from the outside they think it's very dangerous," said Antony Newton, president of the International Slackline Organization.
"As soon as the line is up and you leash yourself to the line, we have a harness like climbing and we have a rope to attach to us to a ring on the line, and as soon as you are attached to this ring, nothing can happen to you."