Watchdog Report Says Mike Pompeo 'Regularly' Used Personal Email While Director of CIA
A watchdog report published on Wednesday said Mike Pompeo frequently used his personal email account while exchanging messages as the director of the Central Intelligence Agency.
The report by American Oversight, a nonprofit ethics watchdog group based in Washington, D.C., said that while it recently had an opportunity to review about 400 pages of personal emails that Pompeo sent while he was serving as the CIA's director in 2017 and 2018, its litigation efforts so far have not succeeded in gaining access to more recent emails he sent while in his current role as secretary of state.
According to the report, Pompeo "appears to have regularly received official schedules at his personal email account" while at the CIA.
"This extensive use of personal email for agency business raises questions about what other activities Pompeo conducted over personal email, including at the State Department—and about whether efforts need to be undertaken to preserve government records in personal accounts," the report said.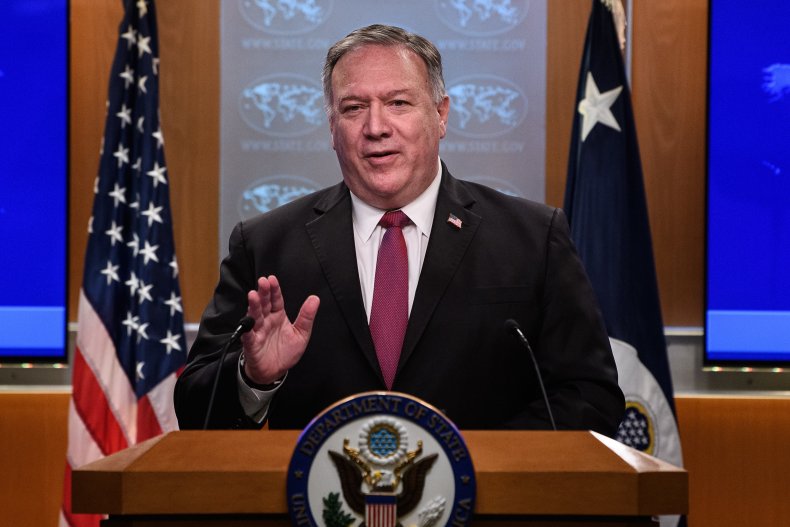 American Oversight drew comparisons in its report between Pompeo's use of a personal email account while in a leadership role for a government agency with Hillary Clinton's controversial use of personal email while serving as secretary of state during former President Barack Obama's first term in office. Clinton's email controversy came to light as she was running for president in 2016, years after her time leading the same department that Pompeo leads now.
Though the Department of State completed an investigation last year that concluded there was no evidence to suggest that Clinton mishandled sensitive information on purpose, it nonetheless said, "the use of personal email to conduct official business represented an increased risk of unauthorized disclosure."
Despite the Department of State's findings in that report, President Donald Trump has continued to raise questions about Clinton's use of a personal email account during her time at the department. Clinton's emails were a popular subject matter during Trump's 2016 presidential campaign, and he revived the topic earlier this month when he expressed frustration with Pompeo for not releasing them publicly. Pompeo responded by saying he was in possession of the emails and indicated he would release them before Election Day.
American Oversight said in its report that the emails it received for review were obtained after requesting emails he sent to senior CIA officials from a non-government email address, as well as messages sent between his government email account and his personal email accounts. The report said the emails also seemed to show that Pompeo's wife was involved in some of his work at the agency and included as an example one email in which she offered ideas for a "Meeting with Mike" colleague meeting series.
While the report raised concerns about Pompeo's use of personal email while at the CIA, it said questions regarding whether or not he has used a personal email account while serving as secretary of state remain unanswered. American Oversight mentioned in its report a lawsuit it filed in July of 2019 requesting access to emails Pompeo sent as secretary of state.
"The State Department has not yet produced documents in response to our litigation for his personal emails while serving as secretary, even as Pompeo's pledge to declassify former Secretary Clinton's emails has publicly underscored his purported commitment to transparency," the report said.
Newsweek reached out to the U.S. Department of State for comment but did not receive a response in time for publication.