'I Don't Think Watergate Even Compares' to Trump Pressuring Ukraine, Cory Booker Says
Senator Cory Booker slammed President Donald Trump during a radio interview on Monday over allegations that the commander in chief pressured the Ukrainian president to investigate a political rival, possibly in exchange for military aid.
Booker said he considers the controversy, stemming from a July 25 phone call during which Trump urged President Volodymyr of Ukraine to investigate former Vice President Joe Biden and Biden's son, to be even more serious than the Watergate scandal.
"It is a betrayal of the office at the scale of which I haven't seen in my lifetime. I'd have to go back to, God, I don't think Watergate even compares to what this is," said Booker, who represents New Jersey and is running for president, during an interview with SiriusXM's The Joe Madison Show. The Watergate scandal led to the resignation of former President Richard Nixon in 1974.
Trump defended himself on Monday against allegations of wrongdoing. Without specifically addressing questions from reporters on whether he withheld military aid to force Volodymyr to comply with his request for an investigation, he seemed to suggest that, even if he did, it wouldn't be wrong.
Booker disagrees. "This is such a betrayal of our ideals. It is such a betrayal of congressional intent. And he needs to answer for this should the facts bear out," he said.
The senator argued that Trump's alleged actions are a "potential violation of our Constitution" and "our values." He called them an "impeachable offense."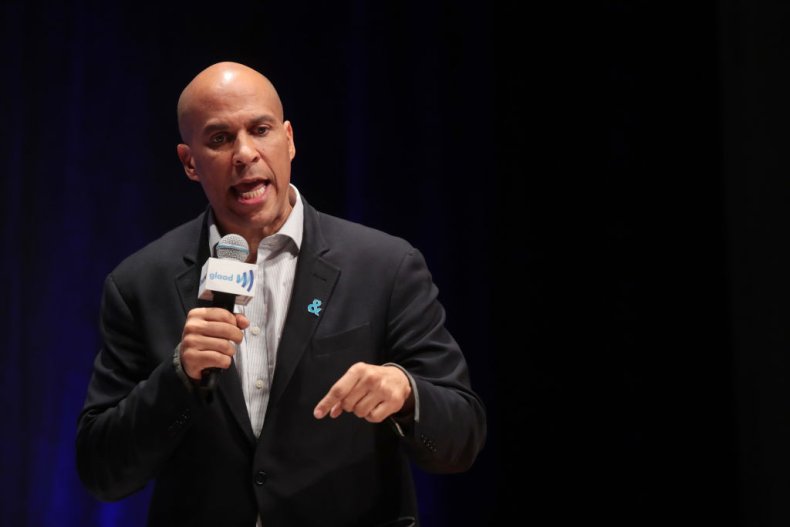 Booker also criticized the refusal of acting Director of National Intelligence Joseph Maguire to hand over the official whistleblower complaint to congressional leaders and pointed out that it is a "violation of congressional rules."
"It says in the whistleblower rule that the inspector general shall give this information to the Intelligence Committee. Shall do it," Booker said. He called on Republicans and Democrats alike to "hold this president accountable for his actions."
Following the call with Ukraine's president, a whistleblower from within the U.S. intelligence community filed an official complaint regarding concerns about an alleged "promise" Trump had made during the conversation. Trump and his personal lawyer Rudy Giuliani have admitted that they encouraged Ukrainian leaders to investigate Biden and the business dealings of his son in Ukraine.
"The conversation I had was largely congratulatory. It was largely corruption—all of the corruption taking place. It was largely the fact that we don't want our people, like Vice President Biden and his son, [contributing] to the corruption already in the Ukraine," the president told reporters on Sunday.
Some $250 in military aid was temporarily suspended to Ukraine, leading to suspicions in Washington that the money was withheld due to Ukrainian leaders' unwillingness to open the probe. The aid was eventually released after bipartisan backlash.
While it has not been proved that the military aid was withheld due to Ukrainian leaders declining to open the probe, Ukrainian politicians told The New York Times that they were given the impression that Trump would not back their government without an investigation into Biden and his son.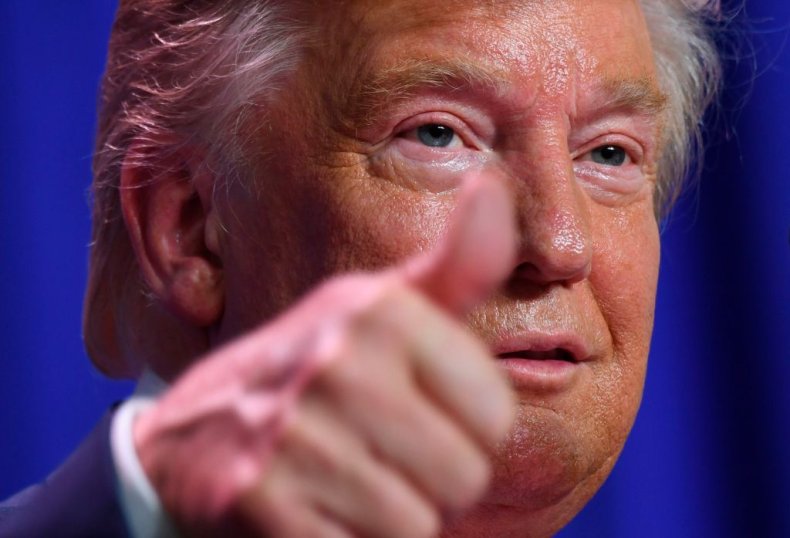 Democrats have blasted Trump for seeking foreign assistance to target a political rival, but Republicans have been largely silent or defensive of the president. Some conservative lawmakers, however, have called for further investigation.
"If the President asked or pressured Ukraine's president to investigate his political rival, either directly or through his personal attorney, it would be troubling in the extreme. Critical for the facts to come out," Senator Mitt Romney, a Republican from Utah, tweeted on Sunday.
Republican Senator Lindsey Graham of South Carolina, who is generally seen as a close ally of the president, urged Trump to provide more details about the call.
"I would urge him to continue to be as transparent as possible and tell us as much as he can, without compromising executive privilege, so that we can understand what happened," Graham told conservative radio host Hugh Hewitt on Monday.
Conservative Representative Justin Amash of Michigan, who was elected as a Republican but officially left the party to become an independent in July, also raised concerns via Twitter about the Ukraine call.
"Congress must have access to the whistleblower complaint allegedly involving Ukraine. Reports suggest the president abused his position by engaging in conduct that violates the public trust," Amash wrote on Friday. "Let's hear from the whistleblower so we can clear the president or hold him accountable."