Wauwatosa Police Use Tear Gas in Third Straight Night of Protests
Police in Wauwatosa, Wisconsin used tear gas to disperse crowds of demonstrators protesting against the shooting death in February of Black teenager Alvin Cole.
Friday marked the third night of demonstrations in Wauwatosa with some protesters choosing to ignore the 7:00 p.m. curfew set by city leaders. Wauwatosa police declared the demonstrators on the streets after curfew an "unlawful assembly" and moved to disperse the crowd with tear gas.
"Law enforcement officers were struck with bottles, and deployed tear gas to stop the unlawful assembly," tweeted the Wauwatosa Police Department on Friday.
Police were seen won Friday earing protective riot gear and holding shields. Demonstrators were observed blocking a roadway with Dumpsters moved from local businesses.
Tear gas was also fired at protesters gathered after the curfew on Wednesday. Some businesses reported having their windows broken during the protests.
As the protests continued into Thursday, police arrested Alvin Cole's mother and sisters for violating curfew. They received no citations.
Anticipating the demonstrations, Governor Tony Evers authorized the deployment of Wisconsin National Guard units to Wauwatosa on Wednesday, although how many National Guard troops were deployed was not announced at the time.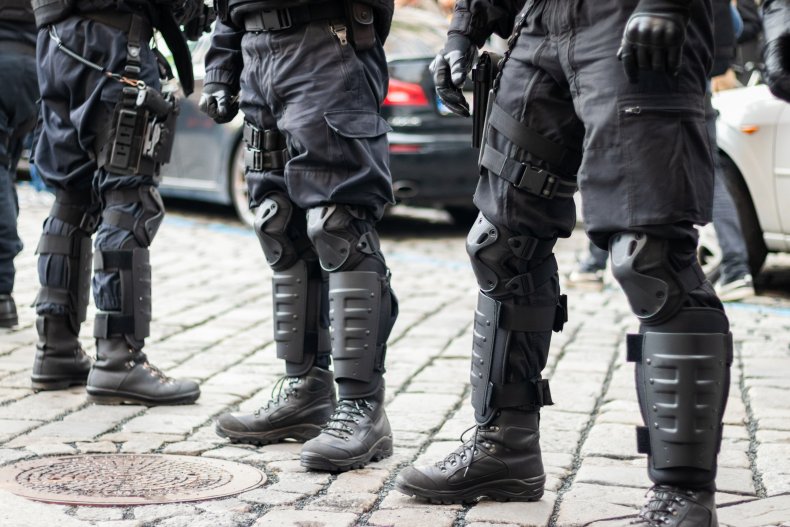 Cole was shot by Wauwatosa police officer Joseph Mensah while responding to a disturbance call at a local shopping mall. Cole, who was armed with a stolen handgun, fled on foot from the police. After a gunshot was heard, Mensah discharged his sidearm five times towards Cole. Although officers attempted to render first aid, Cole was pronounced dead after being transported to a local medical facility. Protests began after Milwaukee County District Attorney declined to charge Mensah in Cole's death.
In his criminal review of the incident, Chisholm wrote that there was enough evidence to indicate that Officer Mensah was justified in shooting Cole. When asked to relinquish his firearm by police, Cole "did not surrender the weapon and in fact, according to the officers, pointed the weapon at them."
"I do not believe that the State could disprove self-defense or defense of others in this case and therefore could not meet the burden required to charge Officer Mensah," Chisholm added.
Cole's death marked the third fatal shooting Mensah had committed within a five-year span while in the line of duty. Each time, Mensah's actions were ruled as justifiable.
On Wednesday, a report by independent investigator and former U.S. Attorney Steven Biskupic recommended that Mensah be fired.
"In order to properly perform as a Wauwatosa Police Officer, Officer Mensah must be capable of performing all designated duties," Biskupic wrote, "including those involving the use of deadly force. Yet that would mean that Officer Mensah is authorized to use deadly force for a fourth time, a situation creating extraordinary, unwarranted and unnecessary risk to the Wauwatosa Police Department and the City of Wauwatosa."
Newsweek reached out to Wauwatosa Mayor Dennis McBride's office for comment.