Donald Trump Spotted Outside London Embassy He Claims To Hate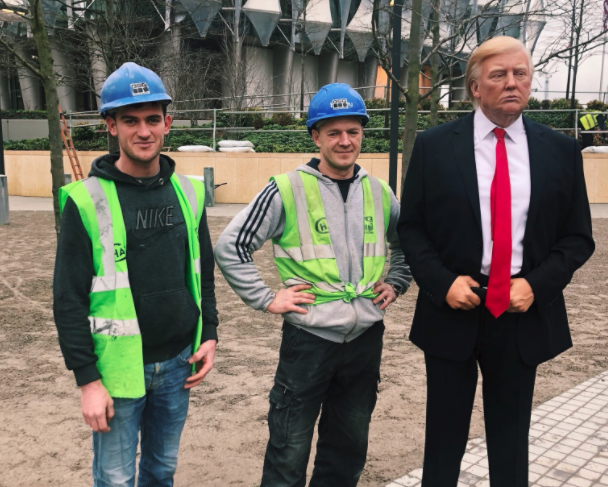 Updated | As President Donald Trump waxed lyrical about why he would be axing plans to travel to Britain to open a new American embassy, a waxwork stand-in appeared more than ready to oversee the launch.
A Madame Tussauds wax figure of Trump appeared outside the building that will soon house American diplomats in London's Nine Elms area, south of the River Thames.
Construction and office workers crowded around the tall model waiting for their turn to take selfies with the presidential figure outside the building, which for obvious reasons has been nicknamed the "Giant Cube."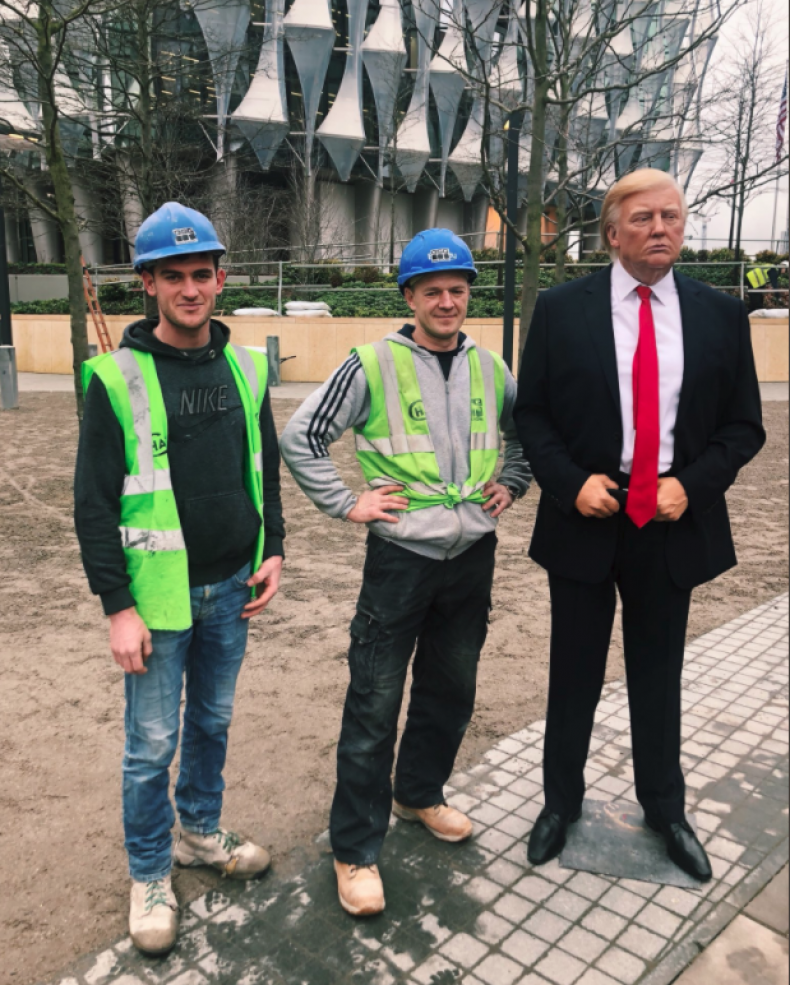 Trump announced he had cancelled plans to travel to Britain to open the new embassy Thursday evening, calling the decision to move the location of the U.S. embassy in the city a "bad deal."
He also accused the Obama Administration of selling "perhaps the best located and finest embassy in London for 'peanuts'" even though the decision was actually made under George W. Bush.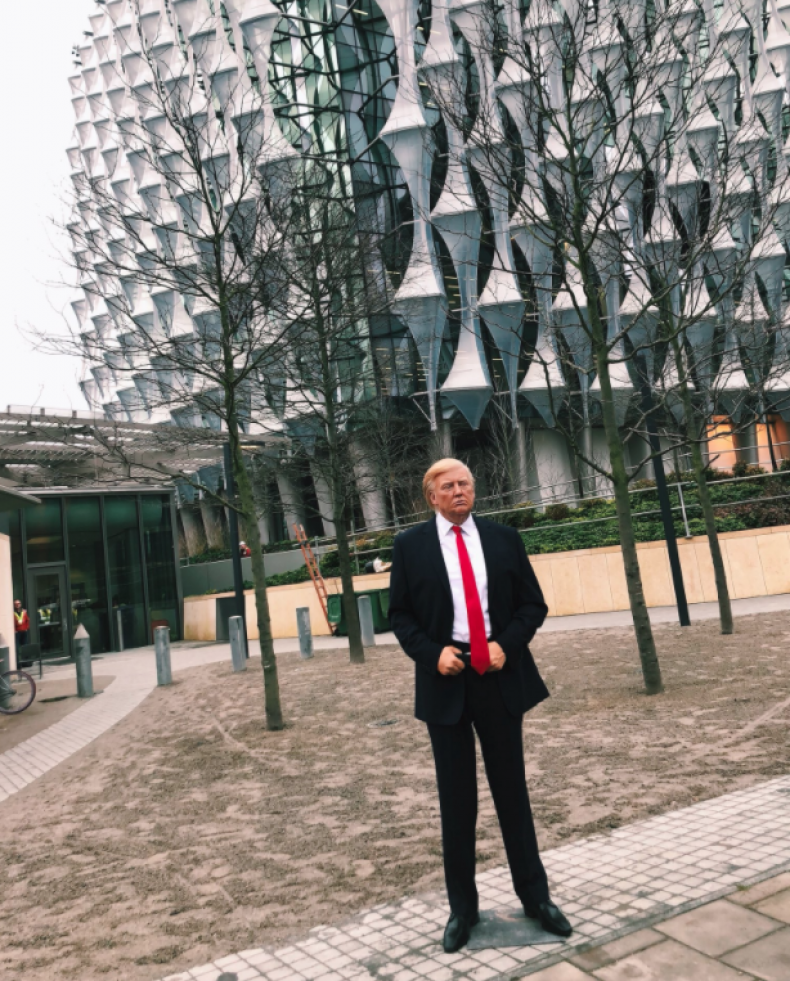 Writing on Twitter, Trump said: "Reason I cancelled my trip to London is that I am not a big fan of the Obama Administration having sold perhaps the best located and finest embassy in London for "peanuts" only to build a new one in an off location for 1.2 billion dollars."
He added: "Bad deal. Wanted me to cut ribbon—No!"
In fact, the decision to move the embassy was made in October 2008 under the Bush administration.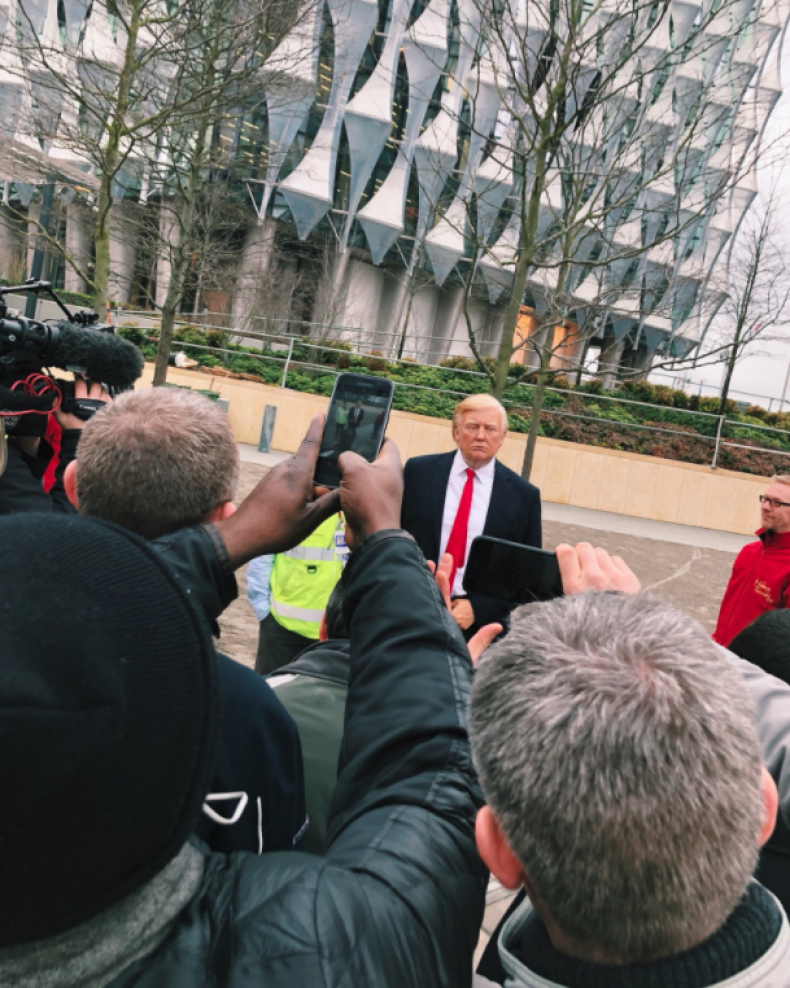 Madame Tussauds said it decided to take their wax Trump figure out on a field trip after the real-life president announced he was cancelling his trip.
"Trump cancelled his visit so we stepped in!" The company announced on Twitter.
Madame Tussauds London spokesperson, Claire Treacy told Newsweek: "Even though the real President Trump has declined a visit to our capital city in February to open the new US Embassy building, we wanted to give Londoners the opportunity to see the next best thing."
She added: "Our wax figure has now been safely returned to the attraction but the great British public can still see our President Trump in the Oval office at the world famous Madame Tussauds London."
The move was well-received on social media, with many Twitter users applauding Madame Tussauds' "quick thinking."
"Congratulations," one person said. "Quick thinking and very effective stunt."
Another uploaded a photo of himself and the wax leader, writing: "Thanks for coming Mr President."
Another added: "Well played, Tussauds, well played."
The U.S. embassy in London said it had no comment on the incident.
This story has been added to include comments from Madame Tussauds.