Trump Cancels London Visit, Blames Obama, Like Always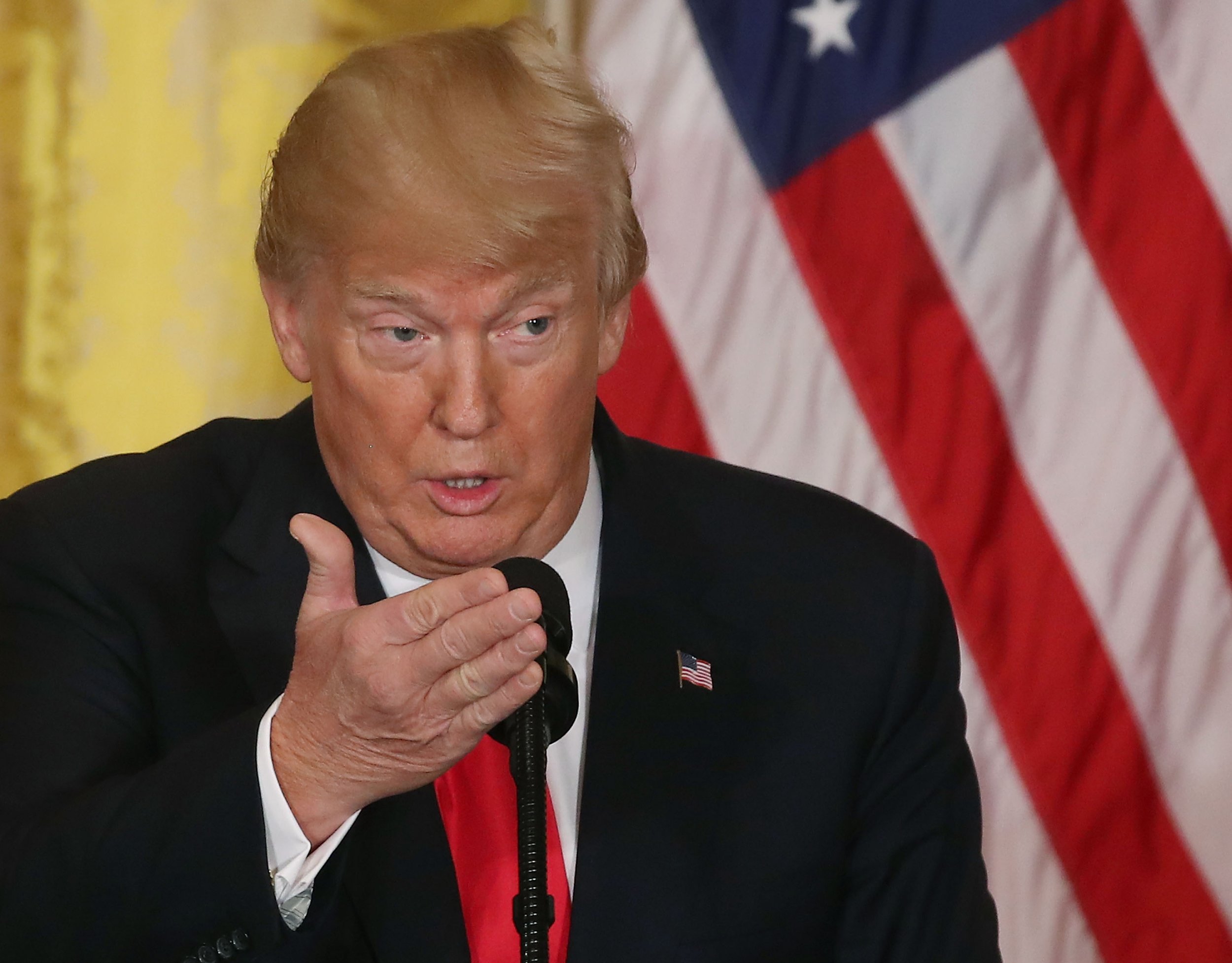 Updated | President Donald Trump canceled plans to travel to Britain to open a new U.S. Embassy, calling the decision to change the old embassy's location in London a "bad deal."
He also accused the Obama administration of selling "perhaps the best located and finest embassy in London for 'peanuts,'" even though the decision to move the embassy was made in October 2008 by George W. Bush's administration.
Writing on Twitter, Trump said, "Reason I cancelled my trip to London is that I am not a big fan of the Obama Administration having sold perhaps the best located and finest embassy in London for 'peanuts' only to build a new one in an off location for 1.2 billion dollars."
He added, "Bad deal. Wanted me to cut ribbon—No!"
When the move was announced nearly a decade ago, then Ambassador Robert Tuttle, who had led the search for a new site, said the move was a way to ensure a "modern, secure and environmentally sustainable embassy."
Related: Donald Trump spotted outside London embassy he claims to hate
"This has been a long and careful process," Tuttle said in 2008. "We looked at all our options, including renovation of our current building on Grosvenor Square. In the end, we realized that the goal of a modern, secure and environmentally sustainable embassy could best be met by constructing a new facility. I'm excited about America playing a role in the regeneration of the South Bank of London."
Furthermore, on the embassy's webpage about the project, it says, "The project has been funded entirely by the proceeds of the sale of other US Government properties in London, not through appropriated funds."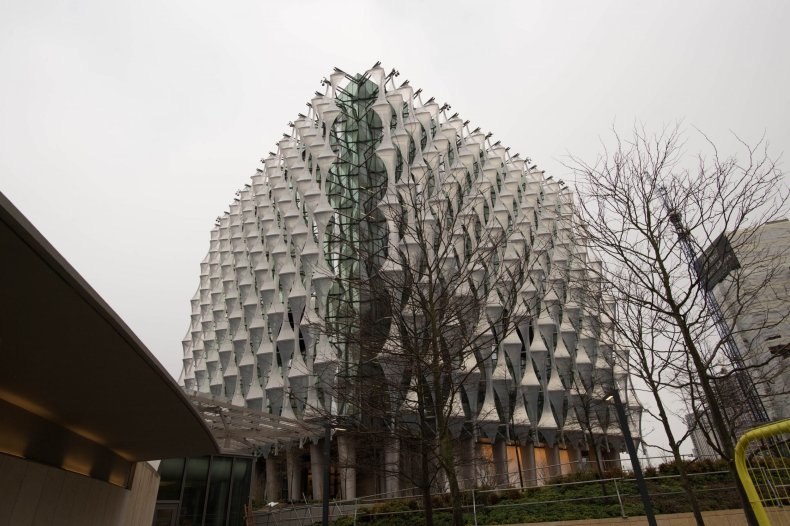 This is not the first time Trump has been quick to point a finger at Barack Obama's administration.
In March 2017, Trump accused Obama of wiretapping Trump Tower during the 2016 presidential campaign.
"Terrible! Just found out that Obama had my 'wires tapped' in Trump Tower just before the victory. Nothing found. This is McCarthyism!" he tweeted.
The bombshell claim, which was never supported with any evidence, was refuted by the Department of Justice, which stated in a court case that neither the FBI nor the Department of Justice's National Security Division ever wiretapped Trump Tower.
Trump has also accused Obama of colluding with Russia. He made the accusations last June over Twitter and demanded an apology, but he never explicitly said whom he expected the apology from.
"The reason that President Obama did NOTHING about Russia after being notified by the CIA of meddling is that he expected Clinton would win," Trump wrote in one tweet. In another, he said that Obama "did not want to 'rock the boat.' He didn't 'choke,' he colluded or obstructed, and it did the Dems and Crooked Hillary no good."
British government sources told the Press Association they had never been informed of a specific date for Trump to make a visit. However, speculation had suggested he would formally launch the embassy at a ceremony in February.
The new embassy is expected to be open for business on January 16.
In December, U.S. Ambassador Woody Johnson said he was looking forward to welcoming the president when he visited. "I think he will be very impressed with this building and the people who occupy it," he noted.
He said the new embassy was a "signal to the world that this special relationship that we have is stronger and is going to grow and get better."
Trump's refusal to attend the new embassy's opening comes after Prime Minister Theresa May insisted last week that a future visit from the U.S. president was still on the table, despite a falling-out last year between the two world leaders. That resulted after Trump retweeted anti-Muslim videos posted online by the deputy leader of the far-right Britain First group.
May had said Trump was wrong to retweet the videos, posted by Jayda Fransen, last November, and the president was quick to hit back, telling the prime minister on Twitter to focus on "destructive radical Islamic terrorism" in Britain rather than on him.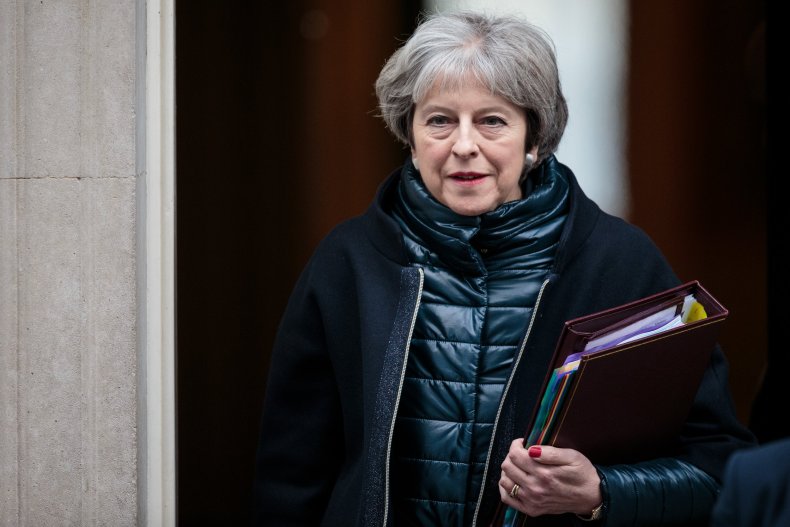 The prime minister had first extended a formal offer, on behalf of the queen, for a state visit when she became the first world leader to meet with Trump in the White House after his inauguration last year.
The decision saw a major backlash from Britons, with crowds turning up at 10 Downing Street to protest the decision to offer the U.S. president a formal visit.
Since then, Trump appeared reluctant to take up the invitation, as many Britons had vowed to hold a mass demonstration if he entered the U.K.
In response to the president's announcement that he would not come to Britain this month, former British Labour Party leader Ed Miliband wrote, "Nope, it's because nobody wanted you to come. And you got the message."
Another British politician, Labour member of Parliament Stephen Doughty, said on Twitter: "Reason @realDonaldTrump canceled trip to London is that we are not a big fan of his racist, sexist, unthinking behaviour."
Mocking Trump's tweet, the MP added, "Big protests if he came to cut ribbon. He wanted the red carpet treatment and cheering crowds—NO!"
It has long been speculated that if Trump does visit Britain, it will be a low-key affair, without the flourish of a state occasion.
This story was updated on January 12.